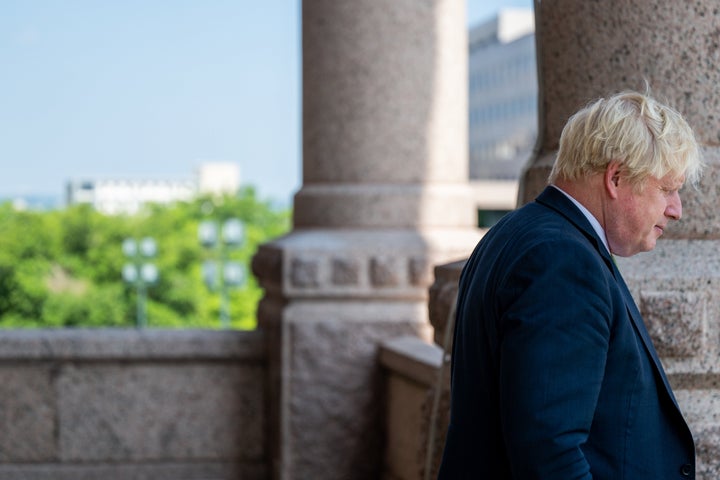 'Any Questions' presenter Alex Forsyth broke the news during this week's edition of the Radio Four programme.
She said: "We do record on a Friday evening, it goes out on a Saturday, but I do want to bring you some news that's just broken on Friday evening, which is that Boris Johnson has resigned as an MP with immediate effect."
At that point, the audience in Rhosygilwen, Pembrokeshire, began clapping, whistling and cheering loudly for several seconds.
Johnson stunned Westminster by unexpectedly announcing his resignation on Friday evening with a furious blast at the privileges committee investigating whether he lied to parliament over partygate.
The former prime minister said he was the victim of a "witch hunt" and a "kangaroo court".
He accused the committee - which has a Conservative majority - of trying to "drive me out", all-but confirming that he has been found guilty and was facing a lengthy suspension from the Commons.
Johnson said: "It is very sad to be leaving parliament, at least for now, but above all I am bewildered and appalled that I can be forced out, anti-democratically, by a committee chaired and managed, by Harriet Harman, with such egregious bias."
The former PM - who resigned in disgrace last year - also took aim at Rishi Sunak's government, accusing it of destroying his legacy.
He said: "When I left office last year the government was only a handful of points behind in the polls. That gap has now massively widened.
"Just a few years after winning the biggest majority in almost half a century, that majority is now clearly at risk.
"Our party needs urgently to recapture its sense of momentum and its belief in what this country can do.
"We need to show how we are making the most of Brexit and we need in the next months to be setting out a pro-growth and pro-investment agenda. We need to cut business and personal taxes – and not just as pre-election gimmicks – rather than endlessly putting them up.
"We must not be afraid to be a properly Conservative government."