David Davis and Ed Miliband clashed over the future of the UK if it were to leave the European Union on Thursday night's Question Time.
The former Labour leader pressed Davis, a Tory MP, over what country he anticipated the UK resembling in terms of trading with the EU in the case of a 'Brexit'.
He said: "It's some kind of unique status that only Britain is going to have and you can't actually tell us the country we're going to be like.
"Which country would it be like?"
His comments were greeted with loud applause, as he continued: "Just tell us the country. Canada? Albania? Norway? Switzerland?"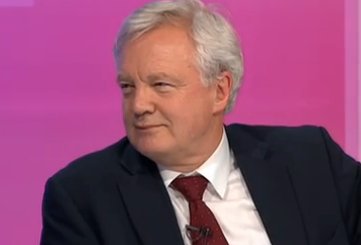 A defiant Davis finally answered: "The country we're going to be like is Great Britain."
Despite cheers from the audience, Miliband was less than impressed and retorted: "That is not an answer."
He added: "You can't name a single country, other than Great Britain, whose trading arrangements with the EU we'll be like. I think that's really important for the audience: there's no country in the whole world that has trading arrangements with the EU which ehe wants to emulate.
"Now if that isn't a leap into the unknown and a massive risk, I don't know what is."
Miliband had an interesting evening on the BBC show, with one panelist called him 'David'. Twice.
Dreda Say Mitchell, a writer and columnist who backs 'Brexit' amid fears over the democratic deficit, accidentally called Ed by his brother's name.
Mitchell: "Are we saying David, as a country we are the fifth largest economy ..."

Miliband: "It's Ed, actually ..."

Mitchell: "Sorry, Ed."
She was clearly mortified (watch the clip in the link below) but Miliband managed to laugh it off.
Question Time, hosted by David Dimbleby, was held in Ipswich with panelists Tory MP David Davis, Caroline Lucas, the Green MP and Steve Hilton, David Cameron's ex-'guru'.