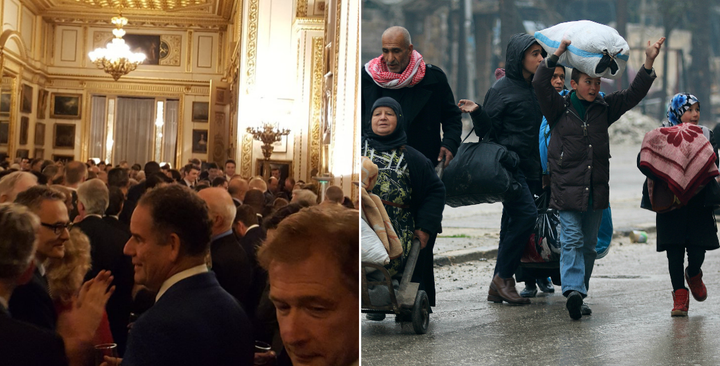 The foreign secretary made a string of gags as he addressed ambassadors at a Christmas party in the opulent Lancaster House near Westminster.
But Labour MPs were quick to highlight the poor timing of the event given the unfolding humanitarian crisis in Syria.
Dan Jarvis, MP for Barnsley Central, wrote on Twitter: "With kids being killed in Aleppo, the Foreign Sec [Boris Johnson] should be using all diplomatic means to relieve humanitarian crisis rather than crack gags."
He added: "He should be on the phone, not the fizz."
And Alison McGovern, MP for Wirral South, added: "Sure it's all [very] funny. But what about Aleppo?"
Syrian rebels said last night a ceasefire agreement had been reached to evacuate fighters and civilians from Aleppo.
It came after thousands of people fled the front lines of fighting in Aleppo as the Syrian military advanced on the final pocket of rebel resistance.
Johnson had earlier told the Commons that the government was doing all it could to help ease the humanitarian crisis in Syria.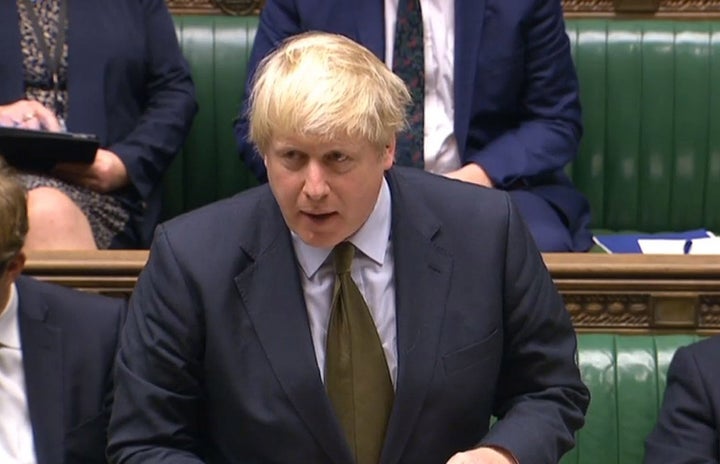 After weeks of being the butt of jokes from the Prime Minister and Chancellor Philip Hammond, the Foreign Secretary got his revenge.
In front of hundreds of diplomats from around the globe, he made a typically maverick speech hailing Brexit, while teasing the PM on everything from foreign student numbers to Nigel Farage's links with the US and even Heathrow's third runway.
"We are so cosmopolitan that we drink more champagne, more prosecco, buy more German cars than anyone else," he declared.
"And our wonderful Prime Minister actually wears lederhosen!"
As guests laughed at the reference, Johnson added: "They asked for no surprises in this speech, we cleared that one already."
May had herself recently ridiculed her Foreign Secretary with a joke at the Spectator awards, comparing him to a dog she would want to "put down".
She also singled him out at the start of her keynote Tory party conference speech: "Can Boris Johnson stay on message for a full four days?... ... just about."
And Hammond had surprised Tory MPs by mocking Johnson in his Autumn Statement, with a line about his colleague failing to catch the 'rugby ball' of his Tory leadership ambitions when it came loose from the 'scrum'.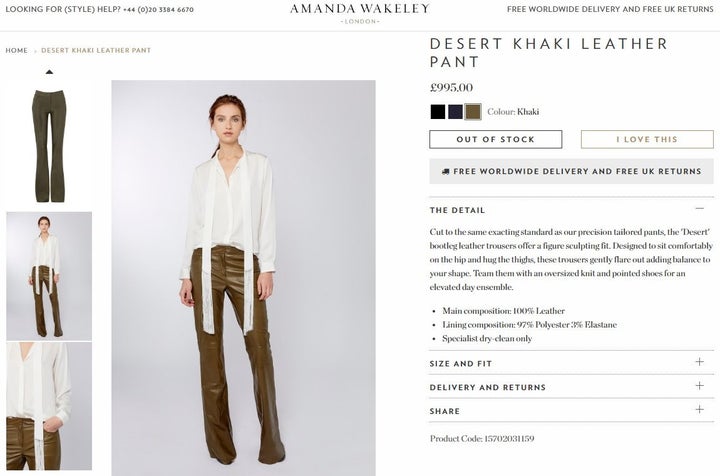 However, Johnson, who was also rapped by No 10 for his recent criticism of Saudi Arabia's "proxy wars", bounced back with a string of jokes at his reception.
He predicted that a post-Brexit Britain would continue "to export quite extraordinary things around the world"
"We export cake to France, boomerangs to Australia, sand to Saudi Arabia, we have managed to export Nigel Farage to America - though not in a diplomatic capacity.
"And we are gluttons in this country for imports. We buy huge quantities of stuff particularly of course from our friends in the European Union as we will continue to do when we do that great free trade deal."
Johnson has clashed with the PM over his call for foreign students to be taken out of May's pledge to cut immigration to under 100,000, and again repeated his defiance.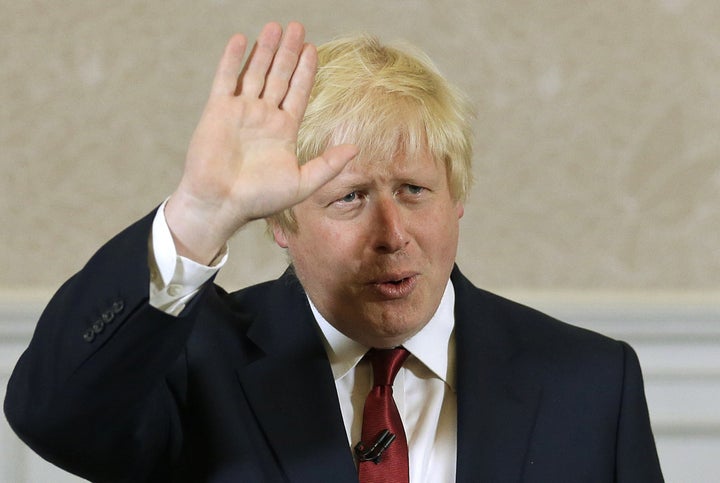 "I'm famed for my diplomacy as you know. We welcome foreign students and international investors in this country and I'm confident that that ratio will persist," he said.
"I'm delighted to see my friend the Chinese ambassador here tonight. We have more Chinese students here in London than anywhere outside China."
The Foreign Secretary, who began his speech by remembering the suffering of Aleppo, turned his speech into a celebration of the Brexit vote of 2016.
He made a pointed reference to a story that he'd told EU ambassdors that he was in favour of continued immigration after the UK quits the European Union.
"Last time I spoke to this many ambassadors a very strange account of the meeting emerged.
"For the avoidance of doubt, I'm in favour of a free press, free speech, free universal suffrage, free wine served tonight - but I'm not necessarily in favour of freedom of movement."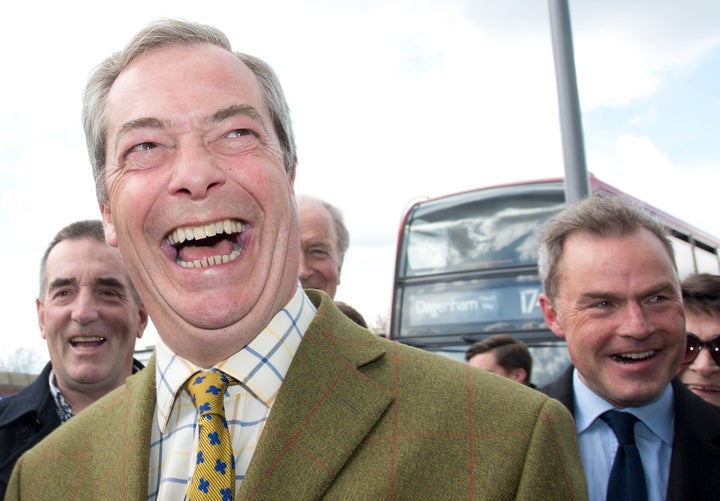 He added: "This Government recognises particularly now that Britain cannot turn its back on the world. Since June 23, we understand in the UK we have to be more energetic, more open, more outward looking.
"I say to the great ambassadors and High commissioners that I've met here tonight, when you come to write your truthful and accurate 'diptels' [diplomatic telegrams] tomorrow, I hope you will recall some of the enthusiasm and confidence of this new Government here in the UK.
"We are making the essential investments in our country. We haven't seen investment in British infrastructure on a scale like this for more than a century: Hinkley, HS2, Crossrail, Crossrail 2, Heathrow -right idea, wrong place."
Popular in the Community