A west London café appears to have banned a number of the Brexit campaign's leading figures, including Boris Johnson, Michael Gove and Nigel Farage.
A 'Do Not Serve' poster is said to have appeared in a Notting Hill Gate establishment, "just up from where Michael Gove lives" in the days after Britain voted to leave the EU. The cafe involved has not been identified and the reference to its location has been taken from information supplied when the image was upload.
A photo of the poster is being shared on Twitter, but first appeared on image sharing website, imgur, two days ago. It has been viewed there more than 47,000 times.
The poster features Conservative MPs Johnson, Gove and Andrea Leadsom along with Ukip leader Nigel Farage, Daily Mail editor Paul Dacre and Gove's wife and Daily Mail columnist, Sarah Vine.
Johnson has had a hard time of late. The day after Brexit he was branded a "scumbag" as he left his home in Islington, north London, and following his decision not to stand for the Conservative Party leadership he was branded a "spineless c***". Gove has also been slated for knifing Johnson in the back with his late decision to stand.
Before the words, 'do not serve (by order of management), the poster reads: "These people have harmed our business, one more meal or sale will not be worse than what they've done.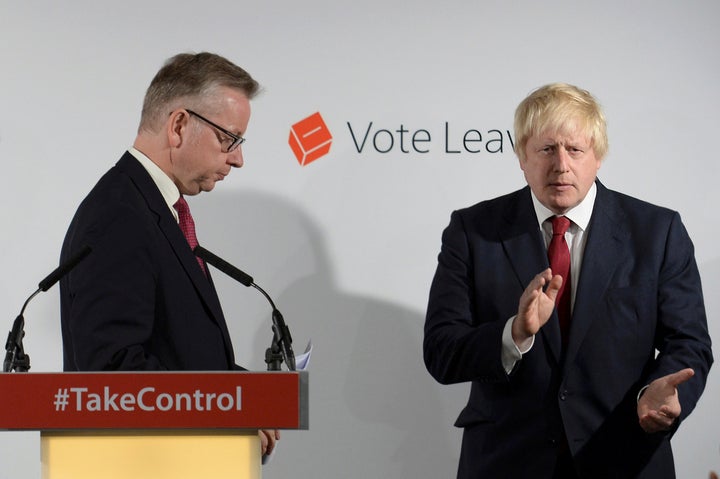 "These people have hurt our employees and our friends, and we will not make them share the same space with them.
"These people's cruel and regressive agenda was rejected by the people of London."
The poster goes on to say the six are: "persona non grata (sic) in this city".
It ends by saying: "London should give them no aid or comfort and neither will we."
After the mug shots, the poster attempts to justify the ban. It states: "These people seek to harm our city, they should be denied its comforts". It then goes on to say the management of the café is "united against Brexit, united against the causes of Brexit".
Reaction to the poster has been mixed on Twitter.
Anti-Brexit sentiment continues to show no signs of letting up in London where on Saturday a second pro-Eu rally is scheduled.