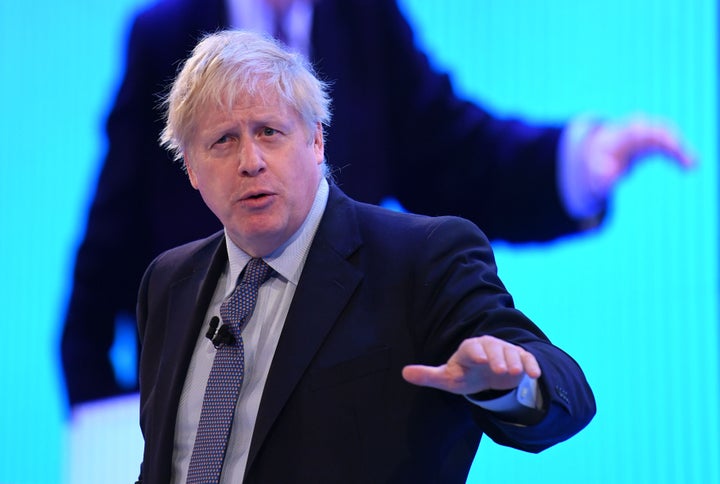 Boris Johnson has told business leaders he will delay cuts to corporation tax to boost investment in public services like the NHS.
The prime minister, who has faced questions about how his government would pay for spending commitments on the health service, police and other services, said the move means £6bn won't be taken out of the public purse – for now.
Speaking at the CBI conference in London, the PM said he will "postpone cuts to corporation tax" after the Conservatives pledged to cut the rate from 19% to 17% next year because it is the "fiscally responsible thing to do".
He said: "I hope you won't mind if I also announce today that we are postponing further cuts in corporation tax.
"And before you storm the stage and protest, before you storm the stage, let me remind you this saves us £6bn that we can put into the priorities of the British people, including the NHS."
Questions will remain about how Johnson will fund the rest of his government's spending commitments.
They include an extra £33.9bn on the NHS and new hospitals, £5bn on broadband and £25bn on roads.
Shadow Chancellor John McDonnell said the corporation tax cut pause "will not repair the damage" of austerity-era policies the Conservatives have presided over since 2010.
Johnson, who is pledging other tax cuts for businesses, said a Conservative government would also embark on an "industrial revolution".
He said: "Yes, of course that means supporting some really fantastic major products.
"Big ticket items we will do, but it also means investing in the simple improvements that I think so many people and businesses have been craving in transportation.
"Modernising roads and junctions that have become bottlenecks and sources of massive local frustration and economic inefficiency, and putting in better bus services which can make all the difference to towns and villages and rural communities."
Amid speculation about the future of Sajid Javid after the election, the PM also stressed he would be keeping his current chancellor.
He told firms: "I'm going to give you an absolutely categorical assurance that I will keep Sajid Javid as my chancellor. How about that?
"I think he's a great guy and I think he is doing a fantastic job and I'm proud to count him as a colleague.
"I'd be grateful, however, if [...] we could not have endless questions about the personnel at the top of the Tory party. I don't think I want to answer exhaustively about everybody."
Despite the delay in cutting corporation tax, his speech was welcomed by the CBI.
Director-general Dame Carolyn Fairbairn said: "Postponing further cuts to corporation tax to invest in public services could work for the country if it is backed by further efforts to the costs of doing business and promote growth.
"Reforming business rates has been a key priority for CBI members. This means that we will finally get to grips with a broken system that damages investment and jobs and could breathe new life into our high streets and other sectors.
"Business welcomes the prime minister's passion for levelling up opportunities throughout the country through investment in education, infrastructure and technology. But his words must become firm commitments in the Conservatives' manifesto in order to get the UK economy back on track."