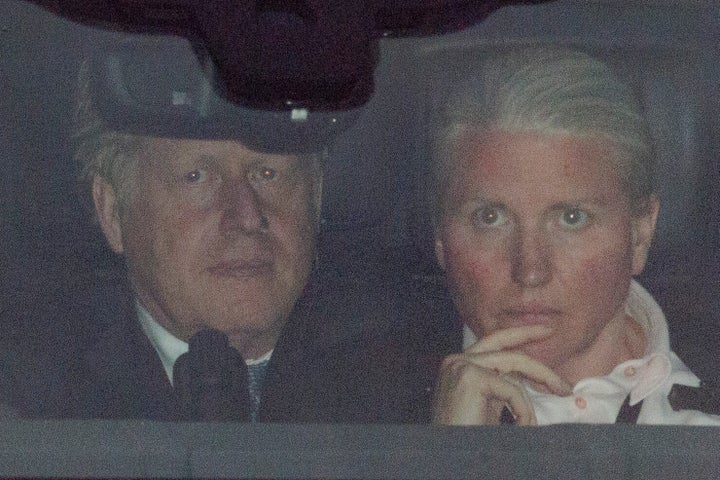 Boris Johnson insisted he had secured a "decisive" victory against Conservative MPs trying to oust him – despite the evidence suggesting otherwise.
In another sign of delusion at the top of the Tory party, one of the PM's allies claimed Ukraine's wartime president Volodymyr Zelenskyy will be "punching the air" at the "handsome" win in the confidence vote.
Conservatives in parliament voted by 211 to 148 in support of the prime minister, but the scale of the revolt against his leadership leaves him wounded.
When Theresa May faced a confidence vote in 2018 she secured the support of 63% of her MPs but was still forced out within six months.
Johnson saw 41% of his MPs vote against him, a worse result than May.
The result is even worse if the so-called government "payroll" is stripped out.
These are the between 160 and 170 MPs who currently hold government roles, such as ministers and parliamentary private secretaries, according to analysis by the Institute for Government.
It would be hoped by Downing Street that all of these MPs would have backed Johnson in the confidence vote.
Were this the case, around 80% of the 211 MPs who voted for the prime minister in Monday's ballot could be said to have done so chiefly out of duty rather than loyalty.
The rest of the 211 MPs who said they had confidence in Boris Johnson will have been backbench MPs who are not on the payroll.
But with as many as 170 payroll votes supporting the prime minister, the figures suggest only a few dozen non-payroll votes also voted in favour, implying that Johnson has lost the confidence of the majority of the Conservative backbenchers.
Yet despite all this, the prime minister called it a "very good result", telling broadcasters: "I think this is a very good result for politics and for the country."
He added it was "a convincing result, a decisive result, and what it means is that as a government we can move on and focus on the stuff that I think really matters to people".
Asked how it compared to past confidence votes in Conservative prime ministers, he added: "I have got a far bigger mandate from my own parliamentary colleagues than I had in 2019."
It was Nadhim Zahawi, the education secretary, who contended the result would be welcomed in war-torn Ukraine.
He told Sky News: "What do you think President Zelenskyy will be thinking tonight? He'll be punching the air because he knows his great ally Boris Johnson will be prime minister tomorrow morning. That's what we've got to focus on."
Other loyalists trotted out the same lines – that it was a good result and it is time to move.
Johnson rejected the assertion that he was now a lame duck prime minister who needed to call a snap election to secure a new mandate from the public, insisting he was focused on the public's priorities.
The scale of the revolt against Johnson's leadership has left him vulnerable, and he could suffer further blows in two key by-elections in Wakefield and Tiverton and Honiton on June 23.