Boris Johnson has made an unexpected debut on the internet's biggest porn website.
A video of the mop-haired former London Mayor was uploaded to Pornhub, entitled 'Dumb British blond fucks 15 million people at once.'
The clip features the [mercifully fully-clothed] Brexiteer speaking at the Vote Leave's victory conference on Friday morning.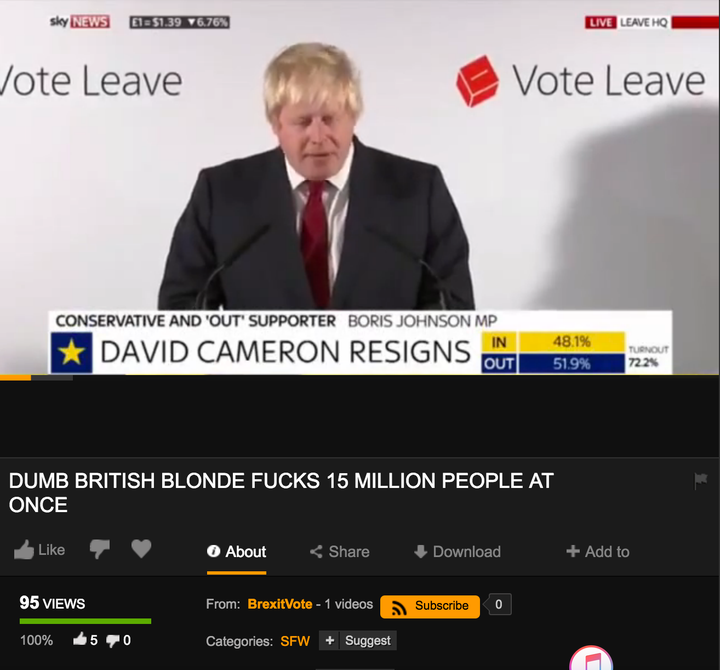 The figure of those allegedly "fucked" by Johnson is slightly off however, with Thursday's referendum seeing 17.4million Leave votes cast against 16.1million Remain.
Yet not everyone is enthused at the prospect of the shaggy-haired and often buffoonish Johnson taking charge of the country.
Creating the #BuggerOffBoris hashtag, Oliver posted a long article on Instagram, where he conceded: "In life you don't always get what you want. So guys, whether you voted In or Out, we are where we are."
"This referendum has fractured Europe, divided families and split the country. The divorce of our European marriage will be very costly and provoke a bitterness towards us as a trusted country in the world… However I do believe in democracy and Britain has spoken."
Warming to his main point, Oliver invoked the full force of caps lock and added: "But I BEG YOU ONE THING GREAT BRITAIN???? Give me Boris fucking Johnson as our Prime Minister and I'm done. I'm out. My faith in us will be broken forever. So speak up people – let's stop being spectators! We can not let this happen – share the shit out of this! #BuggerOffBoris."
[No word as yet if Oliver is responsible for uploading the clip to Pornhub...]