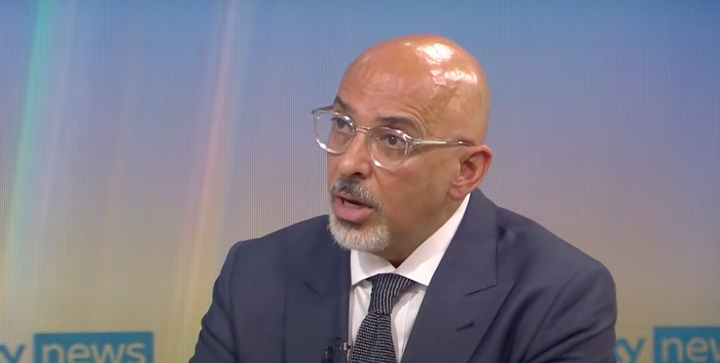 Nadhim Zahawi mounted a strong defence of the PM after being chosen to replace Rishi Sunak in Number 11.
He also took a swipe at Sunak and former health secretary Sajid Javid, who also resigned from the cabinet last night, by saying it was "easy to walk away" rather than stay in government.
The prime minister is facing a mounting revolt from Tory MPs over his handling of the Pincher scandal.
The Tamworth MP quit as deputy chief whip last Thursday over claims he had drunkenly groped two men the night before.
It has since emerged that a previous sexual harassment claim against him when he was a Foreign Office minister in 2019 was upheld.
Downing Street initially said Johnson was not aware of any allegations against Pincher before putting him in the whips' office in February, but yesterday said the PM had forgotten about the 2019 incident.
In a hastily-arranged interview last night, Johnson said: "I think it was a mistake and I apologise for it. In hindsight it was the wrong thing to do.
"I apologise to everybody who has been badly affected by it. I want to make absolutely clear that there's no place in this government for anybody who is predatory or who abuses their position of power."
In his resignation letter, Javid said the British people "expect integrity from their government" but voters now believed Johnson's administration was neither competent nor "acting in the national interest".
Appearing on Sky News, Zahawi was asked whether he believed the prime minister has integrity.
He said: "I do, because he's determined to deliver for this country."
Zahawi also defended Johnson's conduct over the Pincher affair, insisting he had been "right to apologise" for his handling of it.
He said: " We take decisions at warp speed in government. There are no easy decisions to make. We don't get all those decisions right."
In a clear reference to Sunak and Javid's resignations, Zahawi insisted he had not threatened to resign and said his focus was on growing the economy.
He said: "You don't go into this job to have an easy life. You make some tough decisions every day and sometimes it's easy to walk away, but actually it's much tougher to deliver for the country."