Referring to the Conservative manifesto pledge to "help teachers tackle [...] homophobic bullying", journalist Ryan Butcher asked: "If a schoolchild calls their gay classmate a 'tank-topped bum boy', what do you think the punishment should be?"
Deliberately ignoring the reference to his own insult, Johnson responded: "We will continue to help teachers tackle bullying, including homophobic bullying. No child should be bullied on account of who they are, who their parents are, or the home they come from. We have strengthened teachers' powers to deal with bullying and disruption."
Butcher tried again: "Have you ever apologised to Peter Mandelson for using 'tank-topped bum boy' to describe him at a time when his sexuality was not publicly known?"
The PM told him: "I've written many millions of words in my time as a journalist, and I've never intended to cause hurt or pain to anybody."
HuffPost UK could not immediately discern how many words Johnson had written as a journalist, but filing 10 stories a week of 300 words a piece every week for a decade would leave him on just over 1.5m – assuming he never took any holidays – making the estimate somewhat implausble.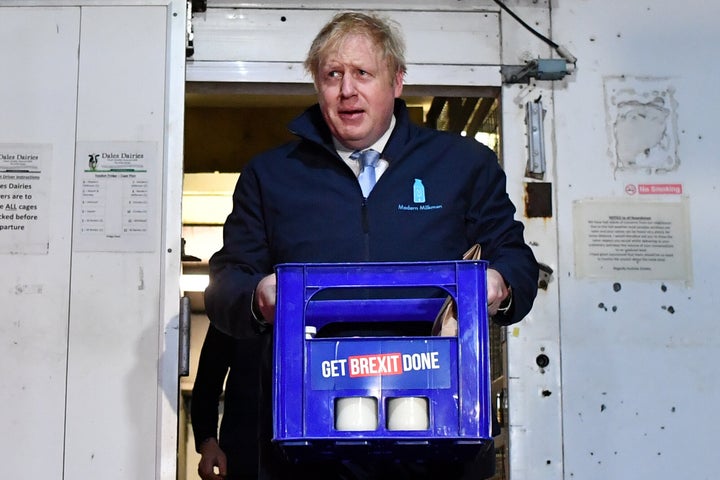 Having a final go, Butcher asked him directly why he hadn't said sorry.
He said: "The LGBT+ Conservatives wrote to you when you first became prime minister asking you to issue a public apology for your historical use of anti-LGBT+ slurs. Why haven't you done so?"
Johnson replied: "The LGBT+ Conservatives have accomplished an enormous amount and I am always willing to work with them to advance LGBT+ matters in the Party. They, in turn, welcomed my election as leader and looked forward to working with me."
Talking to HuffPost UK this week, comedian Ava Vidal was among those who said she was so alarmed by the prospect of a Conservative majority that she was considering leaving the UK altogether.