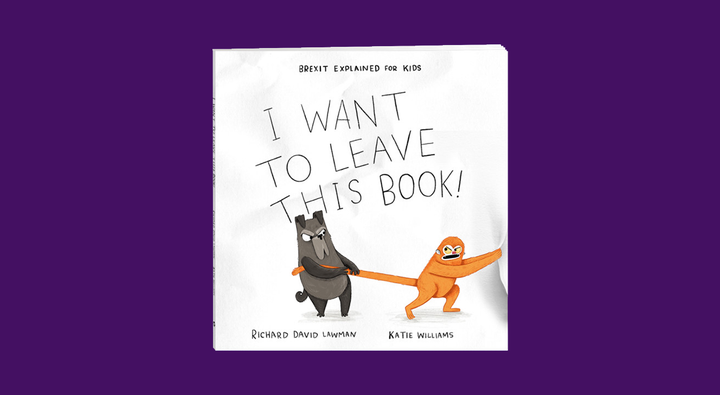 Parents are no doubt struggling to explain the political chaos to their kids right now – whatever the child's age. But a new book hopes to change that.
I Want To Leave This Book!, written by Richard David Lawman and illustrated by Katie Williams, comes out today – the same day Britain was, at one point, going to leave the EU. It's aimed at kids aged eight to 12, and follows a group of animals arguing about whether they should leave the very book they're in, in a cheerfully surreal allegory of real-life political events.
It's a clever idea – the characters have to try and figure out, if they leave the book, where they actually go – and the team behind it have a lot of fun with running gags. There are shades of B.J. Novak's great The Book With No Pictures here. They're obviously nodding to George Orwell's Animal Farm, too. And Williams' illustrations are genuinely lovely.
But... and this is a big but, it feels like the kids who want to get on top of what's going on – the ones actually asking the questions – still won't know anything after reading it.
Younger children reading it for the funny story about animals might be confused by the arguing and deliberately anticlimactic ending. There are two pages of genuine information at the back of the book that partially – and impartially – explain a few bits and bobs, but they're separate to the story.
Brexit is a big and complicated and ongoing issue. According to a poll commissioned by the book's publisher WatAdventure, 70% of children are aware of the term 'Brexit', but only 27% of parents felt they could accurately explain what was going on.
But, is a story about animals messing about the solution? Wherever you stand politically, Brexit is a big deal, and how it pans out will affect the lives of many people in the country. So if children want to know what's happening – and they do – can't we tell them, in an age-appropriate manner?
"Younger children are more politically engaged as a direct consequence of upsets like Brexit and Trump and the reality of climate change," says Anna Bassi, editor-in-chief of The Week Junior, a news magazine for 8-14-year-olds.
When explaining things to them, think about the impact of your words, she advises. "And try not to amplify, exaggerate or use the language of crisis and hysteria. Building people or concepts into big cartoon baddies can be quite overwhelming, especially for a child who feels powerless to do anything."
Children are going to hear these politicians' names in the news or on social media, anyway, so don't dodge the topic. "Children and young people can be bombarded with negative news," said Dr Bernadka Dubicka. "Helping them to make sense of what they have heard is important, as well as thinking about how they can make a difference."
Look at Greta Thunberg, and the international climate change school strike, and the March For Our Lives in the US – children are interested in the future of the planet, and everything that's going on in it. As cute as this book might be, we owe it to children attempting to engage with the world more than a hamster allegory of Theresa May.