More people believe Brexit will fail to bring immigration down to the levels the Government has tried to achieve than believe it will, new polling has revealed.
Just 37% of people think net migration will fall from the current record high of around 330,000 a year to below 100,000 within five years, despite the fact it was argued during the EU referendum campaign that Brexit would reduce the number of EU nationals coming here and allow Britain to
The polling was in a report by think tank British Future, published on Thursday, that showed 44% believed this was unlikely.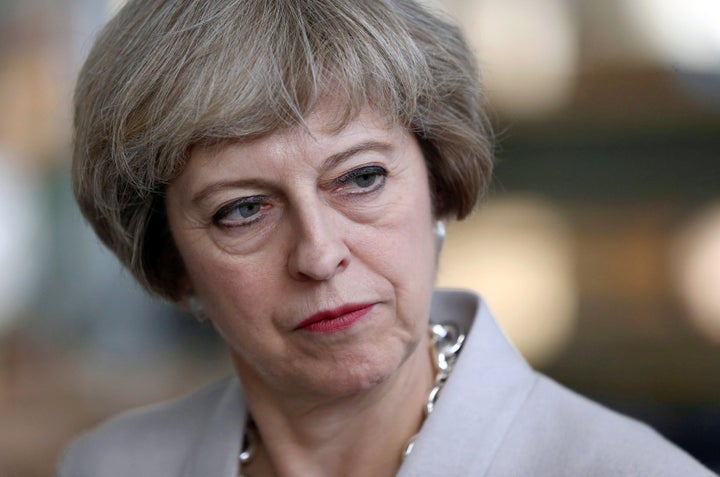 The report comes ahead of new immigration statistics published on Thursday morning, which are expected to show net migration remains far above the annual "tens of thousands" David Cameron pledged in 2011.
The commitment came to haunt his premiership as regular statistical updates showed net migration - those arriving minus those leaving - was reaching record highs, generating embarrassing headlines.
Madeleine Sumption, Director of the Migration Observatory at the University of Oxford, said the number of people arriving from outside the EU alone meant Brexit alone would not achieve
In 2015, EU citizens accounted for 44% of people who came to live in Britain, including British citizens who returned.
Sumption told HuffPost UK: "Restricting EU immigration after Brexit would not, on its own, be enough to meet the 'tens of thousands' net migration target - because even with EU net migration of zero the target would still not be met.
"If the target is ever met it probably won't be a result of Government immigration policy but would be more likely to be a result of economic factors."
Sunder Katwala, director of British Future, said public trust in governments' ability to manage immigration was at "rock bottom".
He added: "Until we know what Brexit looks like, no-one can sensibly predict what immigration levels would be best for Britain."
British Future's poll revealed that, when people who don't know are removed, 54% of people thought meeting the migration target within five years was unlikely while 46% thought it likely.
On Wednesday, ex-Ukip leader Nigel Farage told an American radio station that concerns over immigration were the "absolute key" to Brexit's victory in the June referendum.
He said: "The silent majority of the British people thought we had to get back control of our borders... I don't think there was any one incident, I think this was a gradual thing that what people saw were unrecognisable, rapid changes in their community."
The British Future polling also revealed Leave voters have much the same attitudes as the general population on highly-skilled workers coming to Britain.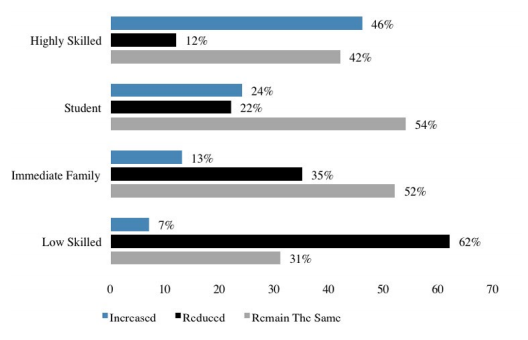 Among Leave supporters, 45% would like to see more of them, 40% wanted the numbers to stay the same and 15% would like to see fewer of them.
This compared to 12% of the general population wanted to see fewer, 46% wanted more and 42% wanted the numbers to stay the same.
Leave voters also have similar views on international students at British universities, with 50% of them wanting the numbers to stay the same, compared with 54% of the population.
Students made up a quarter of net migration to Britain in the last year.
But people are more hostile to low-skilled workers coming to Britain, with 62% wanting fewer of them.
Katwala added Brexit could provide "an opportunity to get immigration policy right - to restore trust in a system that works, and public consent for the immigration that we have".
"We've never had a comprehensive immigration review, in the way we have for public spending or defence, taking a 360-degree view. This must be the right time to do it - starting with a national conversation with the public on what choices they think we should make.
"What that will reveal, from most people, are balanced and sensible views: a preference for cuts to some flows of immigration and increases in others."
British Future's report called for more money for immigration and borders and for the Tories to honour a manifesto pledge to give areas many to mitigate the local impacts of immigration where it has been rapid.
Katwala said: "Voters are also unlikely to baulk at spending a bit more on the immigration system if they felt confident that it worked. People understand that you get what you pay for, and we spend very little on something that's of genuine importance to voters."
Today's statistical bulletin on immigration will be the first since the Brexit vote in June.
A Home Office spokesman said the department would not be commenting on the British Future report but would respond to the statistics when they were published on Thursday morning.