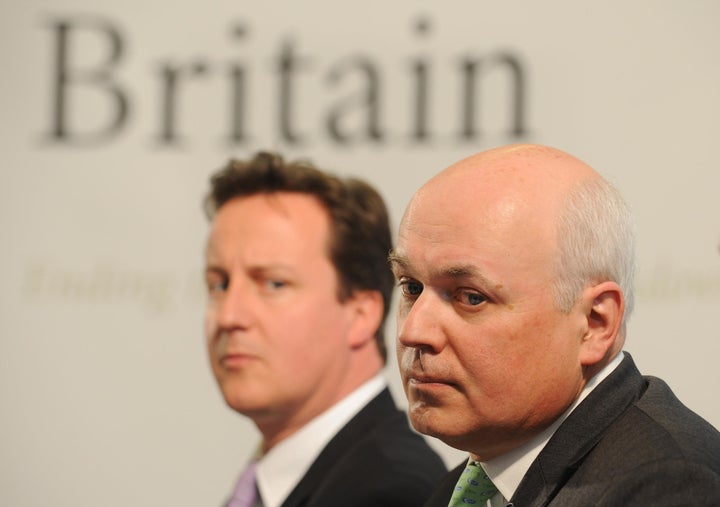 The prime minister will seek to heal deep rifts in the Conservative party after Iain Duncan Smith resigned as work and pensions secretary late on Friday night, saying the £4bn slash to Personal Independence Payments (PIP) was "a compromise too far.
His replacement, Stephen Crabb, is due to tell MPs that the plans revealed in last week's Budget have been abandoned.
A weekend of Tory infighting saw Mr Duncan Smith condemn George Osborne's "arbitrary" cap on welfare spending and obsession with "short-term savings".
And he suggested the chancellor had targeted cuts at the poor because they "don't vote" Conservative anyway.
According to The Times, the crisis has also cracked the relationship between Cameron and Osborne. The paper reports the prime minister told a cabinet colleague he blamed the chancellor for the row.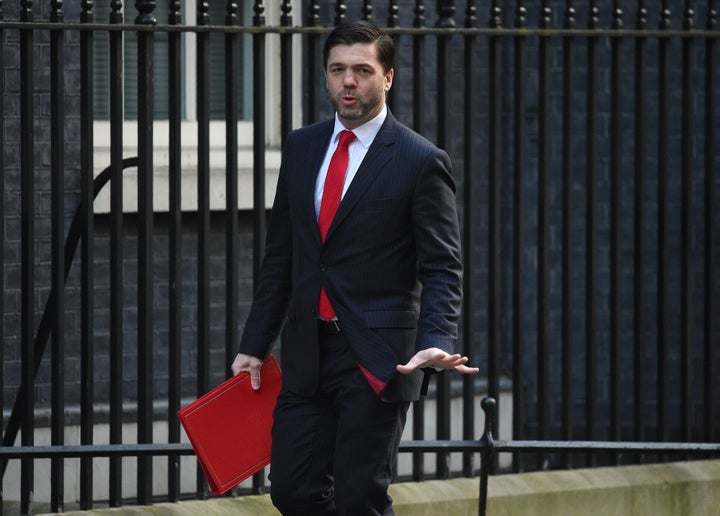 This morning, former Tory leader Lord Howard moved to defend Mr Cameron and Mr Osborne and told Conservative MPs to "calm down".
"Remember that it's less than a year since the Conservative party won a general election under David Cameron's leadership and one of the main elements in that election victory – probably the main element – was our economic recovery during the five years leading up to that election for which George Osborne, as Chancellor of the Exchequer, deserves an enormous amount of credit," he told BBC Radio 4's Today programme.
Lord Howard, who replaced Mr Duncan Smith as Tory leader in the 2003, said he had "high regard" for the former work and pensions secretary but was wrong to attack Mr Osborne.
"George Osborne's Chancellorship rests on his record and his record, I believe, is an outstanding one," he said. "Remember just how difficult the job of Chancellor of the Exchequer is."
And Cabinet minister Greg Clark issued a plea for Conservatives to "come together again" and to avoid "scrapping". The Communities Secretary said Mr Duncan Smith had been working "hand in hand" with Mr Cameron and Mr Osborne on the welfare changes.
"I don't think it should be civil war at all because actually Iain and the Prime Minister and the Chancellor have worked very successfully together over the years, for example, to get more people into work than ever before, to have fewer children in workless households," Mr Clark told ITV's Good Morning Britain. "We need to come together again to continue that important work."
But the Conservative chair of the health select committee, Sarah Wollaston, told the same programme it was not "consistent" of Mr Cameron and Mr Osborne to cut benefits for disabled people at the same time as "cutting taxes for the wealthiest".
"When David Cameron stands up he has to reaffirm that message that led many people like myself to join the Conservative Party in the first place," she said. "Are we about social justice, are we about spreading the burden fairly."
Jeremy Corbyn has repeated his call for Mr Osborne to follow the example of Mr Duncan Smith and resign.
Speaking to BBC Breakfast, the Labour leader said the chancellor's Budget "simply doesn't add up" and had "unravelled within hours of him presenting it".
"The Budget doesn't add up. The Chancellor of the Exchequer should come back to Parliament and explain that," he said.
"Far from just Iain Duncan Smith resigning, if a Chancellor puts forward a Budget - as he did - knowing full well that he is making this huge hit on the disabled, then really it should perhaps be him who should be considering his position."
During a round of interviews on Sunday, Mr Duncan Smith, who is campaigning in favour of Brexit, insisted his decision to quit the Cabinet related to the EU referendum.
But pensions minister Lady Altmann accused Mr Duncan Smith, her old boss, of "shocking" behaviour and of trying to inflict "maximum damage" on the party leadership in order to get Britain out of the EU.
Employment minister Ms Patel, who is campaigning for Brexit alongside Mr Duncan Smith, told BBC Radio 5 Live's Pienaar's Politics the departure was "not about Europe".
"With respect to Ros ... what I would like to say is that working with Iain, he has always provided support and encouragement in all that we have done as a ministerial team," she said.
Mr Cameron will defend his leadership in a statement to the Commons this afternoon.
The newly appointed work and pensions secretary, Mr Crabb, will then confirm to parliament that the government is not going ahead with the planned cuts to PIP.