Boris Johnson told supporters at a Vote Leave rally to interrupt a live broadcast being given by Channel 4 News's Michael Crick on Friday.
The bizarre incident, in which the Mayor of London told Crick to "shut up", saw a man approaching the veteran journalist and ask him to stop talking.
Crick later defended Johnson on social media after some people compared the Tory minister to Donald Trump.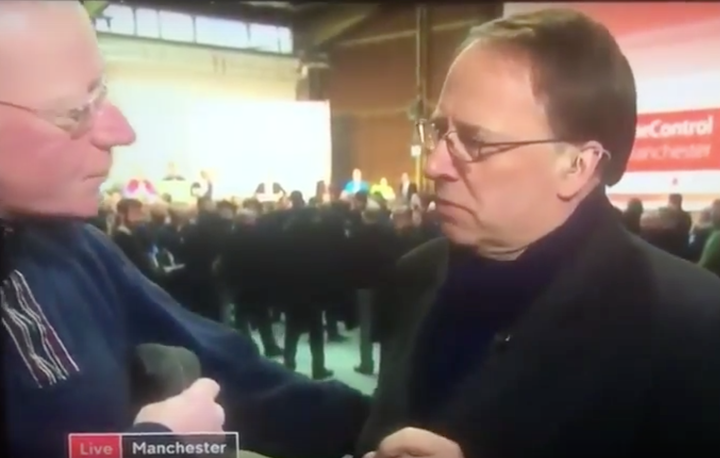 Johnson told the Vote Leave rally in Manchester: "And they are ever more desperate, some chap from the media is trying to do his piece to camera.
"Shut up. Can we tell Crick... can someone go interrupt Crick at the back there."
His comments received a round of applause, as Johnson continued: "Tell Crick, you can do your piece to camera when I finish."
Moments later you can see a man going over to the Channel 4 News reporter and interrupting his live segment.
The man told Crick: "Could you keep quiet? The guy's trying to talk and you're interrupting."
As the journalist tries to continue with his report, the man stands in front of the camera.
The political reporter was quick to defend Johnson after people criticised the Mayor of London for sending people over to interrupt the journalist's broadcast.
Yet many still thought it was inappropriate for a politician to ask supporters to target a journalist.
In his speech, Johnson said that Remain campaigners who say the EU is not perfect but there is no alternative are the "Gerald Ratners" of modern politics.
Prime Minister David Cameron is among those campaigning for Britain to remain while admitting it is "not perfect".
Johnson said one of the most "depressing things about the campaign to Bremain" is that "there is not a shred of idealism".
Likening remain campaigners who say they are Eurosceptics but there is no alternative to the jewellery tycoon who brought down his company when he described its goods as "crap", he said they insist the problems with Brussels are the "price we have to pay".
He said: "They keep saying that they are Eurosceptics, but we have no choice, we agree with you about the democratic problem, they say – but it's the price we have to pay.
"My friends, they are the Gerald Ratners of modern politics. The EU, they say – it's crap but we have no alternative.
"Well we do have an alternative, and it is a glorious alternative, a relationship with Europe based not on the whims of unelected bureaucrats but on cooperation between elected governments."