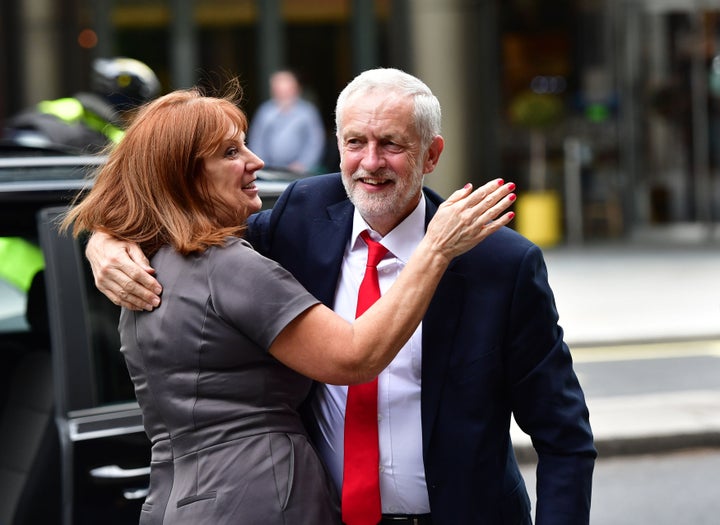 A House of Lords watchdog has been told that Jeremy Corbyn's chief aide Karie Murphy is "completely unfit" to be nominated for a peerage, amid a raft of bullying allegations by former and current Labour staff.
The appointments commission has been offered evidence of Murphy's "aggressive behaviour" that could disqualify her for elevation to the upper house of parliament, HuffPost UK can reveal.
Murphy's lawyer said that any claim that she was or is aggressive in her behaviour is "untrue and false".
It can also be disclosed for the first time that more than 20 members of Corbyn's office gave their support to a letter complaining about "bullying and intimidation" by senior management in 2018.
The letter did not explicitly name Murphy, but several of those who endorsed it have told HuffPost UK that the allegations related specifically to her. Murphy's lawyer reiterated that she was "not identified by name or position" in the letter and that there are six members of the senior management team.
The explosive letter, which was sent to general secretary Jennie Formby, complained of "a divisive and toxic culture" including the "berating" of staff in front of colleagues.
Some 12 former and current staff members, speaking on condition of anonymity, have given HuffPost UK detailed accounts of their direct experience at the hands of the Labour leader's chief of staff over several years.
All say they are strong supporters of Corbyn personally and of his politics.
Pushing a member of staff by the neck and pinning them against a wall;
Reducing a junior member of staff to tears at a Christmas party after a 15-minute tirade of screaming and shouting;
Repeatedly swearing and shouting at staff who Murphy felt had made errors or done something she didn't like;
Disclosing to staff that female colleagues had suffered miscarriages;
Telling colleagues, inaccurately, that other staff had mental health problems or were alcoholics;
Managing through "a culture of fear", regularly moving staff to different desks to impose control on those she felt had stepped out of line;
Telling colleagues she would "ignore" Corbyn's instructions on the Labour Live festival.
Murphy denies all of the allegations.
She has proved a controversial and divisive figure since she was first hired by Corbyn in 2016 to manage the Leader of the Opposition's office – known by the acronym LOTO – in the House of Commons.
The leader's office and staff are almost all funded by the taxpayer through "short money" designed to help the official opposition carry out its duties. In 2018/19, at least £800,000 in state funding went on the leader's office costs.
As Corbyn's chief of staff, Murphy played a key role in the 2017 election, but following growing internal criticism of her conduct, she was moved out of the leader's office last year and sent to the party's HQ.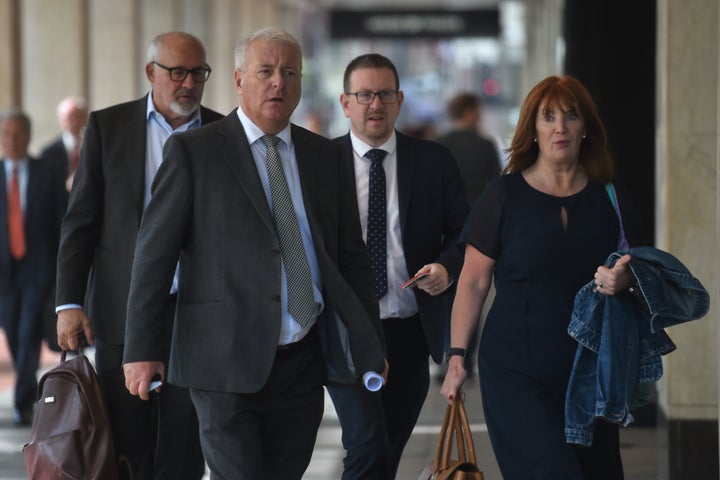 There, she was put in charge of the election. She has since been held responsible for ignoring polling advice that pointed to a Tory landslide and for failing to do enough to switch resources to defend heartland seats in Leave-voting areas.
Murphy has recently seen her new role expanded by Formby to "executive director for governance, membership and party services". She is behind a highly controversial move to restructure the party's regional staff.
HuffPost UK has seen an email sent to the House of Lords Appointments Commission that states Murphy is "completely unfit to be allowed to enter the House of Lords".
It says that the complainant, a former party staffer, has "evidence of her aggressive behaviour". Murphy denies any wrongdoing.
'She had me up against the wall by my neck'
One of the most shocking allegations is made by someone who worked at LOTO during the 2017 election campaign.
They have detailed to HuffPost UK how one day they were called in to see Murphy. The discussion centred on the worker's responsibilities on a key element of the campaign.
"I was called in to see her in a tiny room at the top of Southside [Labour's HQ in London]," they said.
"We were standing up the whole time – there was one tiny table. It was not a room you sit in.
"She was like: 'I'm not arguing with you any more.' I said: 'Well, we haven't reached a conclusion.'
"She was like: 'I've had it – I'm telling you this is how it is.' And that is when she pushed me up against a wall.
"She physically came towards me and put her hands at the bottom of my neck. She's had me up against the wall by my neck.
"She said something like: 'You've got to change or you're off.' Then she left and walked out of the room."
The staffer swiftly told a colleague of the incident. The colleague said this week: "They were very upset. It affected them for a few days afterwards.
"It's just unbelievable. We are supposed to be the party of the workers."
Murphy's lawyer said it was untrue that she had pushed anyone against a wall or put her hands on their neck.
'She brought fear to the office'
Murphy's defenders argue that she was a forceful personality who successfully sorted out a chaotic office, but her critics strongly disagree.
"She didn't bring order to the office, she brought fear to the office. [...] She's not just brash – she's terrifying and she knows it," an ex-staffer said.
"None of us wanted to do anything to damage the party, but now is the time. Enough is enough."
Another source said: "She's shouted at me. It doesn't take very much for it to end in shouting, just because I did something she disagreed with.
"It can be the smallest of details and you become enemy number one. It doesn't have to be a big thing for the tables to turn."
Yet another said: "She put the fear of god into people. When she walked into a room, you could feel a change in the air."
HuffPost UK has obtained a recording of Murphy during the 2017 election when she clashed with a member of staff over arrangements for the campaign.
Murphy is heard to say: "It's doing my head in. I'm at the stage where if it's not fucking working, I'll come and take over the whole thing myself and do it. Then somebody else can do my job.
"If you can sort it out, without being unwell, without being stroppy and upset, great. Sort it out."
Despite Murphy's reference to "being unwell", the member of staff at whom she directed the remarks had not taken a day off during the campaign.
'You, on the balcony, now'
One favoured place for reprimands was the balcony outside the leader's office, looking over the River Thames, sources said.
A source told HuffPost UK: "She would say: 'You, on the balcony, now.' Everyone would know she was going to give you a bollocking, and it was without rhyme or reason."
Another said: "She screamed at me on numerous occasions for not doing what she wanted. She would corner me in a corridor and try and intimidate me."
Murphy's lawyer denied the claims.
Another former staff member said that Murphy would use office desk moves to exert control over and undermine staff who stood up to her.
"She had no tolerance of anybody who was competent," they said. "People who were good at their jobs hit a ceiling. It's more subtle and insidious than just being bawled at in the office, but it's the same end result.
"I would have no hesitation in describing her as intimidating. There were five people I would say had jobs whittled away around them at various times – cut out of decisions.
"You'd discover [that in] an area you were in charge of, she'd sorted out a meeting you weren't invited to or you'd discover that your responsibilities were kind of reallocated.
"She would bestow upon younger members of staff great responsibilities which basically meant they did her bidding.
"There is no way she should be going in the Lords. That would be the nail in the coffin for Corbyn. He will be beyond rehabilitation if he does that, quite frankly."
Murphy's lawyer denied that Murphy used office moves to undermine staff. "The office naturally underwent changes as would any vibrant fluid office with teams that grew and diminished in size in response to needs and resources," he said.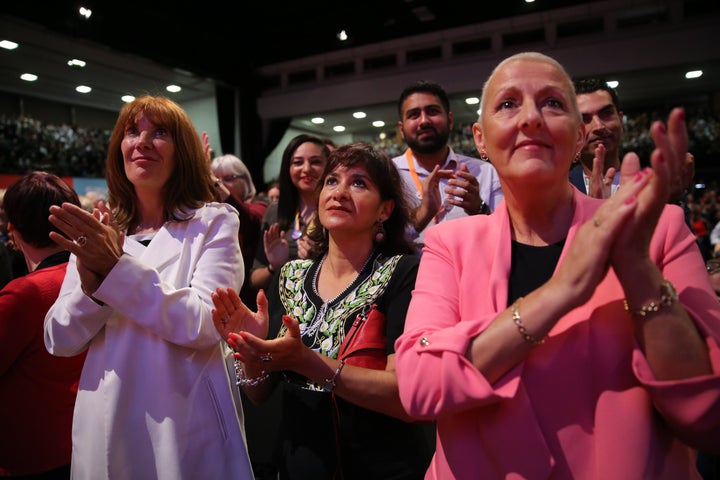 Many staff were prompted to raise concerns jointly after an incident that they claim took place during the 2018 Christmas party at the leader's office in the Commons.
Murphy took aside a junior adviser whom she accused of allowing a Liberal Democrat staffer into the party, and proceeded to scream at her in front of multiple witnesses for more than a quarter of an hour. The aide was reduced to tears before colleagues intervened on her behalf, it is alleged.
"It was absolutely horrific," said one of those present. "It felt endless. Eventually two other members of staff said: 'You can't do that.' They were very brave in doing so."
Murphy's lawyer said that it was untrue that she had shouted and screamed at a member of staff for 15 minutes during the Christmas party.
Joint letter
The incident sparked collective action from staff, who got one of their union representatives to submit a joint letter on their behalf to general secretary Jennie Formby.
The letter, which was anonymous but ended with the sign-off "20+ members of staff from the leader's office", set out a catalogue of complaints.
It alleged "bullying and intimidation of staff by SMT [senior management team] members, including shouting in the office and berating staff in front of colleagues, either in person, over e-mail or over WhatsApp".
It further claimed there was "a divisive and toxic culture fostered in the office, including pitting staff against each other, and creating unnecessary animosity".
Other allegations included "weaponising of complaints made by staff, including 'fishing' for potential complaints and encouraging staff to make complaints against colleagues" and "a lack of faith in HR procedures to resolve problems".
The letter did not name Murphy directly but several of those who endorsed it have told HuffPost UK it was aimed at her.
Those involved explained in the letter that they did not want to go public and wanted to see the issues resolved internally.
"As committed trade unionists, we are raising concerns, and directing them in writing to only the very few people who have the authority to do anything to address them – the executive directors in the leader's office and the general secretary," the letter said.
The letter set out a series of recommendations for action including compulsory management training and an external confidential review of management culture.
It also suggested "clarity be given to staff in policy and press teams regarding their management relationship with the chief of staff".
"We all regret the need to send this letter anonymously: something which unfortunately reflects a widespread culture of fear in the office meaning staff are afraid to speak up or even discuss problems they are having in the office," it read.
"We believe even more colleagues would have signed if we had felt comfortable discussing it more widely without fear of repercussions."
But when Formby replied to the trade union representative who had forwarded the letter, she made clear that she did not feel it appropriate to handle anonymous complaints and that formal grievance procedures should be used instead.
"As the allegations made are anonymous it is impossible to ascertain whether or not they are true," she wrote.
"This is not only worrying in relation to members of staff who may be feeling anxious or unhappy; it is also very unfair to the SMT [senior management team] against whom the complaints have been raised but who are in no position to explain or defend themselves."
Formby countered that "a significant number of individuals in LOTO have made contact wishing to distance themselves from the letter, with several of these people saying that they do not recognise the behaviours that have been outlined".
She stressed that as a lifelong trade unionist she was in favour of "openness on all issues relating to staff without any fear of repercussions".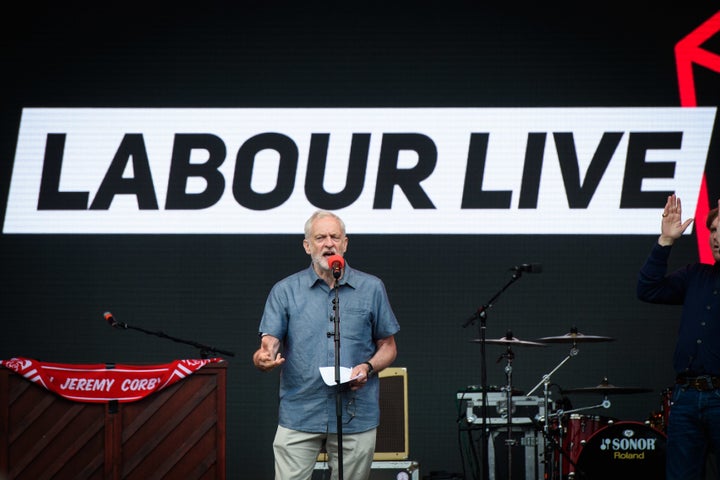 In a series of accounts to HuffPost UK, staff have described how Murphy would breach confidence about colleagues' alleged health problems. One former staffer was referred to by her as "a drunken crank".
"She was obviously trying to discredit them. That's her thing – divide and rule," one said. "I heard her say things like: 'They're having a mental crisis.'"
Two witnesses described how shocked they were that Murphy had discussed the miscarriages of two female members of staff.
Junior female staffers were also handed menial tasks or personal errands for Murphy, in one instance having to pick up a pair of shoes from her home.
Another of those who signed the letter said: "You can be a forceful personality and you can organise things better, but this was different."
One current staffer said: "She tried to intimidate me. It does make you think to stay out of her way. She will talk about 'doing in' people who stand up to her."
An ex-member of the leader's office added: "My own personal experience of it was constant rearranging of the office and splitting people up if she thought they were getting too close and creating power bases she couldn't control. There were desk moves regularly. Total paranoia.
"I was screamed at on numerous occasions for not doing what she wanted. [There were] accusations of leaking to the press, completely unfounded. She would start giving people's jobs to other people.
"She would often corner me in the corridor and have a go at me if she disagreed with something I had said and try and intimidate me. It was either aggressive whispering or a very angry, almost lost control, shouting she would do."
Some former and current staff claimed Murphy had a lack of respect for Corbyn himself, and would be dismissive of him in private.
At one meeting in the early planning of the Labour Live festival in 2018, the so-called "JezFest" that went on to incur large losses, several staff were present when Murphy – according to one source – said: "Jeremy has just come and spoken to me he's said he doesn't want it to be in London and he wants the tickets to be cheaper. But we are going to ignore him."
Labour Live went on to take place in north London. Tickets were originally £35 for adults but, following reports of poor sales, were reduced to £10 days before the event.
"The message from that was if you have criticisms, don't voice them – dissent is not welcome, even from the leader. And there was a lot of dissent over Labour Live."
Murphy's lawyer said that she denied ignoring Corbyn over the LabourLive event. "Any statement that our client gave a message or indication that 'if you have criticisms, don't voice them – dissent is not welcome, even from the leader' is untrue," he added.
'Supportive of staff'
However, several friends of Murphy have stressed that they have seen no evidence of bullying conduct.
They insist that she is very supportive of staff and goes out of her way to promote workplace rights, including strong trade union representation, and to help female colleagues in particular feel empowered.
Murphy's lawyer provided HuffPost UK with a series of supportive statements from staff who had worked with her.
Joe Bradley, who worked closely with Murphy and is now operations director for the Rebecca Long-Bailey leadership campaign, said: "These allegations are absolutely ridiculous. Karie brought me in to LOTO and was a great manager from day one. She always made sure I had the support and guidance that I needed, in some incredibly difficult circumstances."
Amy Jackson, Corbyn's former political secretary and a close colleague of Murphy, added: "I've worked with Karie for years – in LOTO and also in another office. She has consistently been incredibly supportive of me, and has always offered advice, guidance and help. She turned LOTO around when she came in and always had a good relationship with staff. I don't recognise these allegations at all."
Louis Mendee, Murphy's assistant for the past year, said: "Karie has always been a very supportive boss. She was always in the office, sitting in the same place as everyone else, and was always easy to talk to when you needed her advice or help. I have never ever witnessed her behaving badly in any way."
Janet Chapman added: "I have always found Karie to be a highly competent manager who treats staff with respect. In a political office, things are always very busy and stressful, but she always kept her cool and dealt with problems with a good sense of humour. She is always a good laugh and jokes with everyone."
A spokesperson for Murphy said: "These are vicious smears falsely generated to feed a media determined to damage the Labour Party and Ms Murphy personally.
"It is categorically untrue to say complaints were made about Ms Murphy by existing Labour staff. It is categorically untrue to claim Ms Murphy is a bully.
"It is ludicrous to claim Ms Murphy assaulted anyone. Legal action to hold to account those responsible for making and spreading these untruths will follow these defamatory allegations."
With reference to the letter signed by "20+ members of staff from the leader's office", Murphy's lawyer said: "In fact, our client is aware of an open letter authored and signed by several staff members which has been sent to the leader of the Labour Party in support of the SMT."
He added: "Our client points out that in four years of working with LOTO, our client has not had any formal or indeed informal complaint brought to her under two general secretaries of the Labour Party."
A party spokesperson said: "The Labour Party has an agreed and robust grievance process, experienced HR team and a strong culture of working together with trade unions to ensure all staff are treated fairly and with respect."
In response to queries about Formby's letter, a Labour source added: "As the general secretary's letter clearly demonstrates, Jennie repeatedly urged any staff member with a complaint to raise a formal grievance through the party's procedures or through their trade unions so it could be properly investigated.
"It was not possible to do this with an anonymous letter. She gave her assurances that anyone who did so would be fully protected from any repercussions. Jennie responded to the broader issues raised in the letter, reviewed procedures and staffing, and made clear she would take forward several of the recommendations."