Britain's biggest left-wing tabloid has called on Jeremy Corbyn to resign - but a poll suggests the vast majority of its readers don't agree.
The newspaper - Britain's third biggest daily with a circulation of 780,000 - explained it was sending a "heartfelt" message to Corbyn and "regretfully" demanding he step down, after 46 resignations from his Shadow Cabinet and frontbench since Sunday.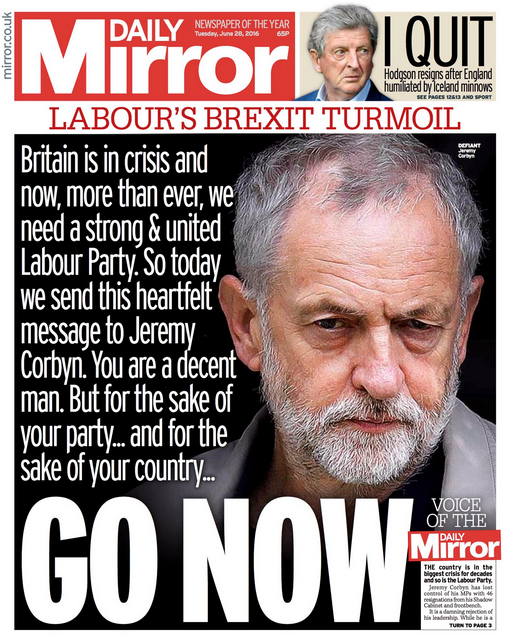 "It is a damning rejection of his leadership," the paper's editorial said, adding that Corbyn is a "decent man" but has "lost control of his MPs" and the party faces its "biggest crisis" for decades.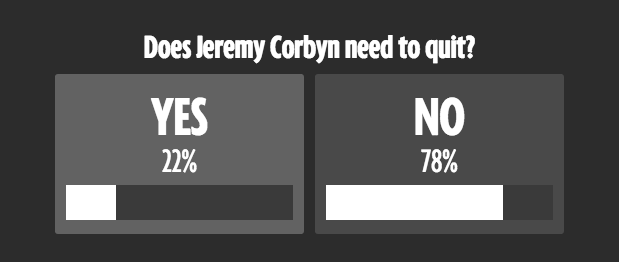 "While he is a decent and principled man, it is now clear he is not cut out to unite and lead Labour through these turbulent times and beat the Tories in a snap general election," The Mirror wrote.
"And that is why, regretfully, the Mirror today calls on him to step down for the good of the party and the country."
The Mirror backed Remain in the EU referendum, saying: "This paper certainly has its issues with the EU but after the most divisive, vile and political campaign in living memory, we say ... vote remain tomorrow".
They agreed to stage a secret ballot on a motion of 'no confidence' in him on Tuesday, which is expected to be passed by an overwhelming majority.
Related