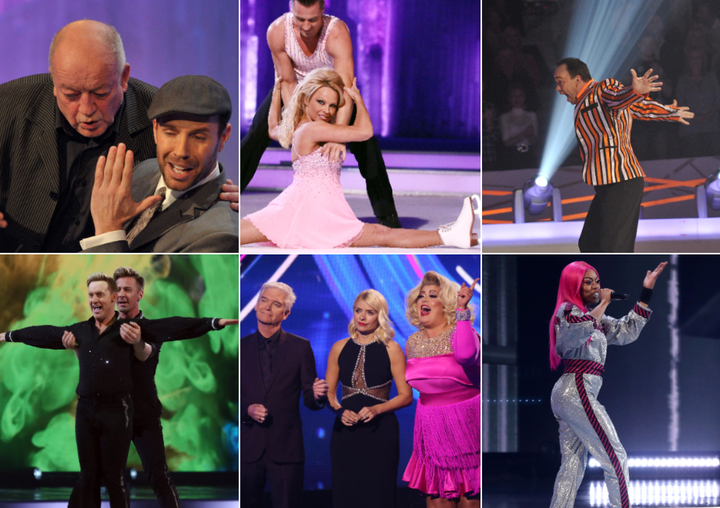 But before the sun sets on the 14th season of the ITV show, we're taking a look back at some of times Dancing On Ice really got us all talking (whether that was for the reasons ITV hoped, or otherwise)...
1. Pamela Anderson makes £1000 a second (2013)
The former Baywatch actor was Dancing On Ice's big-name draw back in 2013, reportedly bagging a hefty £150,000 to take part in the show.
Unfortunately for ITV, she only lasted one week, meaning that for every second she was on the ice during her first (and only!) live show, she earned around a grand.
Despite finishing in third place on the judges' leaderboard, the public were seemingly less taken by Pammie's routine, and she later became the first to be eliminated.
2. Diamonds are Gemma Collins' best friend...(2019)
Gemma Collins' stint on Dancing On Ice was iconic for all kinds of reasons, but if we're talking production value, her second performance was probably the most outstanding.
Performing to Diamonds Are A Girl's Best Friend, The GC got the opportunity to channel her idol, Marilyn Monroe, and while her skating wasn't exactly to Tovill and Dean standards, she certainly brought the entertainment value.
3. Jason Gardiner is apparently not Gemma Collins' best friend (2019)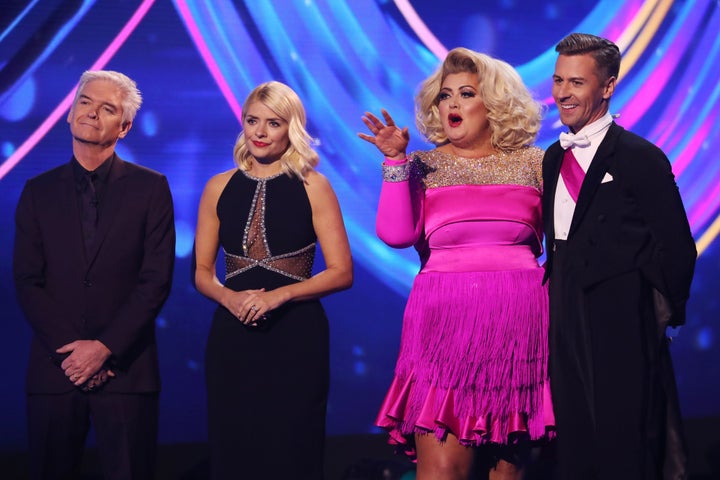 Immediately after her Marilyn-themed routine, former judge Jason Gardiner tore into The GC's performance, resulting in the reality star hitting back, and accusing him of "selling stories" on her.
The two rowed throughout that series of Dancing On Ice – and beyond! – with Jason accusing Gemma of turning the show into a "pantomime".
4. But Gemma isn't the only one Jason rubbed up the wrong way (2011)
During his long stint on the ice panel, Jason had a habit of getting on the wrong side of people.
When Denise Welch was on the show, he really did seem to have it in for her, and a few weeks into the competition, her then-husband Tim Healy decided he'd had enough of it.
Making his way down from the audience, Tim leant in and famously told Jason (to cries for him to "sit down" from Denise): "Listen, mate, she's 52, and she's got four jobs. How many jobs have you got?"
Sadly, Tim's defence wasn't enough to keep Denise in the competition, and she was eliminated later in the episode.
5. Ian 'H' Watkins makes TV history with the show's first ever same-sex skate (2020)
Steps singer Ian "H" Watkins and Matt Evers became the first ever same-sex pairing to skate on Dancing On Ice in 2020, giving their first performance to Panic! At The Disco's High Hopes.
The routine won praise from viewers, and moved new addition to the panel John Barrowman to tears.
Later that year, Strictly Come Dancing followed suit, with Nicola Adams and Katya Jones performing as part of the BBC show's first same-sex duo.
6. Rufus Hound lambasts the UK government live on air (2021)
Dancing On Ice's 2021 run arrived during a particularly turbulent time for the country, most of which had been recently put in a post-Christmas lockdown due to the Covid-19 pandemic.
In the first episode of the series, comedian Rufus Hound was awarded a golden ticket from the panel which gave him immunity from elimination that week.
During his celebrations, he seized the opportunity to take a pop at the UK government's handling of the crisis, telling Phillip Schofield: "Mate, we live in a world where the people we elect don't want to feed hungry children. This is the least mad thing that's happened to me in a long time."
Unfortunately for Rufus, he was unable to cash in on that golden ticket, as he was eventually forced to withdraw from the competition when he contracted Covid. More on that in a second, though...
7. Perri Kiely's backflip on ice (2020)
A decade on from his Britain's Got Talent win, it was obvious that Diversity performer Perri Kiely was always going to bring it on the rink – but even we didn't predict just how many tricks he would have up his sleeve.
His finest hour probably came during this "dance battle"-inspired routine, which saw him delivering a high-speed backflip on ice skates, a feat we bet even some of the pros would struggle with.
8. Jason Gardiner crosses a line with Karen Barber (2011)
It wasn't just the contestants that Jason got on the wrong side of during his time on the show.
In 2011, he faced a backlash over comments he made to Karen Barber, who had moved from being a judge to the position of head coach for that year's series.
After Karen contested one of his comments, Jason flippantly remarked that "if her opinion still mattered, she'd be on the panel", which came as a shock to viewers and the studio audience, with Holly Willoughby having to step in to defend the former judge.
9. Todd Carty loses control on the ice (2009)
Listen, we know it's not exactly sophisticated and nuanced humour, but watching Todd Carty slide his way off screen – accompanied, ironically, by The Beatles' Help! – still has us laughing out loud 13 years later.
10. A whole lot of behind-the-scenes romance drama (2013)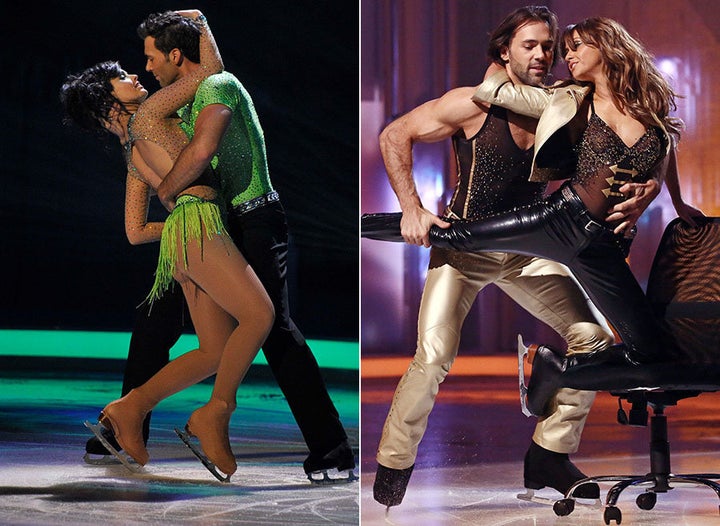 In series six, Hollyoaks star Jennifer Metcalfe got together with professional skater, Sylvain Longchambon, with whom she was in a relationship for two years.
That is, until he began dating his new partner, Coronation Street actress Samia Ghadie, who he later married in August 2016.
Sadly, it wasn't an amicable break-up, with Jennifer claiming that being dumped by Sylvain (on Christmas Day, no less) had left her "gutted".
He has always maintained he was never unfaithful to Jennifer.
11. Jennifer Ellison accidentally injures her own head with her ice skate (2012)
Of course, with all the glitter and sequins, it's easy to forget just how dangerous ice skating actually is – as Jennifer Ellison discovered during one of her routines.
The former Hollyoaks star took flexibility to a new level when she performed a scorpion kick, but accidentally sliced her own head open in the process.
Fortunately, she was alright (but did require immediate medical attention) – and even managed to finish her performance despite her injury.
12. Gemma Collins suffers a dramatic fall (2019)
After repeatedly facing accusations from the judges that her performances were all style over substance, Gemma and partner Matt Evers decided to do something different, stripping her routine back and making it all about the skating.
Unfortunately, despite getting off to a pretty strong start, this was also the week when she famously hit the ice hard during a fall towards the end of her performance.
Props to Gemma, though – she was clearly shaken, and a little embarrassed, but soldiered on and finished the number.
13. Hayley Tamaddon gets a perfect score for her Jai Ho! routine (2014)
A routine that's frequently named as Dancing On Ice's best ever, after winning the show in 2010, Hayley returned for the All Stars series in 2014, where she made the final and brought back this classic performance from her original run.
She may not have won the crown that night, but we're not totally sure this routine has ever been bettered.
14. Ray Quinn and Maria Filippov perform the Bolero for Torvill & Dean (2014)
For all we loved that Jai Ho! number, there's no denying that Ray Quinn was a more-than-deserving winner of Dancing On Ice All Stars back in 2014, for what was intended to be the show's last ever series (it was, of course, brought back just four years later).
The former X Factor star nailed this Bolero – in front of Torvill & Dean, no less – and went on to be crowned the show's champion of champions.
15. Lady Leshurr does her thing (2021)
When you've been watching a show for over a decade, you do start to think you've truly seen it all, so it's always nice when a contestant brings something fresh to the proceedings.
That's what Lady Leshurr did in 2021, when she began her routine to Little Mix's Salute with a bespoke rap verse, before launching into an impressive skating performance. To be honest, we're still kind of fuming she didn't make the final that year.
16. Didi Conn channels Rocky Balboa... on ice (2019)
Seriously, if you thought those skills were impressive, wait till you see Didi Conn – aka Frenchy from Grease – pulling off six consecutive push-ups on ice in the middle of this Eye Of The Tiger routine.
17. The unlucky 13th series (2021)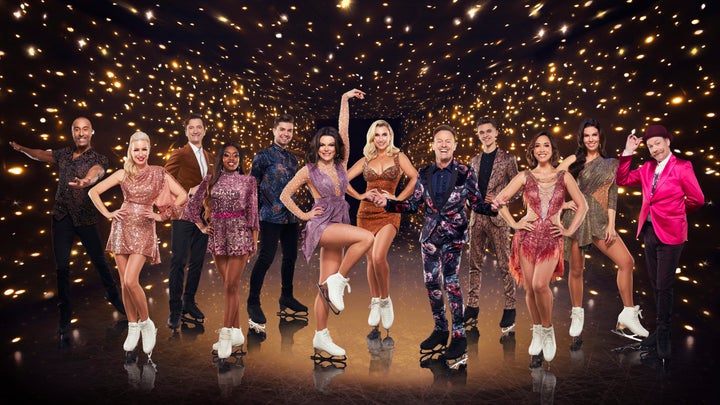 As if the pandemic wasn't enough to contend with, Dancing On Ice bosses had to navigate injuries, personal drama and switches to the line-up throughout the show's unlucky 13th run in 2021.
In total, eight cast members – including celebrities and professional skaters – were forced to withdraw over the course of the series, due to people testing positive for Covid or injuring themselves (including a sock-related accident for Hamish Gaman).
One live show had to be cut completely, while bosses eventually moved the final forward a week due to dwindling numbers on the line-up.
18. Literally every single time Sylvain Longchambon skated with his top off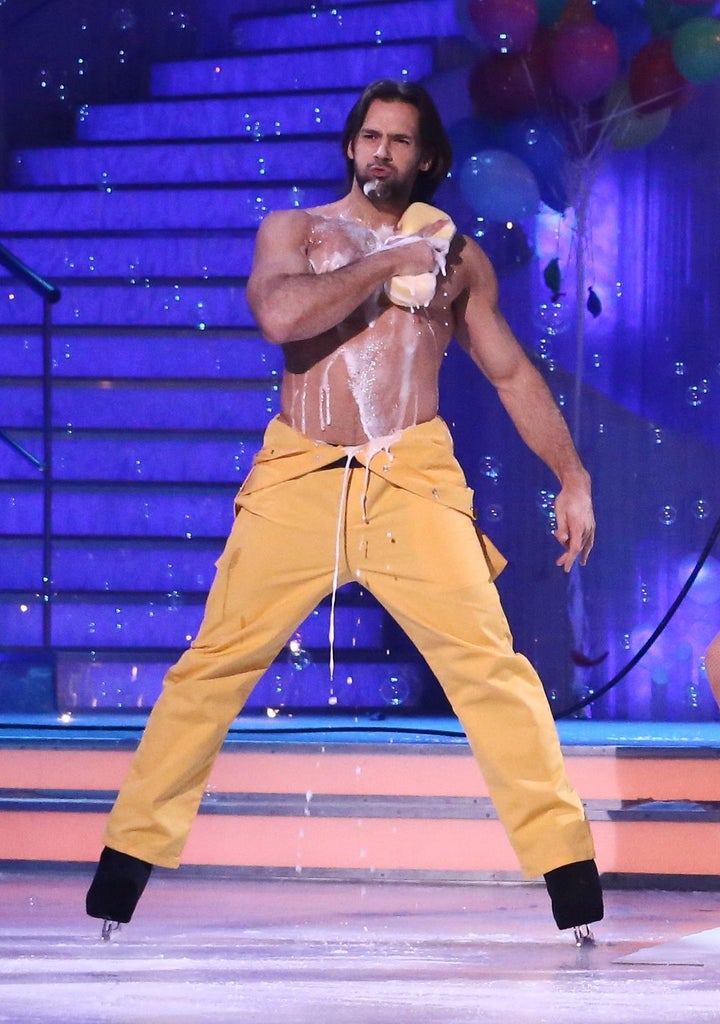 But especially this time.
Dancing On Ice returns on Sunday night at 6.30pm on ITV.