When Donald Trump agreed to face a gruelling 65-minute assault of jokes from comedians they targeted his wife, his hair, his sex life and his real estate empire.
"Donald is very happy with his lovely wife Insert Name Here," fired Lisa Lampanelli in the 2011 film.
While Snoop Dogg quipped: "Donald says he wants to run for President and move into the White House. Why not? It wouldn't be the first time he pushed a black family out of their home?"
Aaron Lee, one of the Comedy Central Roast joke-writers, has now revealed Trump's "off-limits" subject was any joke that suggested he was not as wealthy as he claimed to be.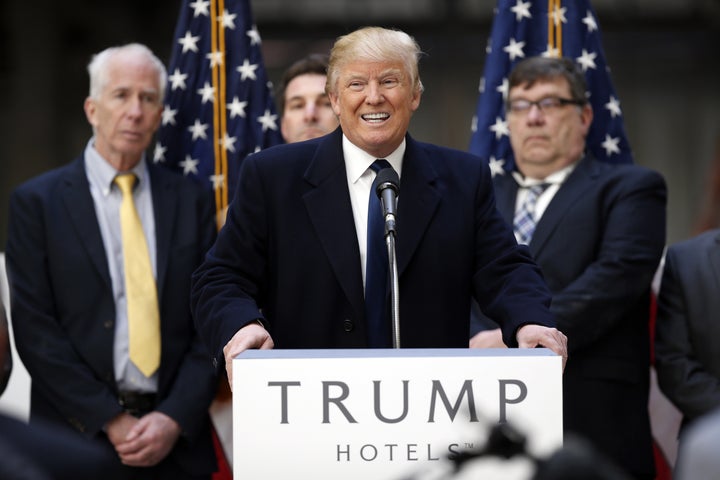 All celebrities who appear on the show are allowed to veto a certain topic: Joan Rivers disallowed jokes about her children; David Hasselhoff asked comics not to make fun of his daughters.
But billionaire business magnate Trump decided his most precious possession not to be joked about was his wealth.
In a social media post on Wednesday, Lee wrote: "I've written jokes for every Comedy Central Roast special since Pam Anderson in 2005. (Except Charlie Sheen!)"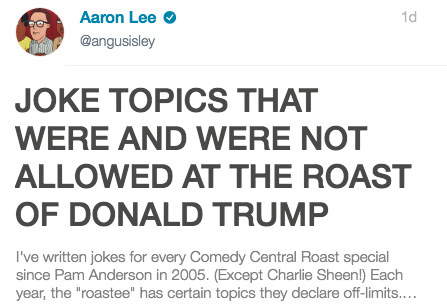 "Each year, the 'roastee' has certain topics they declare off-limits. It's always interesting to learn what is 'sacred' for a celebrity."
Lee revealed that, for Trump, that subject was his much-touted fortune.
"The only thing we got from Trump was the request not to say he exaggerates his wealth," Lee said.
But it didn't stop comedians poking fun at how he acquired that money though, given Seth Rogan's jibe that: "Tonight we honour a self-made millionaire, he started with nothing, worked hard and made a fortune. That man is Fred Trump, Donald's dad."
Trump is worth an estimated $4.5bn, according to Forbes, and has long boasted about his vast wealth. He once described $9.6m - a sum he borrowed from his father - as "a very small amount of money".
SEE ALSO:
Related