Nigel Farage questioning Donald Trump about Brexit, Britain and the Queen – it's the interview literally no-one asked for. (And surely one of the weirdest things broadcast on the radio for *quite* some time?)
But on Thursday night, that's exactly what we got – and it was as bonkers (and wide-ranging) as the premise might suggest.
From the president's "magic wand" to his thoughts on Jeremy Corbyn becoming prime minister, here is everything you missed from the interview on LBC.
1. The Moment Trump Shared His Thoughts On A Corbyn Premiership
With a general election less than six weeks away, Trump did not pull *any* punches when speaking about potential prime ministers.
Boris Johnson is a "fantastic man" – and the "exact right guy for the times", the president said.
But when it came to Labour leader Jeremy Corbyn, it's fair to say he was far less complementary...
"Corbyn would be so bad for your country, he'd be so bad, he'd take you on such a bad way," Trump said. "He'd take you into such bad places.
"Your country has tremendous potential. It's a great country."
So far, so... absolutely bonkers. Remember, this is the president of the United States – in an interview with the leader of the Brexit Party – endorsing a candidate for PM on one of the very first days of the election campaign.
Astounding. (When President Obama waded into the Brexit debate back in 2016, it caused *major* drama.)
2. When It Sounded Like Trump Was Trying To Set Up Johnson And Farage On A Blind Date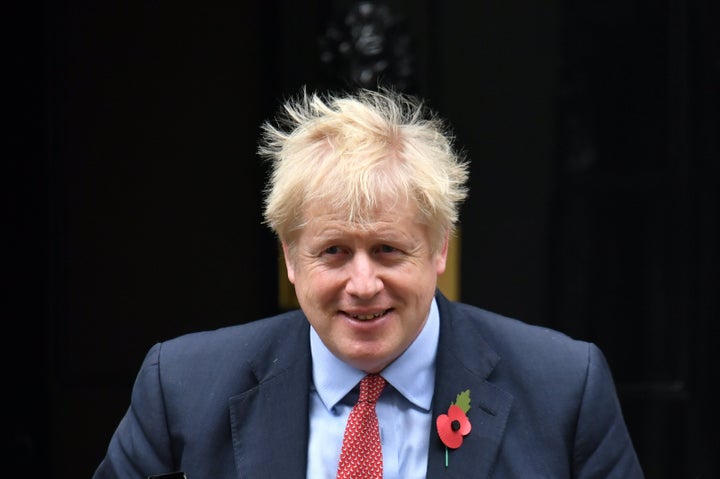 For what was trailed as a *very* serious interview between two *very* serious politicians, in places Trump's chat with Farage sounded a whole lot like someone trying to set up two of their friends on a blind date.
"I'd like to see you and Boris get together, because you would really have some numbers," Trump told Farage, saying the Brexit Party leader did "fantastically" in the European elections in May.
"He [Johnson] respects you a lot. I can tell you that," the president continued. "He respects you a lot. I don't know if you know that or not... but he has a lot of respect and like for you and I wish you two guys could get together.
"I think that would be a great thing."
Quick, someone tell the president it's Halloween, not Valentine's Day.
3. Trump On BoJo's Brexit Deal
Trump may be a big fan of Boris, but he made it *very* clear he's not quite as keen on the PM's Brexit deal.
"We want to do trade with the UK and they want to do trade with us," the US leader explained.
"They want to do the trade with us," he repeated. "And, to be honest with you, this deal – under certain aspects of the deal – you can't do it.
"You can't do it. You can't trade. We can't make a trade deal with the UK."
4. The Moment Trump Started Talking About His 'Magic Wand'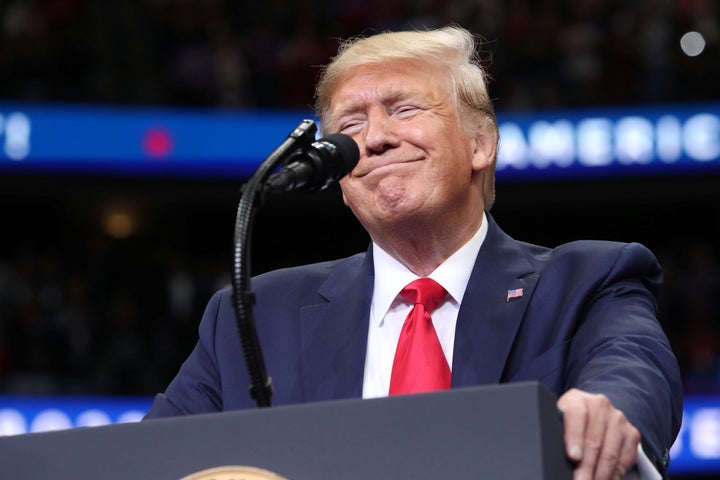 It's Halloween – you've got to expect some mysterious goings-on. But no-one was prepared for Donald Trump to start talking about his "magic wand".
Speaking to Farage about Brexit, the president said the UK was being "held back" by the EU.
"I also know for a fact that they're tough people to deal with," he said. "I will tell you this. I told that to Boris.
"I said: 'They're very, very difficult to deal with' and I have a magic wand. I can deal with them very easily. All I have to do is a certain step and they'll be coming and dealing with me very easily."
"I always thought you had a little bit of a magic wand too, but they never used it," he told Farage. "You know what I'm talking about."
Understand what's going on? Us neither. But at least Farage seemed to get it.
He replied: "I do and I'd loved to have helped, but at the moment they have chosen not to use me in any of these negotiations."
5. When He Called The Queen A 'Great, Great Woman'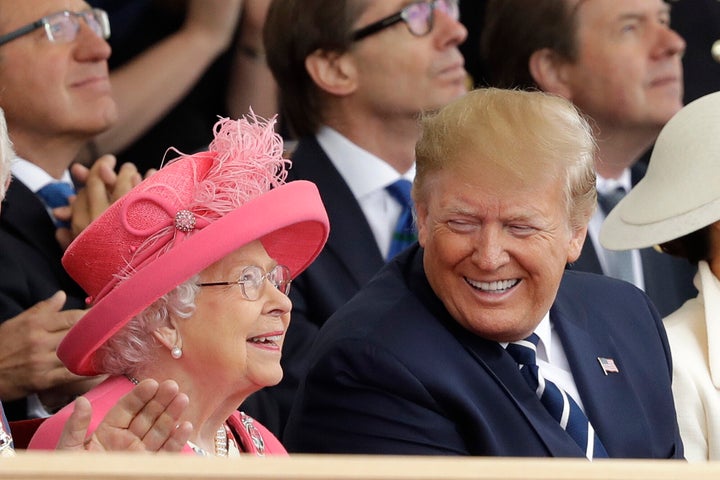 He may be divided when it comes to the UK's political leaders, but there's one Brit Trump is certainly a fan of – the Queen.
The Queen is a "great, great woman, and I think we hit it off really well," he told Farage, speaking about his state visit to the UK earlier this year.
"We had a terrific time but she's a great woman," he added. "I say that very seldom, I don't say that often I have to say, about anybody, but she is
really very outstanding and Prince Charles so good, so good, he loves the
environment, he loves your country, so much, we had a great time."
He and Prince Charles will "get together" soon, he added.
I'm sure the royal family can't wait.