As the two world leaders met at the White House on Monday, Trump turned to enter his new residence with the Canadian PM in tow.
And, for a brief split-second, that legendary, perfectly coiffured mane of wispiness was shoved to one side to reveal a demarcation the likes of which has not been seen since North and South Korea were established.
Watch closely at around 10 seconds in to the clip above.
Missed it? Here it is again.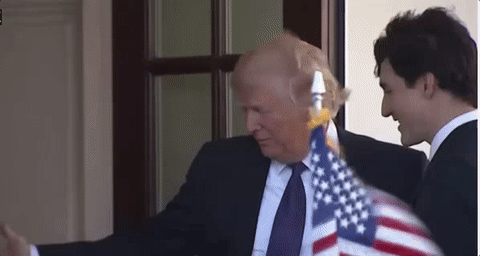 Debate over the origins of Trump's orange hue has been divided largely into two camps - those who believe it's make-up and those who stump for badly applied fake tan.
Jason Kelly, owner of Cleveland-based J Kelly Face Art and then-official make-up artist for the RNC, said: "I know exactly what he does to himself — the tanning bed, the spray tan, he wears the goggles and you can see the hyper-pigmentation around his eyes.
"What I'll do is use a slightly deeper colour and blend it into his tan so there's not an abrupt contrast. I'm ready for it."
Clearly he wasn't present yesterday.