Donald Trump spends most of his time firing out attacks on people: refugees, Mexicans, women. But his campaign's latest attempt to deride vulnerable asylum seekers has got turned right back at him.
Late on Monday night, Donald Trump Jnr posted a picture comparing Skittles to refugees, suggesting that the US should not accept anybody fleeing the war-stricken state for fear they were a terrorist.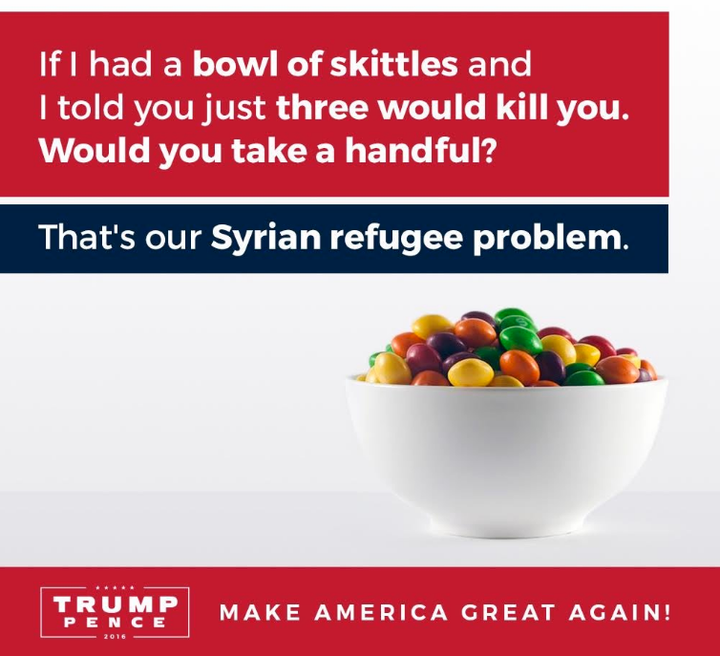 It prompted a flurry of outrage and prompted Skittles to issue a statement clarifying that their product was "candy" and that refugees were "people".
But the post's latest incarnation sees Trump brilliantly mocked with the ad's message being turned right back on its agitator.
The new ad's creator is David Mandel, an executive producer on the satirical politics show 'Veep', which follows the farcical campaign of imaginary ex-US governor Selina Meyer's run for the White House. The programme was written by Armando Iannucci, the man behind Britain's 'The Thick of It'.
Mandell posted the mock-up ad with the message: "This image says it all," adding the pro-Clinton Twitter hashtag '#ImWithHer'.
Other spin-off Skittle ads also emerged deriding Trump.
"If I had one coin and I told you just getting tails would put a racist in the White House. Would you flip that coin" one asked.
While others used the opportunity to ridicule Trump Junior even further.
NOW READ: