Spencer reflected on her own experience with her mental health following the birth of her daughter, as part of a video released for the Duchess' 'Heads Together' campaign.
She met the Duchess at Kensington Palace and discussed how she first spoke about her postnatal depression with a friend in Australia via FaceTime.
"It's such a hard thing to open up, as you feel so much pressure as a new mummy," Spencer told the Duchess. "I felt like I had to talk about it."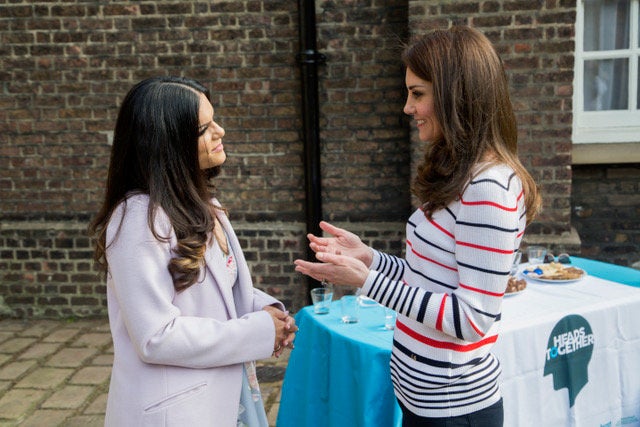 Spencer said: "It was strange to be somebody that was talking about feelings that were dark and feelings that I'm not usually used to.
"But I'm so pleased that I did it and I hope it empowers new mums to see there is light at the end of the tunnel, it is normal."
Spencer said as soon as she told her friend what she was going through, it was like the "biggest weight" had been lifted and "everything changed".
The Duchess of Cambridge told her: "Nothing can prepare you for motherhood the first time around, it is such a vulnerable time.
"You have so bravely given other mothers out there the platform to stand up and say: 'Actually, I feel the same way'.
"So many people would identify with what you're saying, the reality of it is really daunting. It's overwhelming.
"You are doing the brave thing, standing out there and talking about your experiences and you'll be a huge inspiration to other mothers. Thank you on behalf of William, Harry and I for taking part."
The Heads Together video series features people from all walks of life talking about the conversations that helped them cope with their mental health, to show everyone that it is ok to say you are struggling and need help.
For information and support:

Mind: A mental health charity there to make sure no one has to face a mental health problem alone. Call: 0300 123 3393.

Pandas Foundation: Charity to support and advise any parent who is experiencing a perinatal mental illness. Call: 0843 28 98 401.

Mothers for Mothers: A postnatal depression support group with information and peer advice. Call: 0117 975 6006.

PNI: A website run by women who have suffered from postnatal illnesses to share personal experiences and offer support.