Switching to "green" inhalers could cut greenhouse gas emissions and reduce drug costs, according to a study by the University of Cambridge.
Researchers looked at prescription data from England in 2017 and estimated the carbon footprint of inhalers commonly used in the country.
The carbon footprints of metered-dose inhalers were between 10 and 37 times those of dry powder inhalers – the latter are considered more environmentally friendly.
Replacing one in 10 metered-dose inhalers with the least expensive brands of dry powder equivalents could reduce drug costs by £8.2 million annually, researchers said. And it would reduce greenhouse gas emissions by the equivalent of 58,000 tonnes of carbon dioxide a year, roughly the same as 180,000 return car journeys from London to Edinburgh.
Guidance from the National Institute for Health and Care Excellence (NICE), issued earlier this year, encouraged asthma patients to use more environmentally-friendly inhalers.
But for some people it's not as easy as simply switching to a greener alternative. A leading asthma charity suggested some people might struggle to breathe in enough medicine or have problems working a more environmentally-friendly device, which is why you should consult your GPs before making any changes.
NICE's guidance includes information on the carbon footprint of each inhaler option in a bid to encourage people to switch to a greener alternative where possible. Details on how to recycle inhalers or correctly dispose of them have also been shared.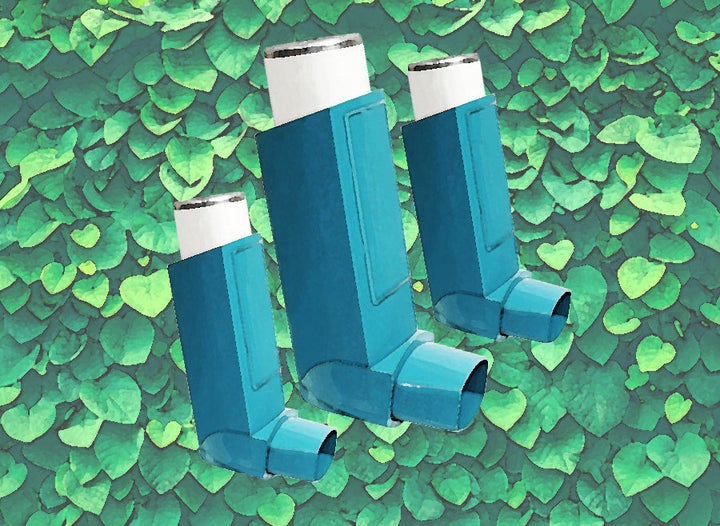 Why Aren't All Inhalers Environmentally Friendly?
Many asthmatics currently use metered dose inhalers, which contain substances known as hydrofluorocarbons to help propel the dose into their respiratory system. These devices have an estimated carbon footprint of 500g of carbon dioxide equivalent per dose.
Five doses from a metered dose inhaler can have the same carbon emissions as a nine-mile trip in a car, NICE said, and more than 26 million prescriptions for metered dose inhalers were written by GPs in England in 2016-17.
By comparison, dry powder inhalers contain a fraction – just 20g – of carbon dioxide per equivalent dose and work well for many patients. Dry powder inhalers include: Easi-Breathe, Accuhaler, Easyhaler, Ellipta and Turbohaler (among others).
However they are not suitable for everyone. Asthma UK told HuffPost UK some people might have problems inhaling enough medicine through this type of inhaler. Others might have problems with dexterity or working the device, it said, and some people may experience side effects with some types of inhalers, such as oral thrush.
NICE has shared a patient decision aid offering information on the different types of inhaler which may be used by the estimated 5.4 million people in the UK who have asthma, and how to use them effectively.
How To Make The Switch
Professor Gillian Leng, deputy chief executive of NICE, said people who need to use metered dose inhalers should continue to do so. But if you do have the choice of a greener option, she urges: "Do think about the environment."
"Cutting carbon emissions is good news for everyone, especially those with respiratory conditions," she added.
Swapping out metered-dose inhalers for the cheapest equivalent dry powder inhaler could cut millions off the NHS drugs bill and significantly reduce carbon emissions, according to the University of Cambridge research published in the journal BMJ Open.
Dr Samantha Walker, director of research and policy at Asthma UK, warned people not to make the switch until they've consulted their GP or asthma nurse.
It's important to have regular catch-ups with medical professionals about your inhaler use anyway. It's thought more than a million people in the UK could be at risk of an asthma attack because they aren't having yearly inhaler checks.
"Asthma attacks are not only terrifying but they can be life-threatening," Walker told HuffPost UK. "It is vital that people with asthma have the inhaler that best suits their needs, and which will help to keep them well."
Recycling Your Asthma Inhalers
NICE is also urging patients to return used inhalers to local pharmacies so that they can be safely disposed of, or to recycle them where the service is available.
Recycling your used inhalers is a great way to make a difference to the environment and cut CO2 emissions, according to Asthma UK. So if you can't switch your inhaler to a greener version, perhaps recycling could be a way to help the planet instead?
GlaxoSmithKline's 'Complete the Cycle' campaign lets you recycle your inhaler at any participating pharmacy (find your nearest here).