A pro-'Brexit' campaign group wrongly attributed a quote from the Daily Mail to one of Brussel's top officials in a bid to bash the EU, it has been revealed.
Grassroots Out (GO), a campaign urging Britons to vote 'leave' in the upcoming EU referendum, credited a quote accusing voters of being "too ignorant" to vote to Viviane Reding.
GO's student branch published a poster that claimed Reding, former European Commission vice president, said: "Britons are too ignorant about Europe to vote in a referendum on the matter."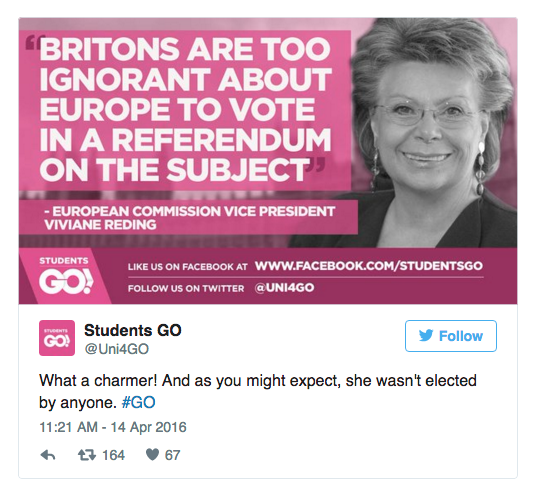 It was re-tweeted 150 times, including by the Conservative MEP Daniel Hannan, with the added message: "What a charmer! And as you might expect, she wasn't elected by anyone."
But, as several astute Twitter users pointed out, the quote came not from Reding but in fact from a Daily Mail article about her back in February 2014.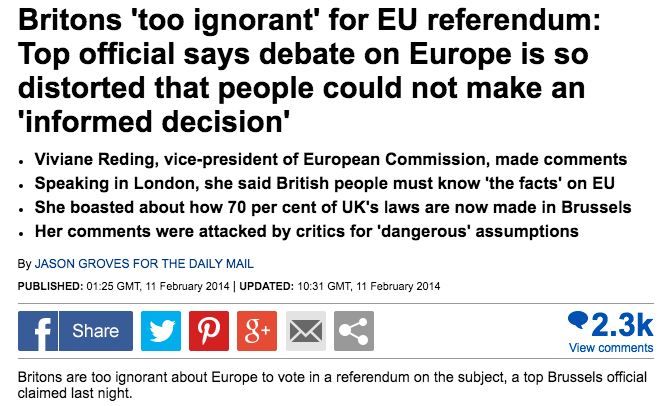 They noticed that the quote was incorrectly attributed.
Ironically, the EU chief did express concern that facts about the EU were being distorted, leaving voters unable to make an "informed decision".
"The fact is that very often, I see a completely distorted truth being presented and then how do you want people to take an informed decision? They simply cannot"
From the 'remain' side's StrongerIn campaign, James McGrory, the group's chief spokesman, called the poster a "desperate and cynical misinterpretation".
"I understand it's been a bad week for Grassroots Out, having managed to lose the designation from the Electoral Commission to the chaotic Vote Leave campaign," he told The Huffington Post UK.
"But that doesn't excuse desperate and cynical misinterpretations like this. Grassroots Out should apologise, take down this poster, and try to do something about the chronic weakness of their arguments."
A spokesman for Grassroots Out apologised for the post and said the original tweet had been deleted.
He told HuffPost UK: "We apologise for the minor inaccuracy in our tweet regarding Viviane Reding.
"Reputable news organisations such as the Huffington Post and Daily Mail reported that Ms Reding said Brits were 'too ignorant' to vote in the referendum. We have made sure our tweet reflects this fact."