Calls for Jeremy Corbyn to back remain at the European elections have intensified as a strongly pro-EU manifesto penned by left-wingers was passed to the Labour leader.
Titled "Remain, Reform, Rebel", the document was penned by Corbyn allies, including his ex-economic advisor Ann Pettifor, and has been endorsed by every sitting Labour MEP set to contest their seat should the Brexit deadlock trigger the May 23 poll.
It demands an EU-wide Green New Deal – similar to that advocated in the US by Democrat politician Alexandria Ocasio-Cortez – to include a "European super-grid" and pledges to make the continent 100% served by renewables by 2050.
Labour's official manifesto will be be decided separately by the party's ruling National Executive Committee and the party has said it will consult with a range of stakeholders.
Talks between Corbyn and Theresa May were set to enter a third week on Monday as the pair attempt to thrash out a compromise after the prime minister's withdrawal agreement was rejected three times.
While elections to the European Parliament are not yet certain, all parties have begun preparations to take part.
May last week secured a flexible extension to Article 50, which gives the UK until October 31 to agree a deal.
Reports vary on how cross-party talks are progressing, with some claiming common ground on a customs union will break the logjam and others dismissing the cross-party negotiations as a charade.
Corbyn attacked the PM's failure to propose "real compromise" at a speech at the Welsh Labour conference on Saturday, telling delegates: "I have to say, it is a challenge to negotiate with a government that's collapsing – when you can't be sure if commitments made by the prime minister will survive the week and when cabinet collective responsibility has given way to collective irresponsibility, with ministers contradicting each other on the airwaves."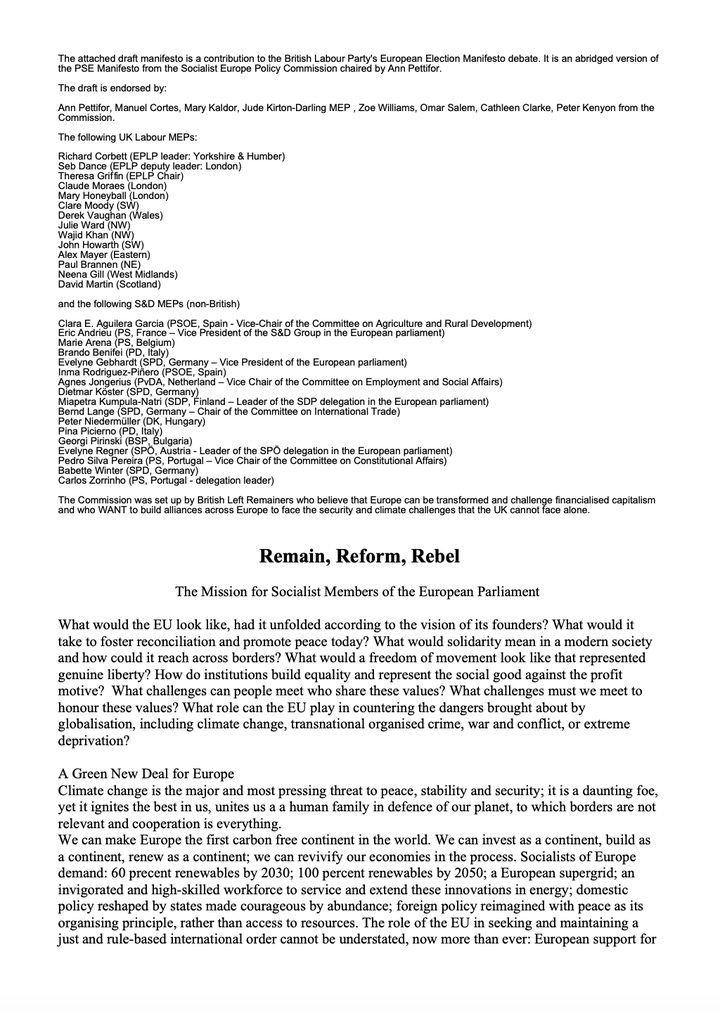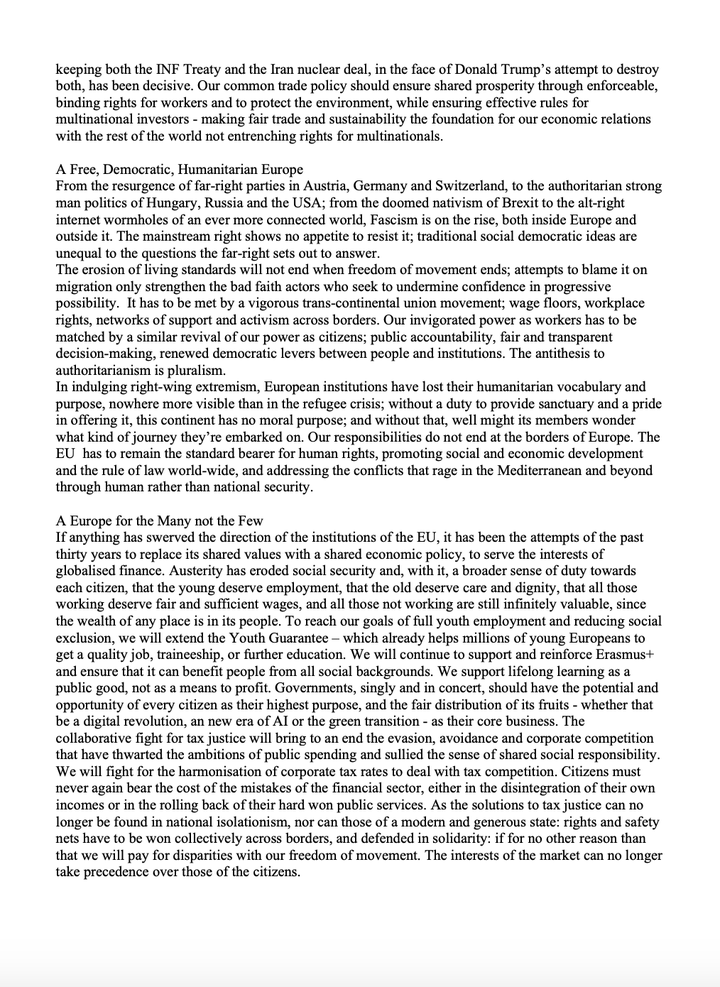 The policy agenda, written by Pettifor's Socialist Europe Policy Commission, implores Corbyn to reset the UK agenda on freedom of movement, which it claims has been captured by "right wing extremism".
It reads: "In indulging right-wing extremism, European institutions have lost their humanitarian vocabulary and purpose, nowhere more visible than in the refugee crisis; without a duty to provide sanctuary and a pride in offering it, this continent has no moral purpose; and without that, well might its members wonder what kind of journey they're embarked on."
It comes as party insiders increasingly fear the European Parliament elections, which will be held almost three years after the 2016 vote, will inevitably morph into a proxy referendum on EU membership.
A Labour source told HuffPost UK MEPs see the Remain vote will split between the new Change UK party, the Lib Dems and Greens, handing Nigel Farage's Brexit Party a path to victory.
Turning to the Commission's draft manifesto, they said: "These talks are like a death dance with the first who stops accused of collapsing.
"This is the left's bid to show that we aren't afraid of fighting on an overtly pro-European election.
"We want to come out fighting and to be able to say we are part of a pro-European alliance that wants to push things in the direction of a socialist Europe.
"We are saying to Labour as a commission: bite the bullet, get behind where the membership are and the majority of Labour voters are.
"Splitting the remain vote is the most dangerous thing for the party at the minute."
The Labour Party said its manifesto for the Euro-elections would be decided with a range of stakeholders.