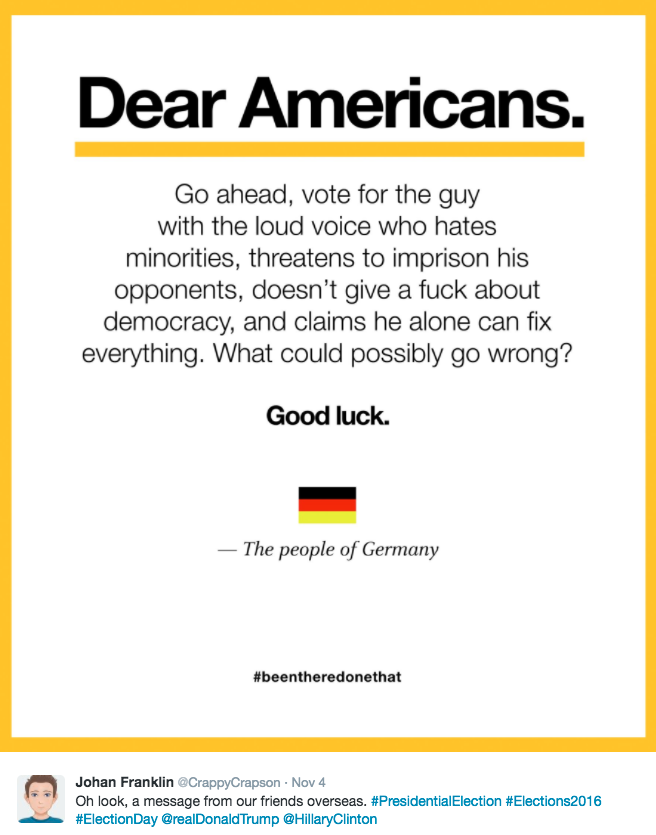 The German author of the viral 'Dear Americans' note warning of the parallels between Adolf Hitler and Donald Trump has revealed feeling "physically sick" at the prospect of the Republican nominee entering the White House, and his frustration at how "civilized discussion" has been off-limits.
On Friday, 'Johan Franklin' posted the message above on Twitter that was shared and re-tweeted hundreds of thousands of times over the weekend. It read:
"Go ahead, vote for the guy with the loud voice who hates minorities, threatens to imprison his opponent, doesn't give a fuck about democracy, and claims he alone can fix everything. What could possibly go wrong?

"Good luck.

"The people of Germany."
In an interview with The Huffington Post UK, 'Johan Franklin' - which is a pseudonym - reveals himself as a German-born, 44-year-old IT consultant, who currently lives in San Diego, California, but still has a home in Germany.
He explains the response has been largely positive: re-tweeted by, among others, J.K Rowling to her 8.5 million followers. But some Trump supporters have made death threats, and even found his email address.
With the note gaining traction, 'Franklin' penned another tweet explaining that he did not work for the Clinton campaign, but would vote for her if he could. "I can't. I'm German. Pay attention," he added.
In the interview with HuffPost UK, he joked about "my 15 mins of fame!" but added: "Andy Warhol didn't mention anything about death threats though."
"What prompted me?," he says. "It was a growing feeling of frustration. Of seeing people I used to have a great connection with turn into Trump supporters with absolutely zero capability of a civilized discussion.
"It made me question whether I was the one who made the wrong assumptions. It made me question whether 30,000 deleted emails on a non-government email server really ARE worse than boasting about sexual assault and basically insulting anything and anybody under the sun."
He added: "And it started to remind me of all the times I had to defend my country's reaction to what happened from '33 to '45
'Franklin' says 'German collective guilt' is "really a thing".
He's surprised that the tweet would "take up a life on its own", but is "glad it touched a nerve".
He goes on: "In fact, I am pleasantly surprised about the amount of positive feedback. I've been following the run-up to the election on Twitter for a while, and it sometimes made me physically sick. So I was expecting a lot more hate mail when my text when viral. Happy to say, apart from the odd death threat, it's been mostly good."
"I've been following the run-up to the election on Twitter for a while, and it sometimes made me physically sick"
'Franklin' explains some of the less favourable responses.
"Some people replied stuff like 'Fix your own country first', and I can see their point. But when people start quoting figures from the Daily Mail (a highly reputable source of quality journalism) that refugee crimes in Germany are ranking so highly since the beginning of the year … that's just silly."
'Franklin' has been "in and out" of the US since 2007, and living in San Diego since 2014. "Still have my place in Hamburg, so I guess I still qualify as 'German'," he says.
He joked that his tweets "could have just as well been the brainchild of a crafty young HC campaign manager". "That's what worried me actually, that this whole thing could backfire by being instrumentalised by Trump supporters."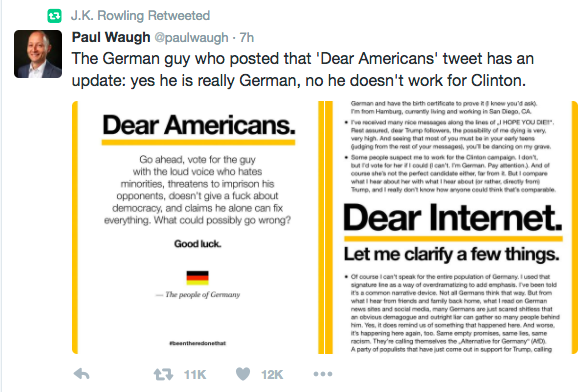 He concedes it was "weird" JK Rowling re-tweeted his graphic. "I was sorted into Gryffindor, so there you go - they have a Sorting Hat at the Warner Brothers studios in Burbank. Great fun." (Gryffindor is the Hogwarts house emphasising the traits of courage as well as daring, nerve, and chivalry).
Asked if he was pleased people realised that Germans had a sense of humour, despite the stereotype, 'Franklin' points to an international flavour to his background.
"Well, I studied in London, lived in Ireland and the US for most of my life. I only watch British and US comedy. Frankly, I can't stand what passes as comedy in Germany at the moment. So to answer your question: I'm chuffed as hell, mate."
The 'Dear Americans' graphic took very little time. "The text was already in my head (for a long time), and puzzling the whole thing together took 15 minutes. Longest part was deciding on a typeface. I picked Helvetica in the end. Thought that might make both Americans and Germans happy. Little typo nerd humor there, sorry."
His family and friends are unaware of his viral fame, however. "Here's the fun thing: they don't know. Well, family doesn't know yet, anyway. Some friends do. One actually forwarded me my first text and said 'That was you, admit it.'"
His "secret identity" - either 'Crappy Crapson' or 'Johan Franklin' - is "unbeknownst to those I care about". However, "some Trump supporters do".
"They found out," he says. "They got my email. I have no clue how. (Insert random conspiracy about Russian hackers here). That's part of the reason I don't go around boasting about my 15 minutes of internet fame to my family."
HuffPost UK: So why the pseudonym?

'Johan Franklin': "My company asked me (way before that 'Dear Americans' thing) not to post anything political under my real name, in order not to upset my clients. They knew (and acknowledged) that they couldn't force me to do that, but I agree – my clients are better off thinking of me as neutral. Just like Switzerland, as a matter of fact. Johan Franklin is a much prettier name than the one that's actually in my passport."

HuffPost UK: So Benjamin Franklin (one of the Founding Fathers of the US) was your inspiration?

'Johan Franklin': "Spot on. I found Johan Kennedy to be a bit too much on the nose."
Johan heads back to Germany in two weeks, ending his latest three-month stretch in the US. "Hope they'll let me back in in January!"
Related