Costing £1.9m, the structure will be four-metres (13ft) high, one-kilometre long and made of smooth concrete, theoretically making it impossible to scale.
The wall will stretch either side of the ferry port's main dual-carriageway approach road where those seeking to reach Britain attempt to climb aboard lorries passing through.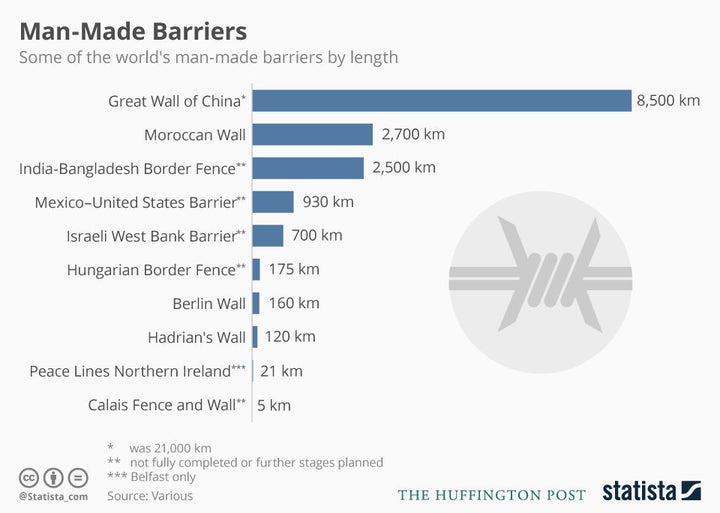 Despite this, some people think this isn't going far enough, and have been quick to offer up alternative "improvements"...
1) Guns and landmines
2) Piranha-filled moat
3) Assume migrants are as terrifying as a T-Rex
4) The army (in chainsaw resistant armour)
5) Target them before they even get to Calais
6) Bring back national service
7) Top it off with complaints
8) Extend it all the way from Spain to Norway
9) Stay indoors, watch BBC 3 and pretend nothing is happening
10) Sod it, let's just invade France
OK, this one is a satirical account but if Henry VIII did have a Twitter account he would definitely say this. Probably...
11) Dig a huge trench and fill it with water
... very clever, we see what you did there.
12) Ditch booze cruises and start taking your summer vacations to the next level
13) Think inside the box
14) Wire. Lots and lots of wire. Oh, and the army again
15) Run them over
16) Ban ladders
17) And if all else fails...
Construction of the four-metre high, one-kilometre long concrete structure will begin this month, immigration minister Robert Goodwill told MPs on Tuesday, with the project costing £1.9m.
The plan has already attracted criticism.
French aid worker, François Guennoc told the Guardian: "This wall is the latest extension to kilometres of fencing and security surveillance already in place. It will just result in people going further to get round it.
"When you put walls up anywhere in the world, people find ways to go round them.
"It's a waste of money. It could make it more dangerous for people, it will push up tariffs for people smugglers and people will end up taking more risks."
Reassuringly, most people have seen through the rhetoric and have pointed out some possible problems with building a wall.
The Road Haulage Association, who represents the drivers whose lorries are targeted by migrants, is skeptical of the plan, arguing a better alternative would be to step up security on the approach roads to Calais.
A spokesperson for the group said: "It is imperative that the money to pay for a wall would be much better spent on increasing security along approach roads."
The demonstration, named 'Operation Escagot' or Operation Snail, has been called the "nuclear red button" for drivers protesting about the Calais migrant camp known as The Jungle.
The planned wall is part of a joint £17m deal between France and the UK.