He joked Nuttall's motto was "don't go soft, Nuttall's watching."
Evans then came in with her innuendo, pulling a knowing face as she got a laugh. "This is pornographic!" host Tom Hollander said.
Fellow panellist Paul Merton asked: "Any offers of Panto this year?"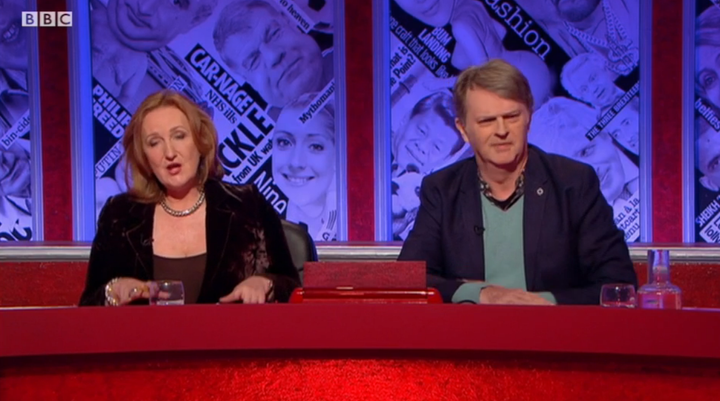 Evans added that Ukip was "not anti-immigration at all" and tried to say "We just to control our borders" but was drowned out by audience laughter.
Later on the show, Evans was asked if she felt "betrayed" by Brexit Secretary David Davis saying Britain might pay to access the Single Market.
Evans said: "I tell you what, I'm havin' that cake. I want the cherry on the top too. But I ain't payin' for it."
The audience laughed when Merton asked if she meant she was going to steal it.
She said the other EU countries would have to give us access because they were "totally" reliant on us.
When Ian Hislop suggested this wasn't the case, she said the other EU countries were "heavily" reliant on British business. Hislop said: "We've gone from 'totally' to 'heavily', how about 'a bit'?"
She suggested "German car manufacturers" and "French baguette producers" would not tolerate Britain being barred from accessing the Single Market.
Twitter's instant reviews of Evans' appearance were mixed and seemed to reflect the politics of Tweeters, with liberals calling it painful viewing.
The alternative view was taken by columnist pro-Brexit Katie Hopkins, who said Evans had shown up "the boys" - Evans was the only woman.
Popular in the Community