A personal letter from former Labour MP Ian Austin urging voters to back Boris Johnson has been sent by the Tories to key marginal seats across the country.
The missive, paid for and printed by the Conservatives in dozens of closely-fought constituencies, pleads with lifelong Labour supporters not to let Jeremy Corbyn "get anywhere near Downing Street".
Pro-Brexit Austin quit the party and became an independent MP earlier this year in protest at what he said was the Labour leader's failure to tackle anti-Semitism.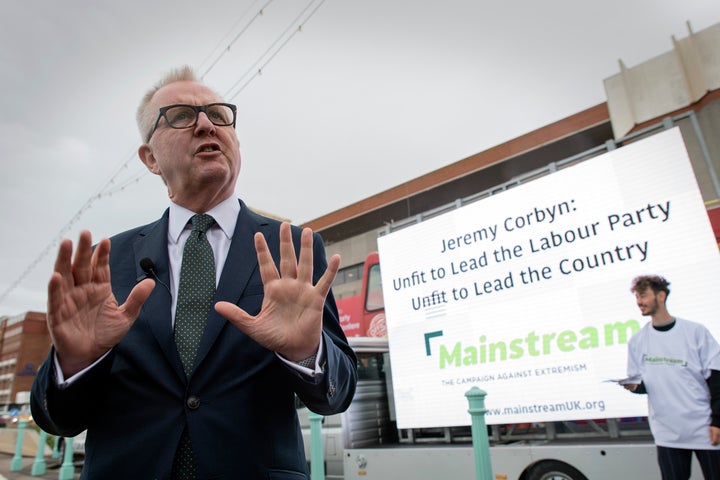 He began the election campaign alongside another former Labour MP John Woodcock in launching a poster warning of the supposed dangers of a Corbyn premiership.
But the latest leaflet underlines that the Tories have decided to harness his message in key marginal seats within Labour's "Red Wall" of traditional heartlands, many of which voted Brexit in 2016.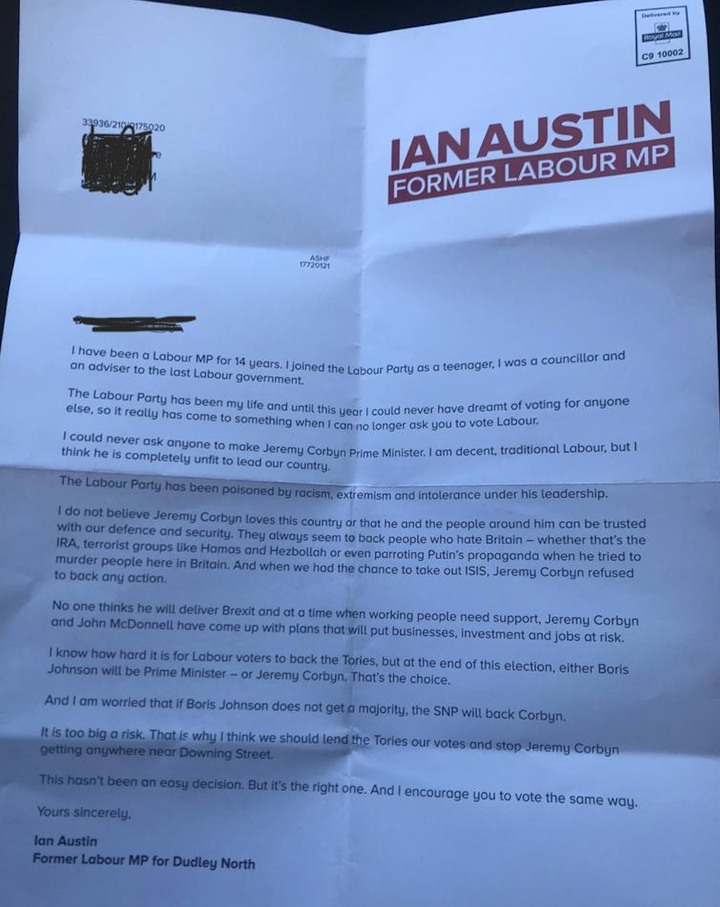 The letter states that Labour supporters should "lend" their votes to the Tories in the 2019 election.
"I do not believe Jeremy Corbyn loves this country or that he and the people around him can be trusted with our defence and security," it reads.
"No one thinks he will deliver Brexit... I am worried that if Boris Johnson does not get a majority, the SNP will back Corbyn. It is too big a risk.
"That's why we should lend the Tories our votes and stop Jeremy Corbyn getting anywhere near Downing Street."
It is understood that Austin offered to write the letter and that the Tories took him up on the suggestion in key constituencies such as Ashfield in Nottinghamshire.
Austin specified some seats to which it should not be sent, but there is still a backlash among Labour activists furious at his decision to collaborate with Johnson's party.
Dawn Butler, Labour's shadow secretary for women and equalities, said: "We regret that this former Labour MP is nothing more than a hard-right Tory.
"The Tories, the party of billionaires, are bankrolling him to write to people across the country and anyone receiving this fake news should rip it up and throw it straight in the bin.
"The country has a choice on December 12 between the hate and division from Boris Johnson and Ian Austin, or a chance to unite the country under Jeremy Corbyn and Labour."
Butler added that Austin had already been revealed to be backing right-wing Tory candidate Philip Davies in the election.
Austin told HuffPost UK: "Voting for Boris at this election does not make you a Tory. Many people like me – who have voted Labour all their lives – believe that Corbyn and McDonnell do not represent mainstream, traditional Labour.
"This is a terrible situation and I have worked really hard for years to prevent this being the choice at the election, but this is the choice we have ended up with.
"Corbyn and McDonnell have spent decades working with all sorts of extremists and in some cases terrorists and anti-Semites. They cannot be trusted to defend our country or safeguard the institutions on which our democracy depends, and so we must do all we can to prevent them getting anywhere near No.10 and that means voting for the Conservatives this time. That is why I wrote the letter."
The Conservative party have been contacted for comment.