Ivanka Trump was booed by angry audience members at the G20 women's summit after she defended her father's attitude to women and claimed he was "a tremendous champion of supporting families".
The 35-year-old drew scorn on Tuesday when she praised her father for supporting paid leave policies, while on a panel discussing the topic 'Inspiring women: Scaling up women's entrepreneurship'.
The US President's daughter and advisor was invited to the Berlin summit by German Chancellor Angela Merkel.
In addition to Merkel and Ivanka, others on the panel included International Monetary Fund chief Christine Lagarde, the Netherlands' Queen Maxima and Canadian Foreign Minister Chrystia Freeland.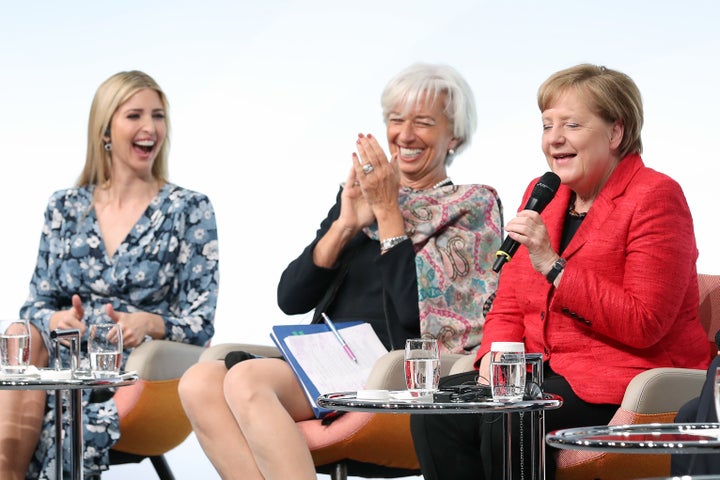 Panel moderator Miriam Meckel began by asking Ivanka about her White House role.
"As a part of the audience, especially the German audience, is not that familiar with the concept of the 'first daughter', I'd like to ask you: What is your role and who are you representing - your father as the president of the United States, the American people or your business?" she asked.
Ivanka said it was "certainly not the latter" and admitted she was still unfamiliar with the role.
After Ivanka said her father was "a tremendous champion of supporting families and enabling them to thrive," there were groans and complaints from the audience.
Meckel said to Ivanka: "You hear the reaction from the audience, so I need to address one more point. Some attitudes toward women your father has publicly displayed in former times might leave one questioning whether he's such an empowerer for women."
Shifting the blame onto the media, who her billionaire father has a fraught relationship with, Ivanka said: "I've certainly heard the criticism from the media, and that's been perpetuated."
Ivanka defended her father further by highlighting her own experience and that of "thousands" of women who have worked for him over the years in the private sector.
"He encouraged me and enabled me to thrive," Ivanka said. "I grew up in a house where there was no barrier to what I could accomplish beyond my own perseverance and my own tenacity."
There was, she stressed, "no difference between me and my brothers. And I think as a business leader you saw that, and as a president you will absolutely see that."
But many watching were not satisfied with Ivanka's defence of her father.