The episode will claim the plan has been dismantled under the new Prime Minister's leadership and entire segments no longer exist.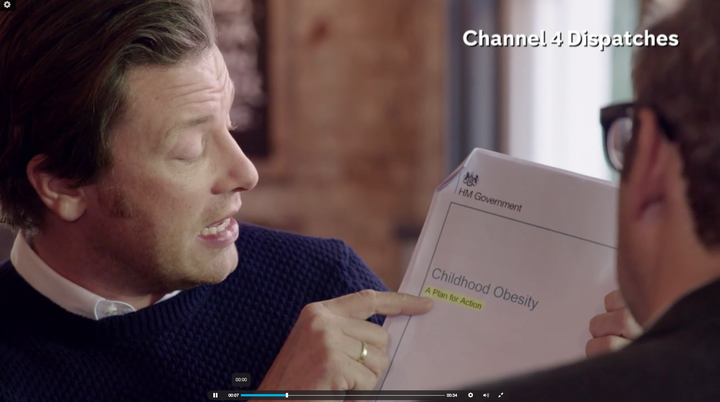 Holding a copy of the new proposals, Oliver says: "I don't know where to start. This should go to the Trades Description Act because that says 'action plan' and there's hardly any action in here.
"When you look at how the plan came out, at midnight next to the A-level results whole Government is on holiday, it absolutely screams out 'we don't care'.
"If you are worried about the thing that hurts the British people the most, it ain't Isis, right?
"Obesity is killing huge amounts of people well before their time. This is a war."
The celebrity chef accused May of letting down the nation's children by rowing back on her predecessor's plans and acting like a politician instead of a parent.
"Everything about the childhood obesity strategy that's just come out is a complete stinking herring. It's a terrible job Theresa May's done there - unforgivable," Oliver told the Radio Times.
"She's completely let down every child in Britain, let parents down, everyone's been let down."
Oliver led a failed campaign to ban unhealthy sweets from supermarket checkouts and limit junk food adverts, but has been a powerful advocate of healthy eating. The 41-year-old was awarded an MBE for services to the hospitality industry in 2003.
May's childhood obesity strategy was unveiled in August. It put an emphasis on more physical activity in schools, and included the sugar tax on soft drinks.
But there is was attempt to rein back advertising aimed at kids and many of the ideas in it, such as a scheme for the food industry to reduce sugar in children's foods, are voluntary.
In July, Oliver urged Theresa May not to water down the strategy, declaring he would "do anything" to help.
Sarah Toule, Head of Health Information at World Cancer Research Fund, said:
"Our government missed a crucial opportunity to tackle the spiralling levels of childhood obesity in the UK.
"We know that overweight and obese children are more likely to be so as adults – putting them at risk of developing a number of serious health conditions including cancer. In fact, being overweight or obese increases the risk of 11 common cancers including breast and prostate.
"Theresa May and her government need to take this issue seriously and urgently revise their Childhood Obesity Plan."
Popular in the Community