Jeremy Corbyn is seen by voters as "scary", "silly", "a joke", "a wet blanket" – and the biggest obstacle to them backing Labour in the general election, a new HuffPost UK-Edelman focus group has found.
Men and women from 'ordinary working families' in the key seat of Slough were scathing about everything from the scruffy state of the Labour leader's garden to his failure to sing the national anthem.
Several liked Labour's policies on the NHS and pay caps, but most ridiculed its plan for extra bank holidays and said that the presence of Corbyn was the main deterrent to backing the party.
In one striking remark, a lifelong Labour voter said he would switch to the Tories with the sole intention of removing Corbyn as party leader.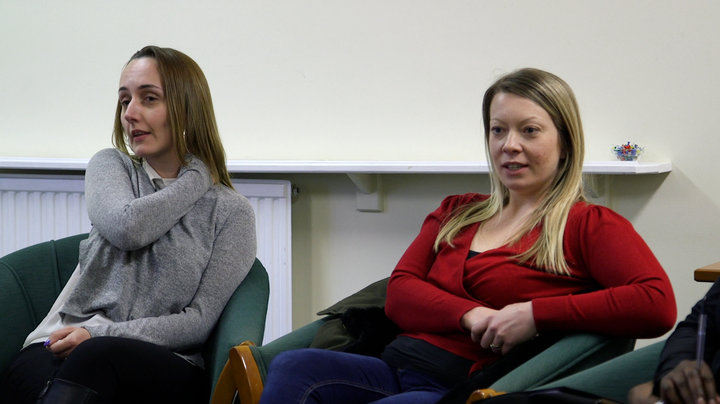 By contrast, while many of them thought the Tory party was for "the upper classes", they are prepared to vote for Theresa May because she is a formidable woman leader who can deliver "a strong Brexit".
The findings, part of a HuffPost UK's Beyond Brexit series, bring to life recent polls suggesting that Corbyn's record low ratings are undermining Labour support across the country.
The focus group participants defined themselves as working class, homeowners with children who feel they are just about managing to get by financially.
They included care workers, admin assistants, a plumber, motorbike mechanic, primary school teaching assistants and an HGV lorry driver. None of them were habitual Conservatives, and many of them were lifelong Labour voters.
The female focus group voters said that the best thing about May was "she's a woman", and one who won't "stand for any nonsense". "The men haven't proven themselves, so give her a chance," said Sam, a school teaching assistant.
- Brexit supporters don't mind migrants working, but do mind them 'sponging' benefits

- education cuts are so bad that their schools have trouble getting basics like paper and masking tape

- anger at the rich not knowing "what we go through…they have it on a plate"

- women voters liked Boris Johnson but could not name anyone else in the Cabinet or any other MP

- voters "felt sorry" for David Cameron and thought he stuck to his principles in quitting

- no one had heard of Tim Farron ("I couldn't pick him out in a line up..who even are they?")

- a dislike of UKIP ("they're for 'white Britain'")
Most of the Slough voters were unhappy at the state of the country, citing the NHS, cost of living, immigration and school funding cuts among their biggest concerns.
All are key issues in the Berkshire town, which was a Tory seat until Tony Blair's 1997 landslide. Sitting MP Fiona Mactaggart is standing down in the coming election.
Yet the focus groups did not blame the Conservatives' seven years in power for the problems and suggested that austerity had been necessary to keep the national debt and borrowing down.
THE CORBYN EFFECT
Just two out of eight women in the female focus group said they would vote Labour, with the rest – including lifelong Labour voters – saying they would back the Tories or consider doing so.
And just three of the eight men would support Labour. One of the men said he would deliberately vote Tory in order to force Labour to drop Corbyn as leader. Of the men, three usual Labour voters and two floating voters said they would back the Tories now.
Dan, a plumber, said: "His garden: have you seen the state of it?" Michael, a building services manager said the Labour leader's failure to sing the national anthem worried him most.
Ricky, an HGV lorry driver, said: "I'm a Labour supporter, always have been. But I'll vote Conservative to get Jeremy Corbyn out."
Shelly, an office administrator, said: "it scares me to think his MPs don't trust him". "He scares me. I don't trust him. I don't know why."
Sam, a mother of three, said: "Lots of other politicians say he's not the man for the job. If they think that, what is Joe Public supposed to think?
"He said he won't use bombs or something," she added.
Clare, who works in HR administration, said of Labour's policies: "The manifesto I heard on the news, I like what Labour said but because they're under Jeremy Corbyn…he just doesn't come across as strong. He's a wet blanket".
Rochelle, a teaching assistant who has voted all her life for Labour, said the four extra bank holidays were "not important" and "we've had the Royal things, it costs the country so much to have these extra holidays…there's the chaos".
Louise, a training assessor for teenagers whose father and grandfather voted Labour, said: "You shouldn't vote for the man, you should vote for the party. But I can't even hear what they've got to say because I can't get past him."
"I am a socialist born and bred but Corbyn's too far."
When asked to write down what one thing would persuade them to vote Labour, the responses were: "Remove Corbyn", "change leader", "do the best they can", "change leader", "address more important issues" "help the working class", "someone other than Corbyn" and "another leader".
Asked to write one word they associated with Jeremy Corbyn, the responses from the women were: "Joke", "silly", "untrustworthy", "NHS", "not a lot", "don't know", and "they all say what they want you to hear".
THE MAY EFFECT
The focus groups felt that the Tory party itself was still for "the upper classes" and "the rich", although one woman said the party was "more mellow, a little socialist now".
When asked to describe Theresa May however, their responses were dramatically more positive. "Strong", "honest" "she lives in Maidenhead", though one added "she talks a lot but actions are louder than words".
And when asked the best thing about May, the women said "She's a woman!" Sue, a council worker, said: "I don't think she stands for any nonsense." She added: "She feels like she'd be stronger on Brexit than Labour would."
Asked to write the things that would help persuade them to vote Tory, the focus group said: "Deliver", "be fair to all", "narrow the gap between the working classes and the upper classes" "be tough on immigration", "tell the truth", "be honest and control our borders", "get us out of the EU, "be clear and stick to it", and "a strong Brexit".
The group didn't like Government being in debt, but said that borrowing should be only "for what we need".
THE STATE OF BRITAIN
The women were much more worried about the state of the country than the men. Of the 16 focus group members, just one female participant said Britain was heading in the right direction, compared to five men who felt the same.
Teaching assistant Sam said school cuts were biting. "We're scrambling around for paper, everyday resources are not there. You can see cuts across everything."
The women said "the national health is on its knees". Clare said that whenever she went to the GP "it feels rushed, they don't have enough staff". Sue said "it takes weeks to get an appointment". Sonia, who works for a housing association, said: "They tell the doctors to work more [at weekends]" but fail to get enough staff. Referring to all NHS staff, Shelly said: "They do deserve a pay increase".
Louise, a divorcee, said she was the mother of a 21-year-old who was "never" going to own his own home. "Where are they going to live?"
Many of them complained about rising prices in their weekly shopping bills. Sue, a team leader for a business support unit, said "it's cheaper to buy a takeaway" but added "you can't blame Brexit" for inflation. Rochelle added: "The price of everything goes up."
Shelly said her child was one of just three white children in their class. "I've had to pay for private tuition for my daughter to pick up something she should be learning anyway."
GETTING ON WITH BREXIT
As well as being mainly Labour supporters by habit, most of the group voted to Leave in last year's EU referendum. Shelly said she hadn't even been aware that Britain was in the EU until the referendum.
Louise: "What's that word they keep putting in front of Brexit?" Twice the group used the phrase "strong Brexit", and said May was the best person to deliver it.
Among the men, one said that they knew that times ahead would be "turbulent" but that everyone should focus on "the long term".
Sam praised Cameron's decision to step aside straight after the 2016 referendum defeat. "You've got to admire him for that, going with his beliefs." Rochelle said his departure was "sad". "It did make me sorry for him," she said.
Renee, a deputy care manager, said "overseas workers are worried" about Brexit and some in the community were "scared" of what would happen next. Some expressed concerns about the impact of immigration on the NHS, but Renee said that those migrants who were making "an honest living" were to be admired.
Sue said the UK was "moving in the right direction because of Brexit".

NOTE: Two focus groups were recruited. Each contained eight people who described themselves as 'just about managing' and 'working class'. All participants said that they are not generally a Conservative party voter but hadn't ruled them out for this election. Participants were 30-59, had children at home and were paying a mortgage.
HuffPost UK is looking at voters' priorities outside the hubbub of the election campaign trail and what they want beyond March 29, 2019, not just June 8, 2017. Beyond Brexit leaves the bubble of Westminster and London talk to Britons left out of the conversation on the subjects they really care about, like housing, integration, social care, school funding and air quality.