The British director's film reduced critics at the Cannes Film Festival to tears.
Set in Newcastle, the film tells the fictional story of carpenter Daniel Blake who suffers a heart attack and is told by doctors he can no longer work.
Yet the Department for Work and Pensions (DWP) disregards medical advice and rules him too healthy to receive benefits.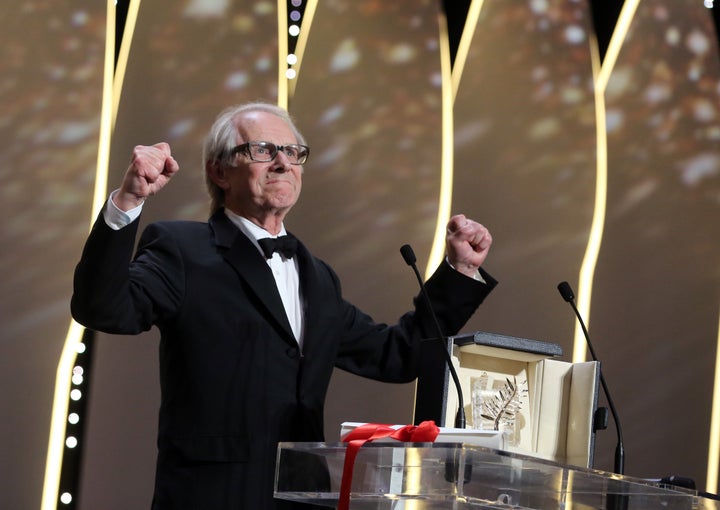 "We must give a message of hope, we must say another world is possible," he said.
"The world we live in is at a dangerous point right now. We are in the grip of a dangerous project of austerity driven by ideas that we call neo-liberalism that have brought us to near catastrophe."
The 79-year-old is one of only nine directors to have won the top prize at Cannes twice.
He won the Palme D'Or in 2006 for The Wind That Shakes The Barley.
"We must say that another world is possible and necessary."
Loach is passionate about social injustice. His TV play Cathy Come Home shocked viewers 50 years ago with its depiction of a slide into homelessness.
The acclaimed director told the audience that he found it very strange to receive an award in such opulent surroundings given the miserable living conditions of the people who inspired his film.
Many of those involved in the film were from working-class backgrounds, including the director and main actors.
Hayley Squires plays the young single mother and her mother still lives in social housing.
She said: "Normal people are led to believe that this amount of people are on benefits and are therefore scroungers, and this amount of people are going to work to pay so that they can scrounge.
"They've left us to argue among ourselves so they can keep doing what they are doing."