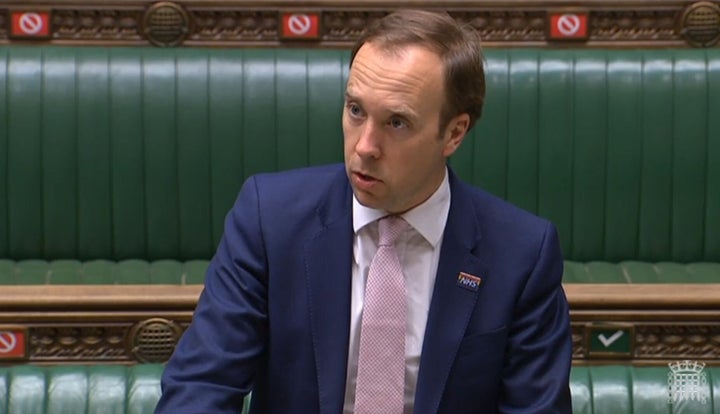 Boris Johnson has been accused of wasting taxpayers' money on "unreliable" rapid Covid tests imported from China for use by Test and Trace.
Despite the prime minister's praise for Britain's biotech industry, his government is on course to pay well over £1bn to American firm Innova Medical Group for huge supplies of its Chinese-made lateral flow tests, HuffPost UK understands.
Rapid testing allows for the quick detection of the virus in people without symptoms, but the 30-minute Innova tests have come under fire from some academics and public health chiefs for their low levels of accuracy. Up to 40% of Covid cases were missed in one pilot study.
British manufacturers' own rival tests have reported a much higher accuracy, as well as being expected to deliver lower costs.
Yet record numbers of the Innova tests are being flown into London by Virgin Atlantic Cargo jets on a daily basis from Chinese port city Xiamen, where the devices are manufactured on behalf of the US company.
In a new contract awarded without competition, 239m tests have been bought by the Department of Health and Social Care for use by its Test and Trace service from mid-January to mid-February – and Innova is believed to be the supplier.
The contract's value is so far unpublished but it is likely to mean that Innova – which has already been paid more than £950m for tests bought in 2020 – has secured well over £1bn in taxpayers' cash.
Around 384m tests were bought by the government last year, and many have been stockpiled ahead of their expected use in schools and workplaces as the UK seeks to build on its vaccination programme.
But those numbers will be ramped up significantly in the next two months alone, with not just 239m tests bought by mid-February but a further 200m by mid-March.
Three contracts were handed to Innova last year. One was for £496m, another for £103m and yet another more recently for £225m. On Friday, the government published another contract for £152m for "additional volumes of tests until 14 January 2021". The latest contract for January to February 2021 is likely to be worth well over £200m.
The government is spending cash not just on the Innova tests themselves but also on flying them into the UK from China.
Sir Richard Branson's Virgin Atlantic airline has been given contracts worth more than £8m to fly the tests from both Xiamen and Shanghai to the UK in January, February and March, according to recently published contracts.
A London-based company Air Charter Services was also given a £6.9m contract to organise flights in January from Xiamen to Stansted, Doncaster and Heathrow.
Although the air freight contracts on the government's website are heavily redacted, their accompanying notes make clear that they are for Covid "testing kits".
The notes state that the latest wave of cases in the UK means that "air freight presents the only viable mode for moving product to the UK in time to meet the operational requirements of the testing programme". The short time scales also "justifies the use of direct award" of contracts without any competition.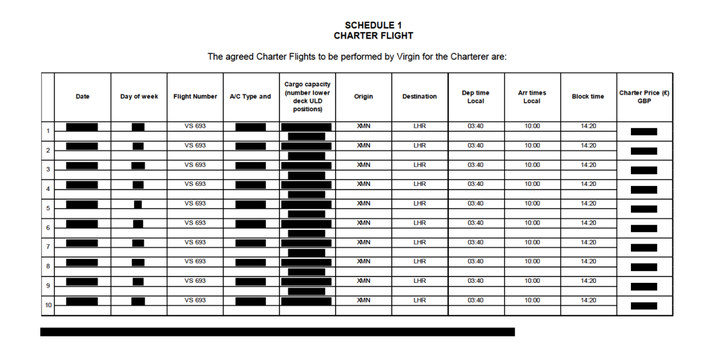 Test and Trace, run by Tory peer Dido Harding, has recently improved its performance but has repeatedly come under fire for failing to hit targets for turning around tests within 24 hours, and for its level of contact tracing.
Its budget has been expanded from £15bn to £22bn for 2020/21. With only £5bn spent to date, it aims to spend a huge £15bn – more than the entire annual Home Office budget – from now until March 31.
David Williams, the senior DHSC official in charge of finance, told the Public Accounts Committee recently that 90% of the budget was being spent on testing. He said lateral flow devices, rather than scaling up of laboratory capacity, made up the bulk of the £7bn extra spending.
Shadow Treasury chief secretary Bridget Phillipson said: "Having spent £22bn on a test and trace system that isn't delivering and £150m on face masks that can't be used, we now discover that the government may have wasted over £1bn on tests that aren't reliable, plus transport costs to boot.
"These numbers represent staggering mismanagement of taxpayer money."
Speaking at the government's Porton Down laboratory in November, the prime minister said: "We are seeing real progress on a UK-made lateral flow test. We're not quite there yet but in the months ahead we'll be making them in this country as well."
Johnson went further last week, when he declared: "We've created an indigenous industry not just to conduct lateral flow testing, but to make lateral flow tests."
Just as the UK has led the world on vaccinations with a string of contracts signed with British-based factories, ministers and the NHS want to replicate that success by pivoting to home-grown rapid tests through 2021.
"These numbers represent staggering mismanagement of taxpayer money."
Industry insiders are expecting that a new competitive tender, to supply 200m tests from mid-February to mid-March, will see British companies get a bigger share than ever before. DHSC said that no decisions had yet been made on the new order.
Yet while UK firms – some of which have been making diagnostics equipment for many years – are poised for the announcement of successful bids in coming weeks, it may take until April for them to start supplying the huge numbers needed by Test and Trace.
Only one British firm, SureScreen Diagnostics in Derby, has secured a DHSC contract so far. It has been given an initial order of two million tests, worth £6m.
SureScreen's early results show a 97% "sensitivity" for its test against high viral loads. This is higher than the 70% sensitivity produced by Innova tests in one pilot study.
David Campbell, of SureScreen, said: "We know the test is working very well as the feedback from where it's being used is really fantastic.
"As an example, we're working with a quite prominent hospital in the UK and they're using it for screening of patients and staff and they have said it was one of the key reasons they've been able to stay open during some periods recently."
Lateral flow tests are central to the government's "moonshot" programme of using mass community testing to spot asymptomatic cases of the virus, particularly as the country emerges from its third national lockdown.
Hospital staff currently do two tests a week. Test and Trace has been running pilots in schools and workplaces of similar schemes to pick up cases where pupils and staff are infected but don't show any symptoms.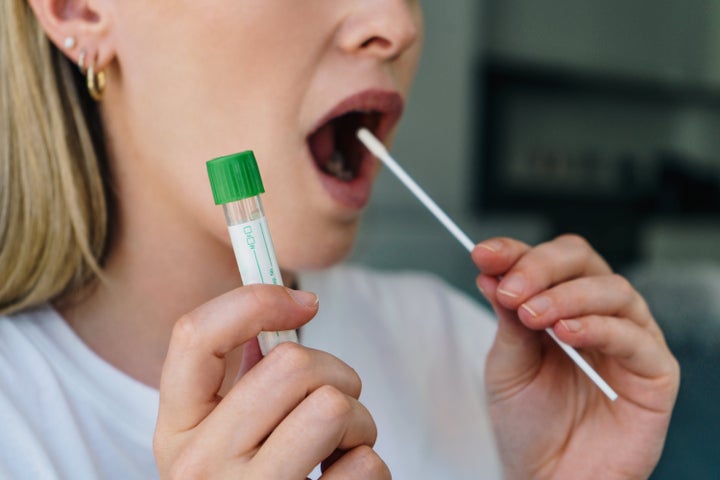 Among critics of the Innova test was Birmingham University's biostatistics professor Jon Deeks, who claimed in a British Medical Journal (BMJ) article last month that the government was rolling it out "without supporting evidence".
He points to a pilot in Liverpool that picked up just 60% of Covid and failed to detect 30% of people with high viral loads.
However, a more recent Oxford University study gave strong backing to the principle of using lateral flow tests. It found that the tests pick up between 83% and 90% of cases where a person is infectious.
In an echo of the vaccination debate, NHS chief Simon Stevens said last month that "having strong UK manufacturing capability, including in life sciences, is an important part of our future resilience", adding: "Very extended supply chains do not necessarily serve you well."
In December, the government unveiled a new £911m framework for testing, although Innova could still win a large slice of that cash.
It also began to shift towards home-grown tests, approving plans by PA Consulting for a framework to "deliver 2M/day LFD tests from UK manufacturing capacity".
The contract sought to standardise British tests so that they involved simple nasal swabs, rather than the more uncomfortable "nasopharyngeal" tests that need samples from behind the nose and throat.
British firms have been quietly preparing to get more work, from making swabs and test cassettes to making mouldings for manufacturing processes. "Tech transfer" agreements are also being struck between firms to allow for mass production.
Much of the anticipation within the industry has centred on new tests devised by British biotech companies Mologic, which has been working with Omega Diagnostics, and Avacta, which has been working with Abingdon and BBI.
HuffPost UK understands Omega is expected to produce two million tests a week by April, but in order to hit the two-million-a-day target that appears to have been agreed by the government, other British firms would need to match that.
"Very extended supply chains do not necessarily serve you well."
Helen Dent, of the British In-Vitro Diagnostic Association, said UK firms were increasingly well placed to meet the needs of the government on testing, "increasing capability and capacity significantly".
"Since the beginning of the pandemic, UK firms have worked closely with government to increase their manufacturing capacity to meet the increased testing targets announced by the UK government at intervals over the past months," she said.
A spokesperson for Innova said: "Lateral flow devices detect cases with high levels of virus, making them effective in finding individuals who are the most likely to transmit the disease, including those not showing symptoms. With up to a third of individuals not displaying symptoms, broadening asymptomatic testing is essential.
"Fast, frequent and accessible antigen tests catch those that are infectious and is a great cost-effective Covid screening tool. To date more than 204,438 people have taken lateral flow tests in Liverpool, identifying 4,355 people who did not know they had the virus.
"On the orders, while Innova has shipped over 300m test kits to nearly 20 countries, we are not at liberty to discuss the specifics of our relationship with the British government, nor that with our other customers."
The Department of Health and Social care refused to confirm whether the new contract for 239m tests had gone to Innova, adding only that it would be published in due course.
It said that lateral flow tests go through a rigorous evaluation by the country's leading scientists to ensure they were accurate, reliable and successfully identify those with Covid-19 who don't show symptoms and could pass on the virus without realising.
A spokesperson said: "Around one in three people who have coronavirus have no symptoms and may unknowingly pass on the virus. Targeted asymptomatic testing helps detect these cases and break the chains of transmission.
"Lateral flow devices are effective at detecting infectious cases of coronavirus, are easy to use and give results in 30 minutes, ensuring those who test positive can isolate immediately – with over 54,000 cases identified to date."
The department said the government had been clear that a negative lateral flow test result should not be seen as a green light, but rather a positive result is a red light, identifying infectious individuals, so they can isolate and protect others from infection.