There's few sadder moments than taking the Christmas decorations down – and frankly, why should we right now when they could cheer us for another month or two?
That's the sentiment going round on social media where a select group of us have confidently devised a plan to rid themselves of lockdown misery: sod tradition, let's leave the lights up.
Our parents and grandparents might insist the tree comes down by Epiphany on January 6, but for many, including this writer, that date has always felt arbitrary. So this year, I'm experimenting.
It's January 7 and my tree is still up. So is my boss's. She proudly displayed it on Zoom calls. It disappeared yesterday, but only just off camera, she now admits, where it can keep cheering her up, without jarring our colleagues.
Here are three more people resisting tradition with sparkly lights into 2021.
'It's a nice way to cut through the lockdown gloom'
Anna Harrington, 29, postdoctoral research assistant, Leicester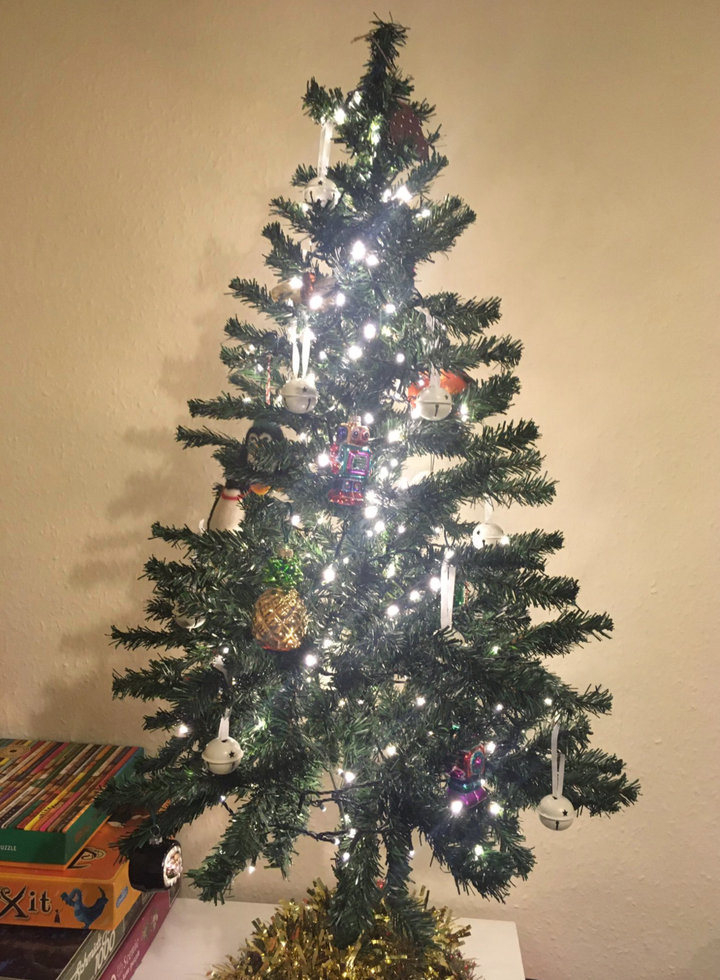 "I usually take my tree down on January 6, at the last 'traditional' moment. I had started 'undecorating' some of the other Christmas stuff on Monday evening when we turned on the PM's speech and then I thought leaving the tree up a little longer would be nice way to cut through the lockdown gloom.
"I live in Leicester, so it's been a long nine months with little lifting of restrictions, but it felt heavier knowing it was nationwide. The more I thought about it, the better an idea it seemed!
"My boyfriend and I live in a small flat, and while we're lucky to be able to work from home, it means we spend all our time in one room. Turning the tree lights on at the end of the work day is our way to up the cosy factor and mentally switch gears.
"Plus, it's an artificial tree, so there's no expiry date on it! I took off the more explicitly Christmassy baubles (angels, stars, anything with a Santa hat), so it's almost more like a twinkly fake plant. My boyfriend laughed when I suggested it, and then said something along the lines of 'yeah, why not, go for it.' We're very much focusing on the cosy rather than festive vibes.
"It seemed like lots of people put their trees up in November to fight against the 2020 blues. This is kind of the same thing, just on the other side of Christmas!"
'My husband thinks I'm mad'
SJ Smallpage, front-line nurse based in Kempsey, Worcestershire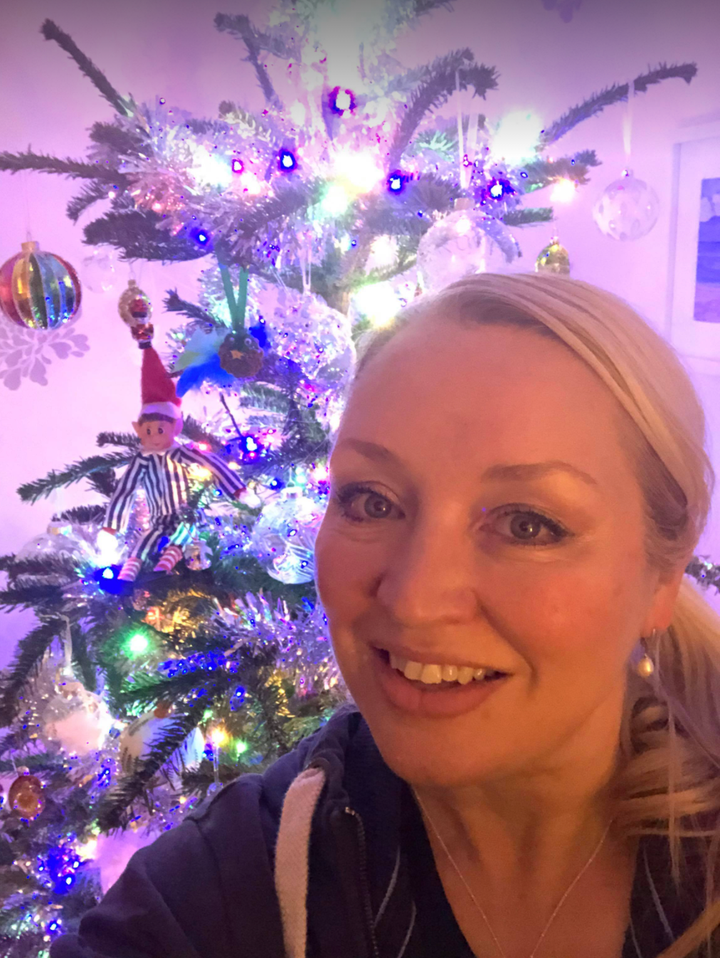 "I'm a front line nurse and worked right from March up until Christmas – it's been a long hard flog. I'm so enjoying Christmas now and it's bringing light and joy into this recent lockdown. I refuse to take it down!!
"Let me enjoy my twinkly lights for just a bit longer. My husband thinks I'm mad – but this isn't a new concept to him. Each year I get to be myself and go a little crazy. I volunteer at the greatest festival in the world – Glastonbury. But this year it's cancelled and I've been so sad. So my husband is cool with the tree staying, really. He would do anything to bring a smile to my face.
"My decorations are so beautiful. I particularly love my Glasto-bauble! But the lights are magical too. Sitting in the evening watching the twinkly lights makes me smile. Christmas is a special time of new life, bringing light into the darkness, and we are certainly living in darkness right now.
"I'm going to look forward to Candlemas – hopefully having got my jab for the vaccine and looking forward to a safer, brighter world."
'It's cheerful in this particularly bleak midwinter'
Anonymous HuffPost reader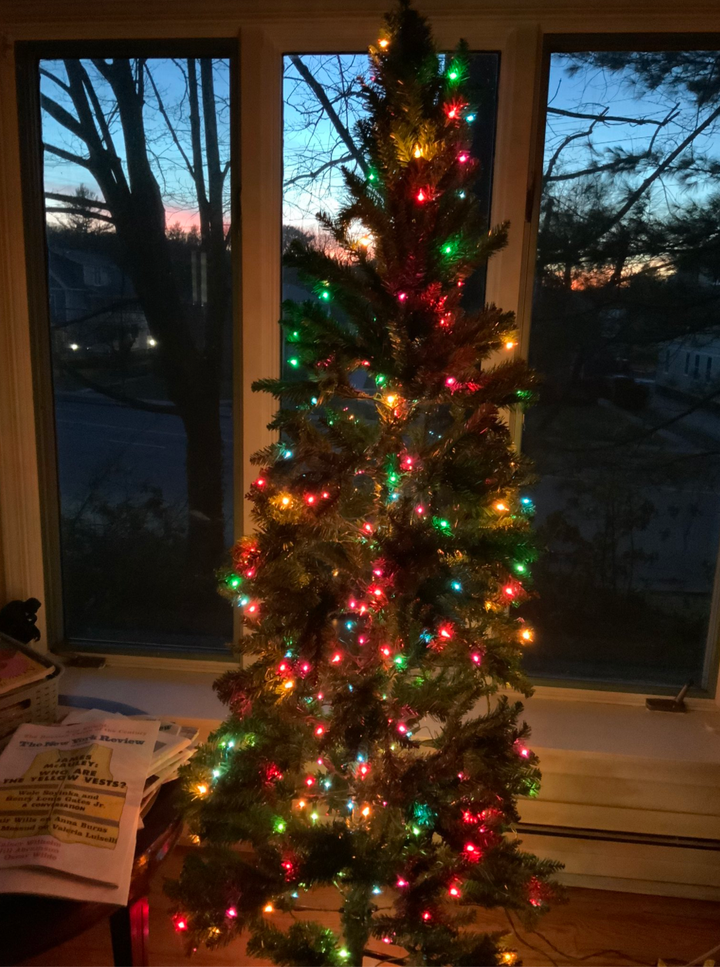 "I like to wait until Christmas Eve to put up a tree. So it's only right to leave them up a bit longer. I typically leave mine up to Martin Luther King Day (January 18), St. Valentine's (February 14) or St. Patrick's (March 18) – but never till Ash Wednesday. I live alone, so there's no resistance. In more normal years, grandchildren love the decorations and miss it when I take down the tree.
"Sitting in the darkened room with the lights on seems quite contemplative. This year the tree has lights only – a compromise due to time. The absence of ornaments feels a bit odd, but it has been an odd year.
"It looks quite cheerful while sitting on the sofa having a scotch and cheerful from outside, too – a good thing in this particularly bleak midwinter."