A man has been arrested on suspicion of terrorism offences after a car was driven into pedestrians before crashing into barriers outside the Houses of Parliament on Tuesday morning.
No other suspects have been identified and there is "no intelligence at this time of further danger" to Londoners, Scotland Yard counter-terrorism head, Neil Basu, said.
He added the suspect was not known to intelligence services and was "not cooperating" with police.
Counter Terrorism officers are searching two addresses in Birmingham and an address in Nottingham in connection with the attack, the Metropolitan Police said on Tuesday evening.
The incident began just after 7.37am (BST). The London Ambulance Service confirmed three people had been treated at the scene and two people had been taken to hospital. One woman has "serious but not life-threatening" injuries and the other has since been discharged.
Scotland Yard said: "The driver of the car, a man in his late 20s, was arrested at the scene by armed officers. He has been taken to a south London police station where he remains in police custody.
"He was arrested on suspicion of terrorist offences."
They confirmed no one else was in the vehicle, which remains at the scene and is being searched. No weapons have been recovered, the statement said.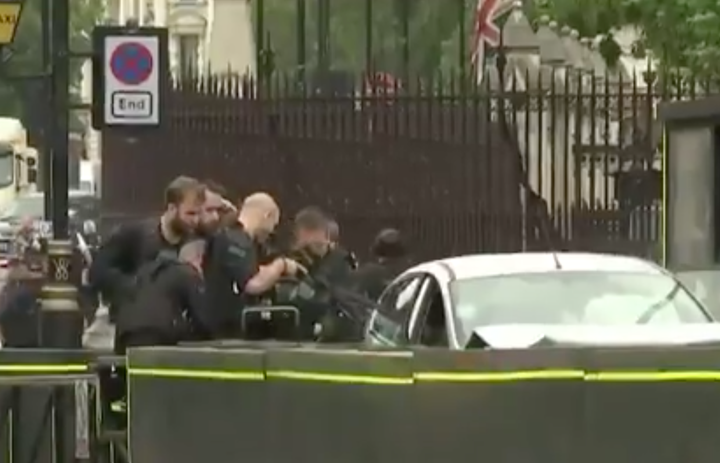 Pictures and video posted to social media showed a heavy police presence across Westminster, with the entire area now in lockdown.
British Transport Police (BTP) said it would be putting extra officers on patrols in England, Scotland and Wales on Tuesday afternoon and into the evening.
The Metropolitan Police said that Project Servator officers, who have specialist skills to recognise when a person is displaying minute signs of anxiety, have been deployed in Westminster to identify anyone who may be in the area for terrorist or other criminal purposes.
A statement said: "These officers are both in uniform and plain clothes and will confront anyone they suspect may be in an area for criminal purposes."
Whitehall, the long road connecting Parliament Square and Trafalgar Square, was also evacuated. Armed police were seen pointing their weapons directly into a silver vehicle. A man was later seen being led away in handcuffs by police.
In a statement on the attack the Mayor of London, Sadiq Khan, said "all Londoners, like me, utterly condemn all acts of terrorism on our city".
"The response of Londoners today shows that we will never be cowed, intimidated or divided by any terrorist attack," he said.
He added: "I have been and will continue to be in close touch with the Metropolitan Police Commissioner, Transport for London and the other emergency services. My heartfelt thanks goes to the brave first responders who were so quickly on the scene following the attack."
Khan urged members of the public to "remain calm and vigilant", and report any information about the incident to the Metropolitan Police.
Prime Minister Theresa May said her thoughts were with those injured in the Westminster car crash and thanked the emergency services for their "immediate and courageous" response.
A number of eyewitnesses described the moment of the crash. Ewelina Ochab told the Press Association: "I think it looked intentional – the car drove at speed and towards the barriers.
"I was walking on the other side [of the road]. I heard some noise and someone screamed. I turned around and I saw a silver car driving very fast close to the railings, maybe even on the pavement."
"The person driving did not go out" of the vehicle, she said.
The car did not appear to have a front registration plate when it crashed, she said.
Local businessman Jason Williams said he had seen a man drive a car into a bollard outside the Houses of Parliament.
"He had driven it at speed – more than 40 mph. There was smoke coming out of the car," he told BBC Radio 4′s Today programme.
"I have seen people on the ground, lying on the road. I don't know if they have actually been hit by the vehicle or not. I saw at least 10 people lying down.
"I was told basically to move away, to run. I have run for my life."
A number of armed police officers were stationed at a cordon beside Parliament. Westminster Bridge and Tube station were both closed.
A police vehicle removal truck has been waved through the cordon and is now parked outside Parliament.
Scores of commuters on foot and cycling arrived at the police tape trying to get to work. Workers at Portcullis House have been allowed through the extended cordon and were seen queuing to get into the building.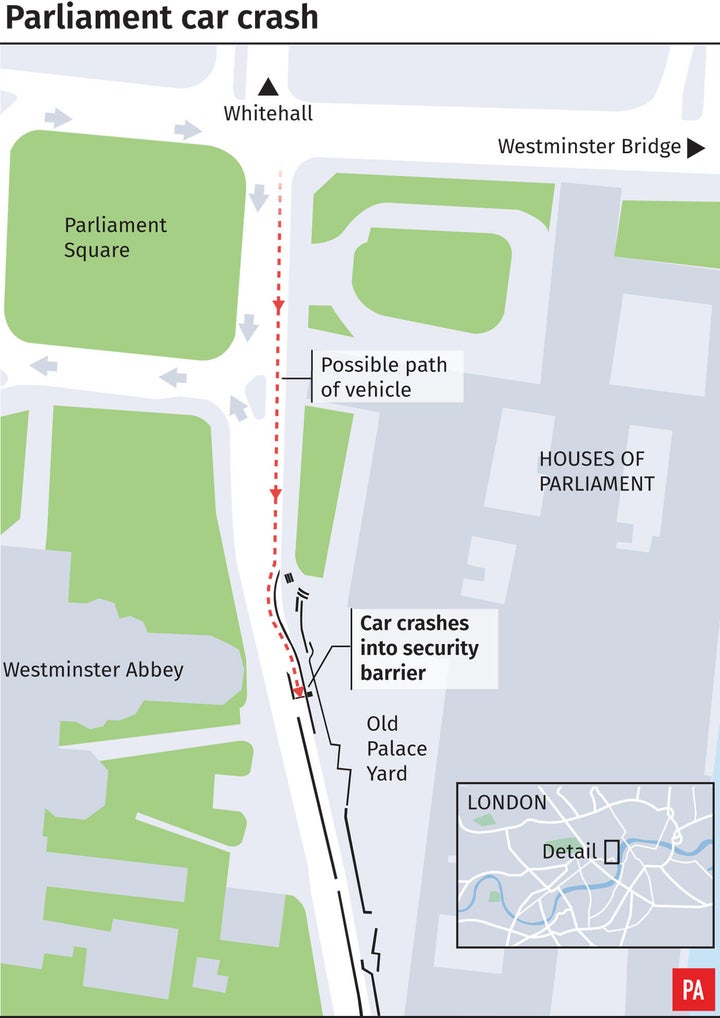 The vehicle was seen at large security barriers which surround parliament and protect its buildings from traffic.
The car's exact location was close to College Green and Millbank on the south side of the parliamentary estate.
Scotland Yard said: "At 07:37hrs today, a car was in collision with barriers outside the Houses of Parliament.
"The male driver of the car was detained by officers at the scene. A number of pedestrians have been injured. Officers remain at the scene."
The force added later: "At this stage, officers do not believe that anybody is in a life-threatening condition. Cordons are in place to assist the investigation. Westminster tube station is closed."
Defence Minister Tobias Ellwood, who was branded a hero after stepping in to help emergency services in the wake of the 2017 attack outside Parliament, said today's incident was a "stark reminder of the threats we continue to face"
The deputy chairman of the Conservative party, James Cleverly, tweeted: "Thoughts are with those hurt in #Westminster this morning. I hope it's an accident rather than an attack.
"Once again we see the #police officers who protect us acting swiftly, decisively and courageously."
The area has seen extra security measures since March 2017, when four people were killed after Khalid Masood drove a car into crowds on Westminster Bridge.