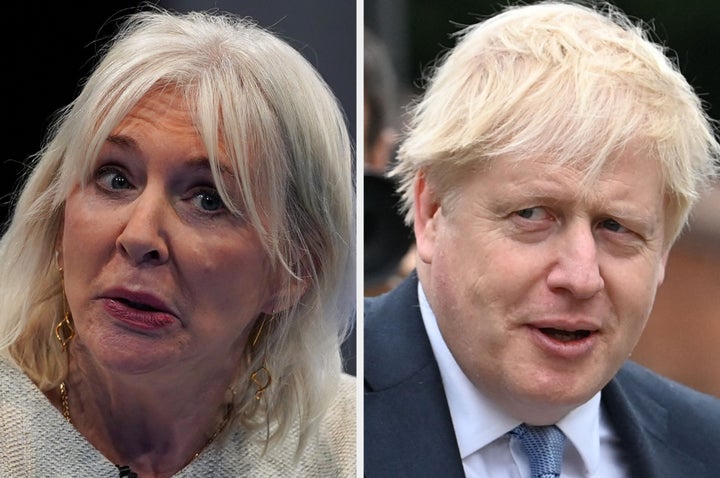 Nadine Dorries pitched into the Conservative war on the BBC just weeks into her new role as culture secretary – but Boris Johnson has surprisingly not taken her side.
Johnson told the press on Tuesday that he expects the BBC to be around "for a long time to come" the day after Dorries had questioned whether the national institution would still exist in a decade.
At a Conservative Party conference fringe event, Dorries was asked if the TV licence fee would still be compulsory in a decade or two.
She replied: "I can't look into the future. Will the BBC still be here in 10 years? I don't know..."
Referencing streaming platforms such as Netflix, she said: "It is a very competitive environment.
"This younger generation that are coming through, they certainly watch their television in a very different way to how my generation watched its TV, so who knows where we will be?"
Dorries was promoted to a senior cabinet minister in the prime minister's reshuffle last month, but the move immediately sparked controversy as her past tweets have been accused of racism and homophobia.
Johnson seemed to slap down Dorries' comments when asked about the BBC during his press rounds on Tuesday.
Speaking to a rival broadcaster GB News, he said: "The BBC has been around for a very long time, it's a great national institution, I've no doubt that it will be around for a long time to come."
Johnson and Robinson repeatedly interrupted each other, until the BBC journalist said: "Prime minister, stop talking, we are going to have questions and answers, not where you merely talk, if you wouldn't mind."
The prime minster's remarks are also quite far removed from the usual attitude the Conservatives have towards the BBC, which has seen senior Tories including home secretary Priti Patel threaten to change the governance of the institution.
As Dorries told the fringe event: "The perspective of the BBC is that they will get a settlement fee and then we will talk about how they are going to change.
"My perspective is 'tell me how you are going to change and then you get the settlement fee'."
This year's Conservative Party conference has also seen justice secretary Dominic Raab smile at the "attractive idea" of offering clemency to people who did not pay their licence fee to ease the burden on magistrates' courts.