Nigel Farage has admitted the promise that Brexit would lead to an extra £350m a day for the NHS was "mildly irresponsible".
During the referendum, the official Vote Leave campaign, led by Boris Johnson and Michal Gove, plastered the pledge on the side of its bus.
Farage, who spearheaded a different campaign, distanced himself from the vow. "I didn't make that, some people did," he said on Wednesday.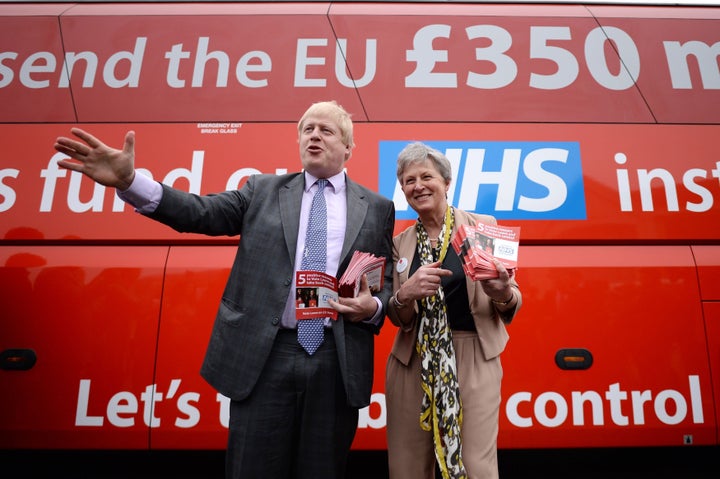 Questioned by Bloomberg, Farage said the £350m claim was "mildly irresponsible" but that it was a "tiddly" falsehood "compared to the other side".
The outgoing Ukip leader was speaking minutes after a blistering address in the European Parliament, where he sits as an MEP.
He accused the Remain campaign of saying there were no plans to create a European army before pointing to plans for further "defence integration" between the 28-country bloc.
"Lots of ideas get discussed on both sides in any election, whether its a general election, a presidential election or a referendum," Farage told Bloomberg.
"The key thing is what was the greatest democratic exercise of the UK, we have voted to leave this political Union."
They also chime with the UK Statistics Authority, which criticised 'Vote Leave' officials for advertising the "misleading" figure on their campaign literature and battlebus.
MP Tom Brake, patron of campaign group Vote Leave Watch, which holds Brexit-backing politicians to account for pre-referendum pledges, said the Leave campaign should be "ashamed" of its backtrack.
"Today, Nigel Farage finally pulled down the Leave campaign's mask," he told The Huffington Post UK. "The pledges they made were not 'mildly irresponsible' – they were deeply, shockingly dishonest.
"They should be ashamed at taking part in a campaign that so misled the British people. On £350 million for the NHS, the possibility of Turkey joining that EU, and immigration, their arguments were based on a pack of falsehoods from start to finish.
"Leavers in government, like Boris Johnson, now need to admit that Nigel Farage is right, and that they did make irresponsible and simply untrue claims throughout the referendum campaign."
Earlier, Farage had given a fiery address to European Commission president Jean Claude-Junker, in which he urged the eurocrat to appoint someone "who actually likes Britain" to lead the EU's negotiations with the UK.
Farage blasted Guy Verhofstadt's appointment as the chief "divorce lawyer", branding him an EU nationalist.
"This appointment mounts to a declaration of war on any sensible negotiating process," Farage said.
SEE ALSO: