The final morning of Mike and Alexia's trip to the Alps – a surprise he'd organised for her birthday – dawned cold and crisp; the ideal moment for a romantic proposal. So as they stood on their chalet balcony in the early-morning air, the Matterhorn a picturesque backdrop, Mike decided this was the time to get down on one knee.
If only he had kept a firmer grip on the ring – which, as he pulled it from his pocket, escaped his fingers and landed in a drain. "My heart sank – I spent a good five minutes having a panic attack while trying to get it out," he recalls.
Meanwhile Alexia was overcome by a wave of emotion – and thoughts of the breakfast they had yet to eat: "I was so shocked that that was the moment, and also hungry," she laughs. "I was ecstatic and then he dropped the ring, which put us both in panic-mode."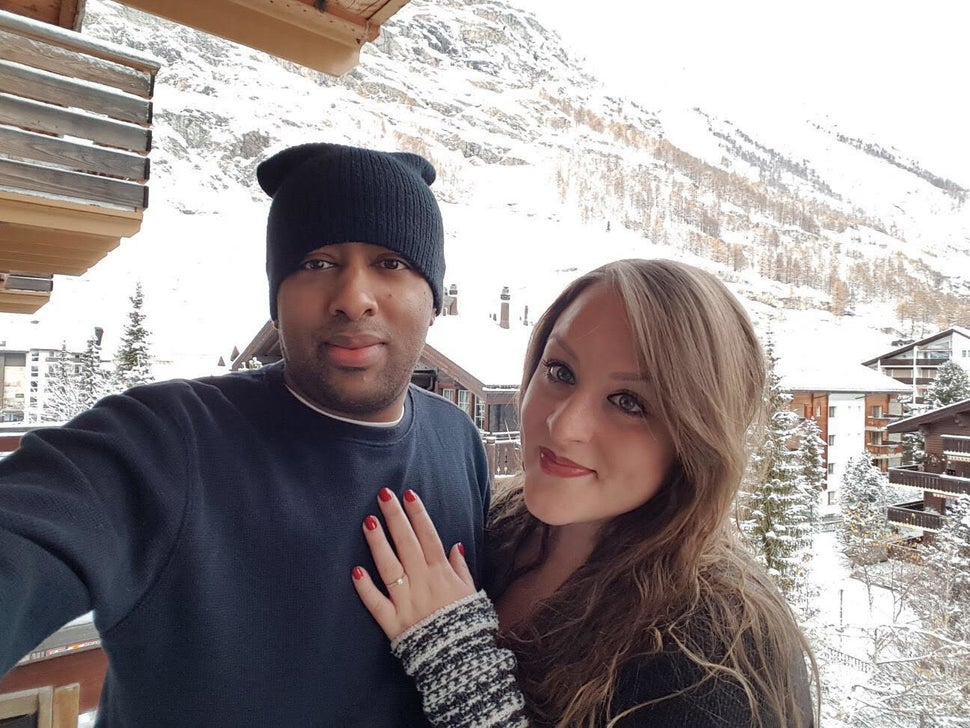 Thankfully, after pulling the drain apart, Mike managed to retrieve the band and the couple managed to laugh about the near-disaster. Needless to say, Alexia's ring has been glued firmly to her finger ever since.
Friends and family might be somewhat surprised to hear the story of Mike Yunus and Alexia Zetty's proposal because the pair had vowed to keep the story to themselves – "which we have... until now" – before deciding to spill the details to HuffPost UK as part of Not The Royal Wedding, our celebration of love across Britain. You can read part one of our series here.
We'll be following six couples and sharing some of their stories as they prepare to walk down the aisle on 19 May, the same day as Prince Harry and Meghan Markle.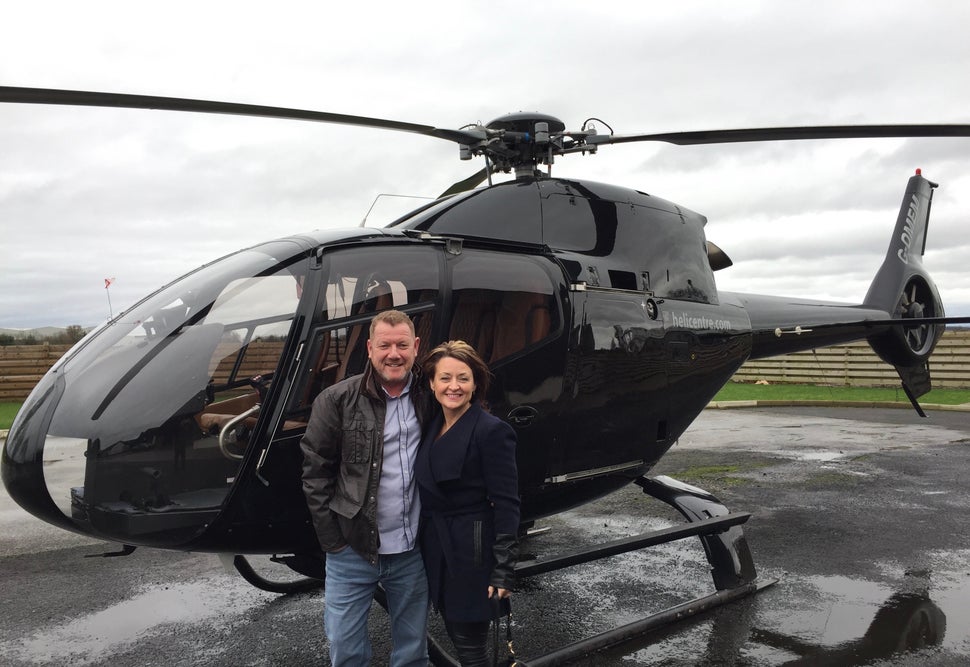 Prince Harry, of course, proposed to Meghan Markle at home while cooking a roast chicken. But some of our couples, like Mike, had more elaborate plans. And, as with Mike, not all of them went to plan.
Take Julie Spencer and Gary Miller's engagement, for instance. Gary had organised a surprise helicopter trip to fly Julie over the prominent places in her life including her childhood home, school and the location of her first job.
"The night before, I asked Julie's dad to give me his blessing to marry her," Gary explains. "But I couldn't ask her mum." Julie's mum died from cancer in 2006, so during the helicopter ride, the pilot hovered over Julie's mum's spot in the crematorium. Gary told her: "I've asked your dad, but I still need to ask your mum, and this is the closest place between heaven and earth." Then he asked Julie to marry him.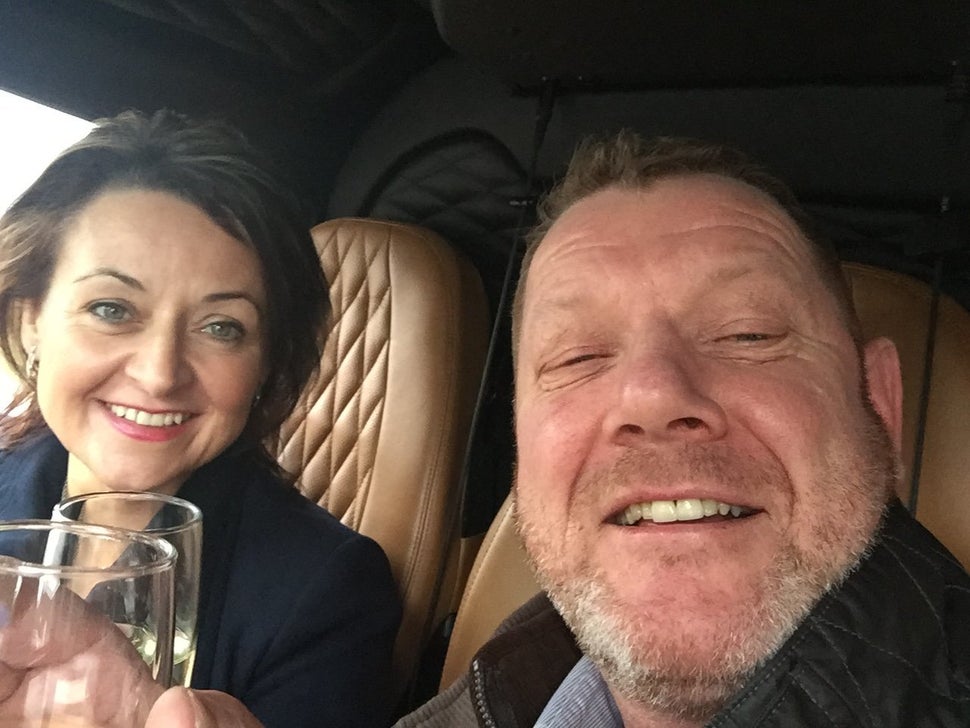 Unfortunately the moment was tainted slightly because Julie was suffering from terrible travel sickness. "I felt very ill and was right at my worst as we hovered over the crematorium and he made his speech," she recalls. "I was delighted he asked me and answered a very quick 'yes' but couldn't say anything else in case I vomited on him!
"Gary had tissues in his pocket ready for my tears, but I was just glad he had them in case I was sick. He said afterwards that he had been disappointed with my reaction, but he hadn't realised at the time how ill I felt."
After the proposal, the couple went for a lovely meal in a manor house – although Julie says she wasn't too happy about getting back into the helicopter after lunch.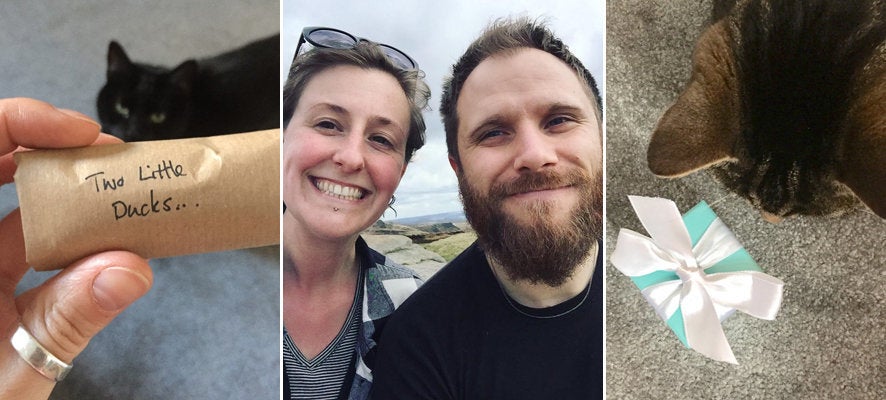 We've had romantic Alpine settings and whirlwind helicopter rides. But Will Tarran decided to do something closer to home when he proposed to Jo Want in December 2016. He decided to create a personalised advent calendar, and throughout the month, wrapped her favourite chocolate bars in individual parcels and hid them around the house for her to find. "It felt like some sort of build up would make things a bit more special," he says.
And, like all the best advent calendars, the biggest treat came on Christmas day, when Will tied a ring box to some helium balloons saying "25".
"I had persuaded Jo to stay in bed while I made breakfast. But crikey - the helium cylinder was noisy!" Will says. "I was sure I was about to be rumbled, with Jo coming down to investigate, but somehow she hadn't heard. The rest seems like a bit of a blur, we came downstairs to open Christmas presents, and the ring was waiting in the living room."
A month of work, and some very elaborate staging – but still Jo didn't have quite the reaction Will was expecting. "I didn't really know what to say, do or feel to be honest. I was gawping when I opened the ring box and then gave it back to Will saying 'What's this for?'" she laughs. "Good one Jo!"
Happily all three couples managed to set a date, and will be walking down the aisle on 19 May. We'll be chatting more to them, along with couples Monica and Shailesh, Dafydd and Ceri, and Emma and Rachel, who are also generously sharing their stories with us in the run up to their weddings. Next time, we talk about the moment they realised they'd met 'the one'.