Ali - a black man growing up during a time of racial segregation - did indeed say some provocative things around racism during his career as a boxer and later as a figurehead for civil rights.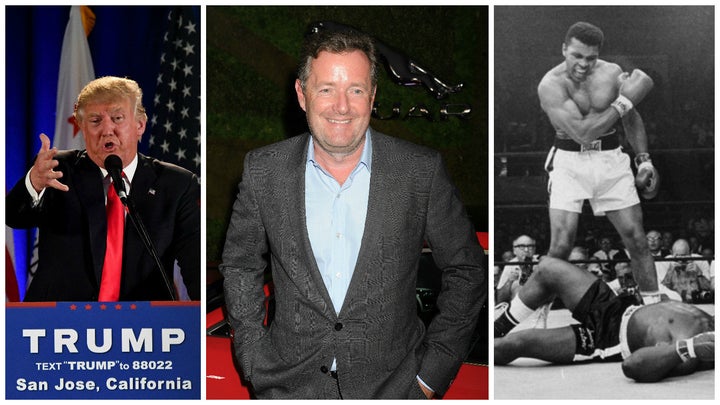 There are many white people who mean right and in their hearts wanna do right. If 10,000 snakes were coming down that aisle now, and I had a door that I could shut, and in that 10,000, 1,000 meant right, 1,000 rattlesnakes didn't want to bite me, I knew they were good... Should I let all these rattlesnakes come down, hoping that that thousand get together and form a shield? Or should I just close the door and stay safe?
Even more pointedly, when talking about his opposition to the compulsory draft for the Vietnam War, he said: "My enemy is the white people, not the Vietcong."
Many people were quick to point out the difference between the two.
After the backlash began Morgan elaborated on his original point.
But it still didn't wash with many.
Morgan did have his supporters although their tone appeared to mostly be along the lines of this...
The furore threatened to overshadow a poignant column Morgan had written the day before on Ali.
In it he wrote: "Where he was different was in his ability to rise above the fray of normality and consistently be exceptional.
"Whether in the ring, or out of it.
"He dared us all to to dream big, take risks and fight for what we believe in.
"He danced like a butterfly, he stung like a bee, he WAS The Greatest, RIP Muhammad Ali."
Ali was an "angel" and a "God-sent blessing to this Earth", his brother Rahman said as it was revealed he died from septic shock caused by "unspecified natural causes".
The three-time world heavyweight champion, who had battled Parkinson's disease for 32 years, died in Phoenix, Arizona, on Friday evening local time after being admitted to hospital with a respiratory condition on Monday.
His funeral will take place in his home town of Louisville, Kentucky, on Friday, where flags have been flying at half-mast since his death was announced.
Ali died at 9.10pm local time, his spokesman Bob Gunnell said, surrounded by his family for the last hour of his life.
One of his daughters, Hana Ali, said that his heart would not stop beating for 30 minutes after all his other organs failed.
Writing on Instagram, she said: "No one had even seen anything like it."
She said family members were hugging and kissing him, holding his hands and chanting an Islamic prayer while his heart kept beating and called it a "true testament to the strength of his spirit and will".
Ali's younger brother Rahman Ali, who was also a heavyweight boxer, said he was a "sweet, kind, nice" man who "was the world's most famous person".
He told the BBC: "There was nobody on this Earth more famous than Muhammad Ali, he was known in every country.
"God blessed him because he was such a sweet person. My mother and father were sweet, good people, and he came from good stock. He was a wonderful, wonderful, wonderful man, he will be missed."
Mr Ali said his brother's spirit, both inside and out of the ring, came from the upbringing their parents gave them, but said he was "one of a kind", adding: "There will never be another Muhammad Ali.
Speaking through tears, he said he remembered Ali "hugging me, making me laugh, kissing me", and said he was so kind he would give you the shirt from his back.
He said: "He loved everybody, he had a good heart. So I cry from joy, and happiness."
Asked how he wanted Ali to be remembered, he said: "I want Muhammad to be remembered as a humanitarian, a loving, kind, sweet, good man."
Tributes have flooded in from around the world, with friends and fellow fighters paying Ali, who was voted Sports Personality of the Century, the highest accolades.
US president Barack Obama said he "shook up the world and the world is better for it".
In a heartfelt tribute Mr Obama revealed he keeps a pair of Ali's gloves in his private study at the White House, and said we are fortunate that "The Greatest chose to grace our time".
George Foreman, Ali's friend and rival from the famous Rumble In The Jungle fight, said: "We were like one guy - part of me is gone."
Ali's death leaves Foreman as the sole significant survivor of the golden age of the heavyweights in which Joe Frazier, Jimmy Young, Ron Lyle, Ken Norton and Jimmy Ellis were also prominent.
"Each time one of us leaves, I tell everybody: Muhammad Ali, Joe Frazier, George Foreman, we were really just one guy," Foreman told Press Association Sport.
"And every time one slips away, you feel like you've lost a piece, and Muhammad Ali was the greatest piece of all."
Mr Gunnell said a procession on Friday would take the boxer "through the streets of Louisville to allow anyone who's there from the world to say goodbye".
His body will pass the Muhammad Ali Centre, travel along Muhammad Ali Boulevard and through his former neighbourhood. The procession will end at Cave Hill cemetery for a private family ceremony.
An interfaith memorial service will be held at the KFC Yum! Centre in Louisville at 2pm on Friday. Eulogies will be led by former US president Bill Clinton, actor Billy Crystal and American sportscaster Bryant Gumbel. The service will also be shown online.
Reading a statement from Ali's family, Mr Gunnell said: "Muhammad Ali was truly the people's champion and the celebration will reflect his devotion to all races, religions, and backgrounds.
"Muhammad's extraordinary boxing career only encompassed half of his life. The other half was committed to sharing a message of people and inclusion with the world.
Ali, widely considered to be the greatest in boxing history - as well as a key figure in America's civil rights movement - is survived by his fourth wife Lonnie, whom he married in 1986, and nine children, many of whom were reported to have flown to their father's bedside on Thursday and Friday.
At his last public appearances he looked increasingly frail, including on April 9 when he wore sunglasses and was hunched over at the annual Celebrity Fight Night dinner in Phoenix, which raises funds for Parkinson's treatment.
Ali had suffered from Parkinson's for three decades, the extent of his illness brought to the world stage when he trembled badly while lighting the Olympic torch in 1996 in Atlanta.
Doctors say the Parkinson's was probably caused by the thousands of punches Ali took during a career which saw him win 56 of his 61 bouts.
Ali, who changed his name from Cassius Clay to throw off what he saw as the yoke of racism, first came to prominence when he won gold at the age of 18 at the 1960 Rome Olympics in the heavyweight division.
He went on to become the first man in history to win the world heavyweight title three times, and along the way fought race wars, was stripped of his world title for refusing to fight in the US war in Vietnam and lost his boxing licence for close to four years as a result.
He was outspoken, eloquent and poetic, perhaps his most famous quip being that he would "float like a butterfly, sting like a bee".
Many in the UK will remember Ali's four appearances on Sir Michael Parkinson's chat show in the 1970s and 1980s.
Sir Michael said: "He was not a man without flaws. You have to consider those. But if you wanted to concentrate on what was attractive about him I could talk forever."
He added: "I could not believe how beautiful he was. He was an extraordinary looking man. He was graceful and all those things and, of course, he was as funny as hell."