Two Polish ministers are meeting Foreign Secretary Boris Johnson and Home Secretary Amber Rudd amid growing concerns over hate crimes against Poles living in the UK.
It follows the killing of Polish man Arkadiusz Jozwik in Harlow, Essex, and the physical assault of two Polish men within hours of a vigil for him.
The Polish Embassy in London has now said its consuls have intervened 15 times in recent weeks over reports of xenophobic incidents, The Press Association reports.
This included reports of an arson attack on a Polish family's home in Plymouth, bricks put through the windows of houses of Polish people in Knowle West in Bristol and anti-Polish laminated cards put through people's doors in Huntingdon in Cambridgeshire.
Polish Foreign Minister Witold Waszczykowski and Home Affairs Minister Mariusz Błaszczak were travelling to London on Monday to discuss the safety of Poles in the UK.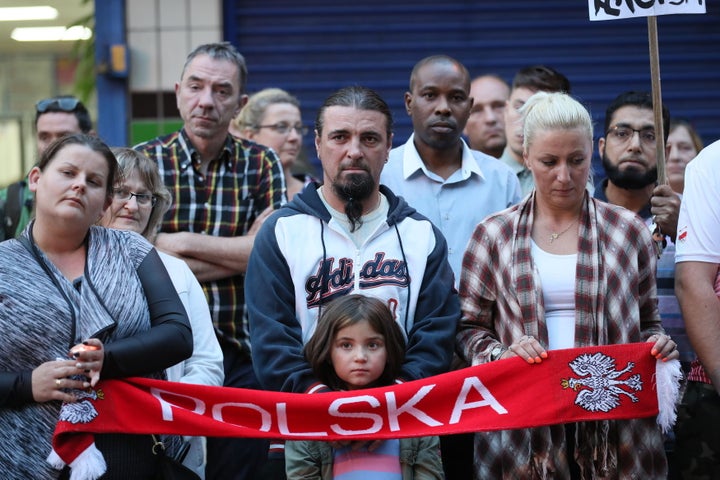 Jozwik was attacked on August 27 and died of head injuries the following Monday.
His death is being investigated as murder, and one line of inquiry is that it was a possible hate crime.
There was a further possible hate crime in Harlow on Sunday morning, in which two Polish men were attacked, with one suffering a broken nose and the other a cut to his head.
It happened within hours of a march and a vigil for Jozwik.
The Polish Embassy said the its government had concerns for the Polish community in the UK following the incidents.
Polish consuls were in direct contact with local authorities and the families of the victims.
A statement released by the Polish Embassy said: "In the past weeks, the Polish community have experienced numerous xenophobic incidents.
"Polish consuls intervened 15 times.
"Most serious cases included arson, physical assault, hateful graffiti, and intimidation."
According to the embassy, the highest number of xenophobic incidents was reported in the first weeks after the announcement of the results of the EU referendum on June 23.
The frequency of such incidents was decreasing, the embassy added.
Incidents included an arson attack on a Polish family's home in Plymouth in July, a physical assault on a Polish man in Yeovil in June and another physical assault in St Ives in July.
The embassy said there were some reports of attacks on private houses of Polish people, including four houses in Knowle West in Bristol which had bricks thrown through their windows and two which had racist graffiti daubed on walls.
In Reading, a house window was broken with a piece of debris, and a group of teenagers threw stones at a house in Worcester.
Reports of verbal abuse were harder to track, and there was graffiti, including abusive messages, found on the front door of the Polish and Social Cultural Association in Hammersmith in west London, on a war memorial in Guildhall Square in Portsmouth, and on the front of a Polish shop, Mieszko, in Glastonbury.
Anti-Polish laminated cards were distributed in Huntingdon in Cambridgeshire, and an offensive letter was also sent to a Polish woman in Bournemouth.
The Consular Section of the Polish Embassy in London said it had encouraged Poles to report hate crime incidents directly to the police.