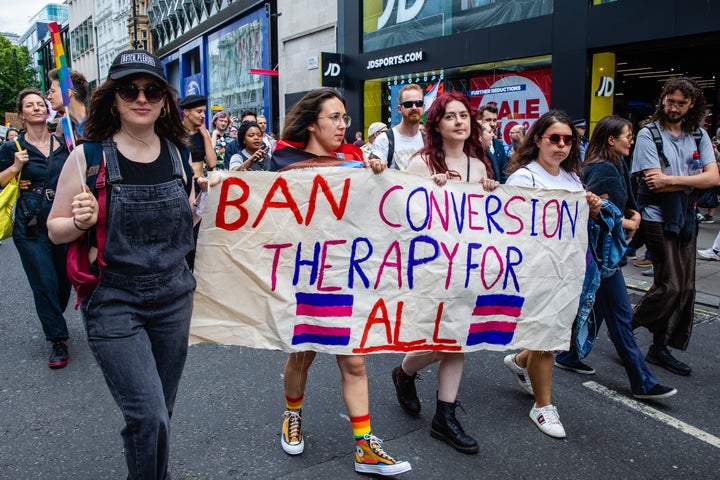 Rishi Sunak is facing a backlash from Tory MPs after he ditched plans to ban LGBTQ+ conversion therapy.
The prime minister had promised to make the practice - which seeks to change someone's sexual orientation or gender identity - illegal.
But legislation has not been included in Tuesday's King's Speech, which means it is unlikely any new law can be brought in before the general election.
Dehenna Davison, the MP for Bishop Auckland and former minister, said the decision was "shameful".
"Over five years after promising we would deliver a much needed ban on conversion therapy, it now looks set to be kicked into the long grass. How anyone can justify supporting such practices is beyond me," she said on X/Twitter.
Alicia Kearns, the Tory MP for Rutland and Melton, hit out at Conservatives who had opposed a ban.
"To MPs who believe in Conversion Therapy and don't accept it's inherently abusive. Say it," she said. "Own that you believe LGBT people can be 'converted'."
The senior MP added: "The very least you can do is be honest with those you're imprisoning in a cycle of imposed shame & self-hate as you reinforce bigotry."
Stonewall said the failure to deliver a ban on conversion practices after five years of promises was "an act of frightful negligence".
A YouGov poll from April 2022 showed 65% of people backed banning conversion therapy for sexual orientation and 62% supported ending conversion therapy for trans people.
The survey showed that 63% of Tory voters also supported a ban of sexual orientation conversion therapy and 58% backed it when it came to gender identity.
Robbie de Santos, director of external affairs for Stonewall, said: "In doing so, it has given the green light for the abuse against LGBTQ+ people to continue unchecked,"
"Rather than getting mired in a cynical cultural war, the UK Government should be making decisions based on what the evidence and expertise said. England and Wales' 1.5 million LGBTQ+ people, and their families, deserve better."
Theresa May first pledged to end conversion therapy in 2018. Boris Johnson attempted to water down the plan by excluding trans people from any ban.
But in January, under Sunak, the government announced a Bill banning conversion therapy, including for trans people, would be introduced.
NHS England has branded the practice "unethical and potentially harmful".
Last week an open letter signed by over 20 celebrities including broadcaster Rylan Clark and actors Russell Tovey and Alan Cumming warned a decision not to introduce a ban immediately would be "inherently homophobic".