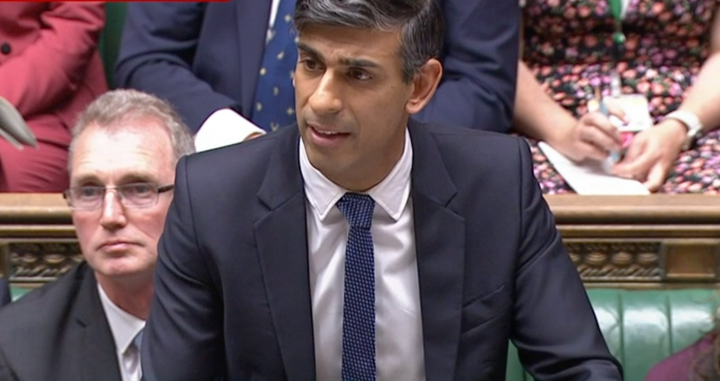 Rishi Sunak has refused to condemn a Conservative by-election candidate for saying parents who struggled to feed their children should "fuck off".
Andrew Cooper is hoping to be elected as the Tory MP for Tamworth on Thursday.
As first reported by the Daily Mirror, in 2020 he posted a hand drawn flow diagram on Facebook.
"Can you feed your kids?" It said. Cooper's pen drawing said anyone who answered "no" should "fuck off".
Speaking during PMQs, Labour MP Karin Smyth asked Sunak about the chart.
"In Bristol South, about a third of children live in poverty. Most of them in working households. It's about the same as in Tamworth.
"The the Conservative candidate for tomorrow's election made foul-mouthed comments about families struggling to make ends meet."
She asked: "This is his Conservative Party. Will he condemn that candidates comments?"
But Sunak dodged the question and instead defended the government's record.
"I am proud of our record supporting people with the cost of living," he said.
"Whilst we are helping people with the cost of living. All Labour's ideas are doing are costing them a fortune."
Asked by reporters if Sunak condemned Cooper's chart, the prime minister's spokeswoman said: "I think the way the prime minister goes about his business is 'judge us by our actions'.
"He believes that actions matter more [than words]. I haven't heard him use that word personally."
Pincher won the seat in 2019 with a majority of 19,634 in 2019, but Labour are hopeful of snatching it.
The by-election will be held on the same day as the contest in Mid Bedfordshire to replace Nadine Dorries, which is a three-way fight between the Tories, Labour and Lib Dems.