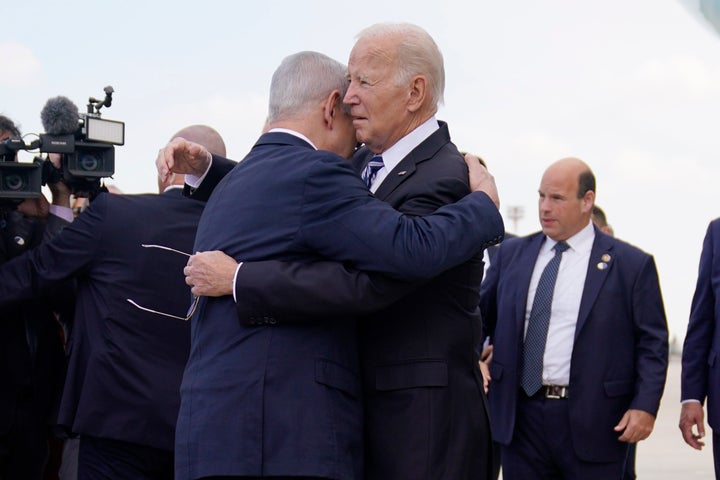 US president Joe Biden is visiting Israel today as the violence between Hamas and Tel Aviv continues to escalate.
Biden has repeatedly shown his support for the country in the days since Palestinian militants unexpectedly attacked Israel on October 7.
More than 1,400 people in Israel have been killed by Hamas and around 200 more have been taken hostage.
Since declaring war on the Palestinian militants 11 days ago, Israeli air strikes have killed more than 2,750 people.
Both sides are blaming the other over the explosion which hit a hospital in Gaza on Wednesday, leaving hundreds more dead.
Amid speculation that UK prime minister Rishi Sunak is also thinking about visiting the war zone, here's a look at all of the senior politicians who have travelled to Israel since war began on October 7.
1. Joe Biden
The US president touched down in Israel on Wednesday morning, October 18, for a one-day visit.
He reportedly intended to tell Tel Aviv that it still had the US's support – but the White House didn't want to get dragged into a Middle East conflict.
During a televised meeting, he told Israel PM Benjamin Netanyahu that he was "deeply saddened and outraged" by the hospital explosion, and said the evidence he had seen suggested "it was done by the other team, not you."
He is then expected to greet first responders and the families of those believed to be hostages or to be lost, and make a public statement before a meeting with Israeli president Isaac Herzog.
He was meant to be visiting the neighbouring country of Jordan afterwards, to meet with Arab leaders for de-escalation talks.
However, after the hospital strike yesterday, the Palestinian leader Mahmoud Abbas pulled out and the summit fell through.
Biden is expected to call Abbas and Egyptian President Abdel Fattah El-Sisi during his return flight instead.
2. Olaf Scholz
The German chancellor visited Netanyahu in Tel Aviv on Tuesday to show his support for Israel after the Hamas' massacre.
Berlin is "doing all it can to ensure that this conflict does not escalate" he said, claiming it is Germany's duty to "stand up for the existence of the state of Israel".
The German chancellor also witnessed firsthand how dangerous the area is right now.
Late on Tuesday evening – as he was meant to be going to Cairo, to meet the Egyptian president Abdel Fattah El-Sisi – Scholz plane had to be evacuated at Israel's Ben Gurion airport.
Aides and journalists travelling with Scholz had to quickly leave the plane and take cover, lying on the runway, while the chancellor was allegedly evacuated to a shelter.
The chancellor and everyone else was able to board the plane shortly afterwards, following an additional security check.
3. Antony Blinken
The US secretary of state flew to Israel on Thursday, October 12, to meet with PM Netanyahu and to tour neighbouring countries in the Middle East.
It was part of the top US diplomat's most extensive Middle East visit since taking office in January 2021.
He told Netanyahu: "You may be strong enough on your own to defend yourself. But as long as America exists, you will never ever have to. We will always be there by your side."
Blinken recalled how his grandfather fled pogroms in Russia, while his stepfather survived Nazi concentration camps.
He also called for Israel to be restrained with its retaliatory strikes against Hamas, encouraging Tel Aviv to set itself apart from groups like Hamas, and to look after civilians.
Blinken spoke with Netanyahu about how to prevent anything like Hamas' massacre reoccurring.
He then returned to Israel on Tuesday to meet with Israeli defence minister Yoav Gallant to discuss "Israel's response to Hamas' terrorist attacks".
4. James Cleverly
His was the first visit by a foreign minister to the site of the attacks, according to the gov.uk website. He met survivors, as well as Israeli President Herzog, to show the UK's "unwavering support" for Israel.
He said: "The facts are clear. Hamas are terrorists. Israel has the right to defend itself. Hamas and Hamas alone are responsible and accountable for these appalling attacks.
Terrorism must never be allowed to prevail."
When he and foreign minister Eli Cohen visited the southern village of Ofakim to see first hand the impacts of the war, an air strike siren went off and they had to seek cover.