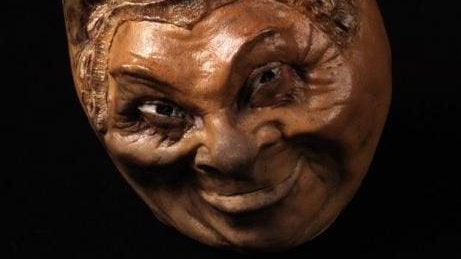 From creepy dolls to crap taxidermy, people have been sharing pictures of museum exhibits they want to lock away in Room 101.
We've probably all been to a museum and been glad we weren't spending the night with an unusual waxwork, scary painting or ghoulish artifact.
And visitors have been using the hashtag #museum101 to share their hilarious finds on Twitter.
Here are the 13 best/worst.
1. Creepy dolls
It seems many museums have them.
2. Crap taxidermy
3. Sinister hands
Where's the rest of the body?
4. Hull Museum's 'mermaid'
Looks NOTHING like Ariel.
5. James the carousel horse
Please do not feed the animals.
6. Wax Figures
7. Bloody portrait
8. Roald Dahl's hip bone and spine shavings
Were they his funny bones?
9. Scold's bridle
10. Cow hairball
11. Whale ear bones with a twist
Make people feel uneasy, apparently.
12. Unusual portraits
This one can be seen in Hull.
13. This jug
Museum enthusiast Mar Dixon who runs the Culture Themes blog with Linda Spurdle, who also works at Birmingham Museums, told Huffington Post UK: "We run a different hashtag every month.
"With all the fake news happening I was trying to think of another theme and Linda and I thought of George Orwell's Room 101 and let people put things in from museums they don't like.
"Not hate but are more scared of or don't understand."
The pair try and come up with a creative way to celebrate museums across the world every month and in January managed to get #museumselfie trending in several countries on Twitter.
Here's a gem from that theme.
It trended so much, Twitter did a moment on it.