No parent can be fully prepared for the chaos that can unfold when they bring a baby into the world.
No matter how many prenatal classes you go to, nuggets of advice you receive or parenting books you read, quite simply, it can be a minefield.
That's what Molly Gunn, 38, mum to Rafferty, five, and Fox, three, realised after becoming a mum in 2011.
"Rafferty was six months' old and I felt like a clueless new mum, exhausting myself trying to follow lots of 'parenting rules'," she told The Huffington Post UK.
"The rules around parenting felt too patronising and 'perfect', like women were meant to have personality transplants the second they had kids and not confess how hard it was."
In a bid to create a "new mother movement", in September 2013 Gunn launched 'Selfish Mother' - a blogzine covering what it is really like to be a mum in the modern world.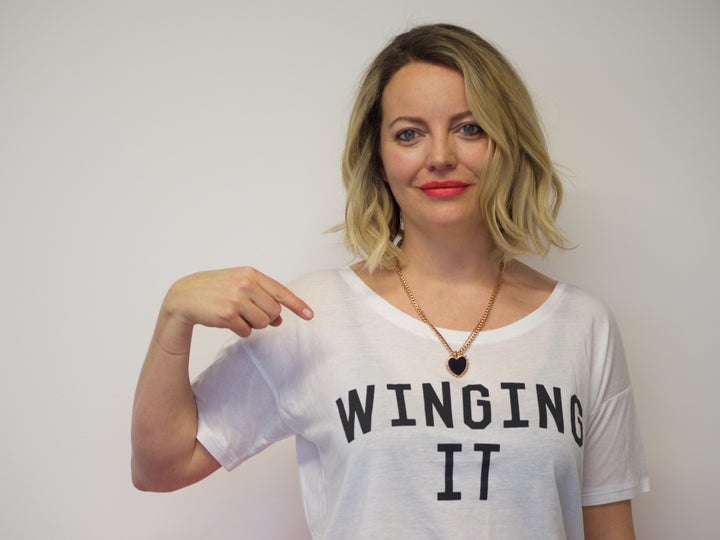 Gunn's aim for 'Selfish Mother' is to spearhead a new mother movement, where women were able to admit that being a mum is hard and imperfection is only natural.
She gave mums a platform to both read and write honest real-life posts about the ups and downs they experience on a daily basis.
So why are these mums "selfish"?
"The main message behind the blogzine was that it's healthy to think about your self," Gunn explained.
"Looking after yourself - be it taking time out for yourself or simply sharing what's really on your mind - is good for you and therefore better for your family.
"Having kids doesn't mean life has to be all about the kids."
It wasn't long before the blogzine became a platform to more than 2,000 writers who shared their stories - both the good and the bad - about motherhood.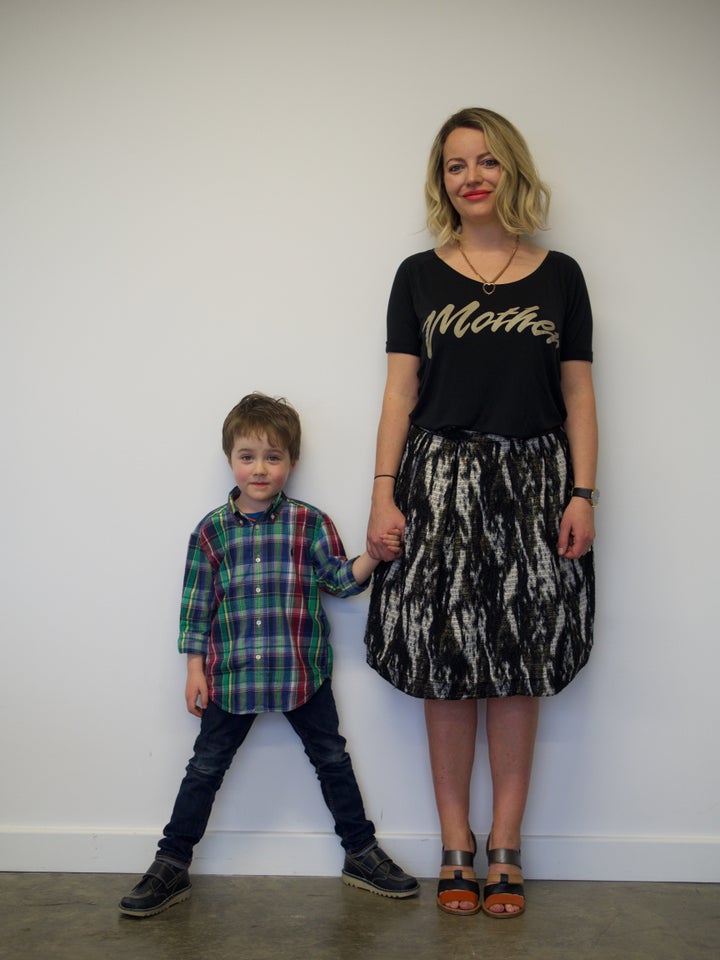 Within one year, in the summer of 2014, Gunn expanded 'Selfish Mother' to include a clothing line bearing slogans that represented what being a mother was like: including "winging it", "strong" and "human" emblazoned across the front.
But Gunn's plan was about more than just creating clothes. It was about doing good, too.
Gunn called it the #GoodTees initiative, and a percentage of the funds raised from the sale of the T-shirts and sweatshirts is used to support good causes.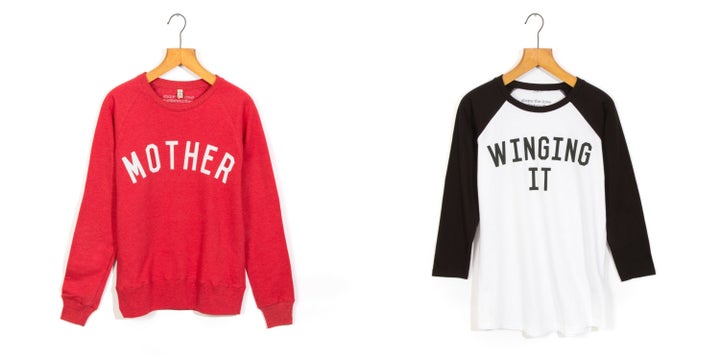 "I called them #GoodTees because they look good, they feel good to wear and they do good, too," Gunn explained.
"All our tees are ethically made with organic cotton, they are 'sweatshop free' and they give back to charities.
"I launched the 'MOTHER' tee initially as the news about Syria made me weep. I wanted to do something to help, so I launched the tee to raise funds for Women for Women International.
"I used to be a fashion journalist and the industry made me feel sad. I was sent a staggering amount of freebies, but I realised that I was being courted by big brands that were focused on profit.
"Clothes and beauty products are sold fast and furiously, and many shoppers expect cheap goods turning a blind eye to where they come from or where their money goes.
"I felt that if a customer is spending a decent amount of money on a product then the money should go somewhere good - hence #GoodTees."
Susie Verrill wearing the 'MOTHER' tee.
Gunn also credited the power of social media as the secret to the initiative's success.
To begin with, 'Selfish Mother' and the #GoodTees initiative were simply a kitchen table brand, without any budget for promotion.
But by instigating the "wear and share" tactic, Gunn was able to actively ask people to share their photos and personal stories of being a mum.
"Instagram was amazing in helping promote our initiative," Gunn said.
"I love it. It's been vital to us a small business without a marketing team, as it is both free and real.
"Pictures speak a thousand words, and in sharing our tees and people's own stories of motherhood on social media, customers were able to relate."
Four years after the launch of 'Selfish Mother', Gunn curated hundreds of the best written posts from the blogzine into 'The Mother Book'.
"It covers everything from birth to death, friends to downtime, toddlers to teenagers," she explained.
"It is funny and it is poignant, irreverent and clever. It is a book to dip in and out of when the mood takes - no post is over three pages long, as I know how parents like me tend to fall asleep after a few pages if we read at night."
When asked what she wanted people to take away from 'Selfish Mother', Gunn added: "A sense of solidarity and the feeling that they are not alone."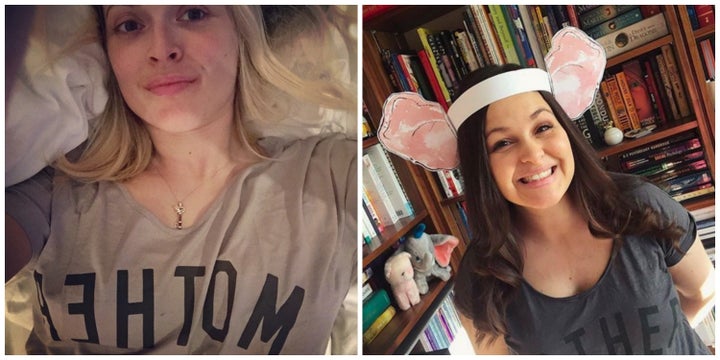 Fearne Cotton and Giovanna Fletcher wearing the 'MOTHER' tee.
For Gunn, this is only the beginning of the new parent movement.
Just as she set out to give motherhood a makeover, Gunn is now spearheading redefining what being a "dad" means.
Given the stereotypes fathers often face, such as being told they're "babysitters", Gunn's latest project aims to give them their own voice.
"Our latest project is that have launched a dad's blogzine to mirror SelfishMother.com with father-inc.com," she explained.
"We have some ace dad contributors because dads do it too and it feels like they have been left out of the parenting conversation.
"Now they are joining it - and it is so refreshing to hear their voice."
This summer The Huffington Post UK is spearheading an initiative helping families thrive, with a focus on parent wellbeing, the challenges facing stay-at-home and working parents, friendships and navigating the landscape of modern parenting beyond the 2.4. To kickstart the campaign, Jamie Oliver guest edited the site, bringing a focus on feeding healthy families.
We'll be sharing stories and blogs with the hashtag #ThrivingFamilies and we'd like you to do the same. If you'd like to use our blogging platform to share your story, email ukblogteam@huffingtonpost.com to get involved. Jamie's new cookbook Super Food Family Classics, published by Penguin, is on sale at £26.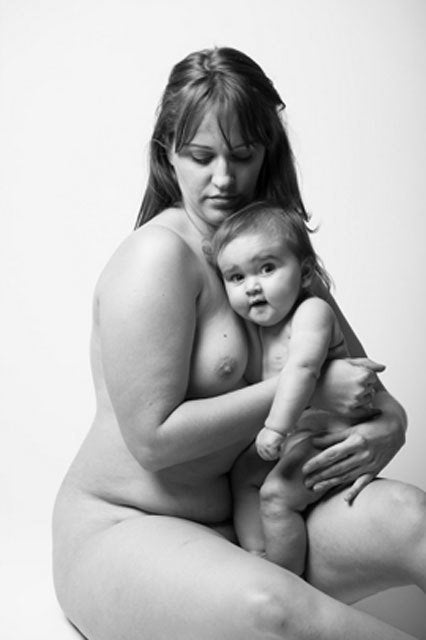 Mums Beautiful Bodies