Schoolgirls are choosing to wear shorts under their skirts to avoid sexual harassment, a discussion in parliament has revealed.
The issues raised on Tuesday 7 June, were brought up as part of an investigation into the extent of sexual harassment and violence in England's schools.
"We've heard from girls who tell us you don't leave school as a girl without being called a slut, that to wear shorts under your skirt to prevent boys revealing your underwear in the playground is just normal behaviour," Sophie Bennett, co-director of UK Feminista told the committee, according to BBC News.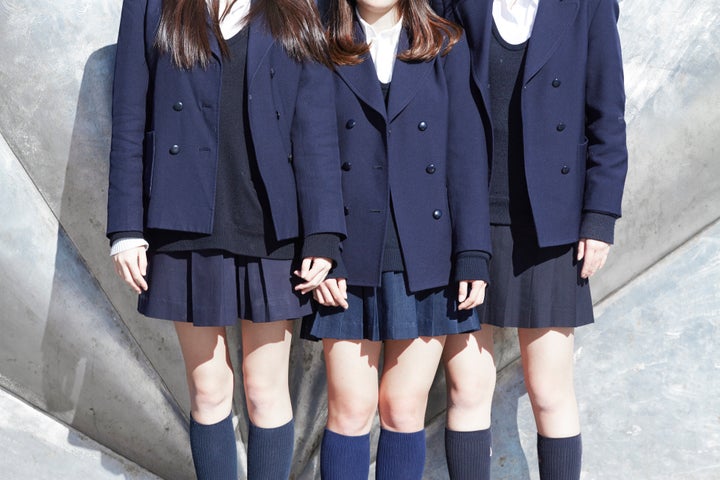 The Women and Equalities Committee launched the first parliamentary inquiry into the scale and impact of sexual harassment and sexual violence in schools in April 2016.
Prior to launch, the committee gathered the views of 300 young people from across the UK through a series of workshops.
Young people reported, according to the committee, schools are "not playing their part in recognising the pressures young people are under when dealing with matters of sexual harassment and sexual bullying".
They also said teachers may "brush off incidents of sexual assaults or sexually threatening behaviour because of students relatively young ages".
The inquiry, chaired by MP Maria Miller, took evidence from teachers, young people and representatives from organisations such as UK Feminista, Tender and Imkaan.
Issues addressed during the inquiry included concerns surrounding online pornography. Jo Sharpen, policy manager at Against Violence and Abuse, said pornography was "confusing young people's perception of sexual consent".
During the inquiry, MPs heard from teenage girls who spoke about their own experiences of sexual harassment in schools.
One girl told the committee, according to The Guardian: "I have seen a couple of cases in my school when boys attempt to offend and humiliate girls… They use sexual phrases.
"They are really humiliating and can create psychological issues for the girl and make her feel unsafe and uncomfortable."
Susie McDonald, chief executive officer of relationship charity Tender, told MPs that when she addressed one school and asked how harassment could be stopped in schools, she was told girls should "wear trousers".
Bennett said there seems to be a "normalised culture of sexual harassment" in schools, which means many girls are having to change their own behaviour to stop such bullying.
She argued change would only come about if there was a shift in attitude in society, so boys understood sexual harassment and bullying were not acceptable.
Bennet also wanted to dispute figures released by the Department of Education (DofE) that claimed bullying of a sexual nature was only common in around 5% of schools.
A spokesperson from the DofE stated, according to The Guardian: "We cannot say how many other schools would say this is a problem, but not a 'common' one."
However Bennett added: "The message we hear time and time again is that it is an everyday experience for many girls."
Marai Larasi, a spokesperson from Imkaan, an organisation working to address violence against women and girls, told MPs, according to The Guardian: "The government has told schools they must teach about Prevent (safeguarding communities from the threat of terrorism), and yet the daily terrorisation of young girls is not taken seriously."
Data published in September 2015 revealed that 5,500 sexual offences were recorded in UK schools over a three-year period, including 600 rapes.
Further evidence will be taken from Ofsted in coming weeks to ascertain whether there is an urgent need for schools to take action.