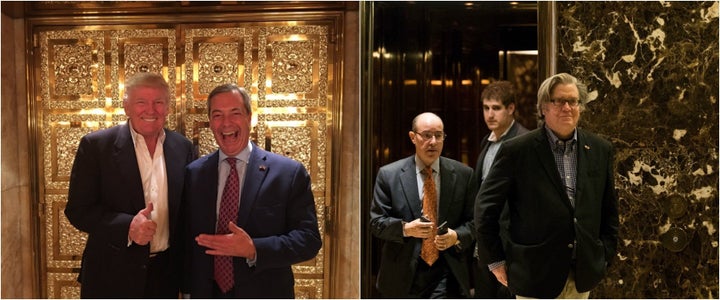 His appointment prompted a wave of criticism from senior Democrats, but also support from the American far-right.
Former KKK leader David Duke said Bannon's appointment was "excellent".
The former Grand Wizard told CNN: "I think that anyone that helps complete the program and the policies that President-Elect Trump has developed during the campaign is a very good thing, obviously.
"So it's good to see that he's sticking to the issues and the ideas that he proposed as a candidate. Now he's president-elect and he's sticking to it and he's reaffirming those issues.
"You have an individual, Mr Bannon, who's basically creating the ideological aspects of where we're going.
"And ideology ultimately is the most important aspect of any government."
Leader of the American Nazi Party Rocky Suhayda wrote to CNN: "Perhaps The Donald is for 'REAL' and is not going to be another controlled puppet directed by the usual 'Wire Pullers,' and does indeed intend to ROCK the BOAT? Time will tell."
"He's going to be something different, and new ideological space is opening up."
On the white supremacist internet forum Stormfront, users welcomed Bannon's appointment, as "[t]he man who will have Trump's ear more than anyone else."
Trump's choice of Bannon "signals that White Supremacists will be represented at the highest levels in Trump's White House," said Adam Jentleson, a spokesman for Democratic Senator Harry Reid.
"It is easy to see why the KKK views Trump as their champion," Jentleson added.
Bannon denies claims he is a "white supremacist" or that he is an "anti-Semite", a charge made during a historic court case.
In claims since denied by Farage, Banks said: "There is no doubt about it that Steve Bannon will talk to Nigel Farage before any other British politician and run stuff by them."