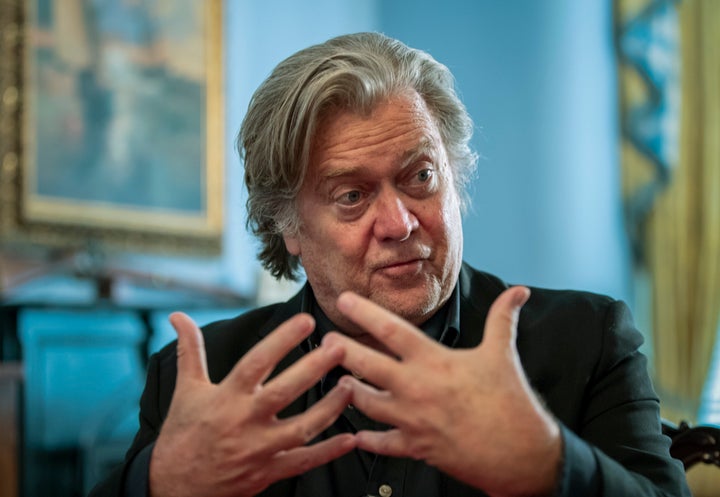 Former Donald Trump advisor Steve Bannon is still invited to attend a BBC-hosted conference, despite a backlash over his inclusion.
Bannon, who quit the White House after seven months as a senior counsellor to the US president, will speak at the News Xchange event in Edinburgh next month.
His invitation prompted Scottish First Minister Nicola Sturgeon to pull out of the conference, citing Bannon's "far right, racist views".
Sturgeon confirmed her decision on Saturday, saying that while she believes "passionately in free speech", her role requires her to "make balanced judgments".
"I will not be part of any process that risks legitimising or normalising far right, racist views," she wrote on Twitter.
"I regret that the BBC has put me and others in this position."
Sturgeon said the BBC described Bannon in an email explanation as a "powerful and influential figure... promoting an anti-elite movement".
BBC News and BBC Scotland are described as the only "host partners" for the event.
The corporation said organisers for the event invited Bannon and that "good journalism in a world of fake news and disinformation is more vital than ever".
"A conference designed to analyse the big issues impacting that world isn't an endorsement of anyone or anything - it is a function of what journalism is," it added.
Critics of Bannon believe his brand of politics to be dangerous and hateful.
Following his departure from the Trump administration, Bannon has focused his attention on getting Europe's far-right parties more power in government positions.
News Xchange, which is organising the journalism event in November, told HuffPost UK in a statement: "Steve Bannon is a key influencer in the rise of populism - one of the dominant political trends of our times.
"He has been invited to speak at News Xchange this year because his views are relevant to today's society at large and therefore to the media industry.
"We also consider it our journalistic responsibility to share and scrutinise a range of relevant viewpoints within the framework of a balanced debate.
"He will be interviewed about his views by a BBC journalist, followed by an open Q&A with delegates."
Prominent media figures are among those listed to speak at the event.
HuffPost's editor-in-chief Lydia Polgreen said she had been planning to attend, but cancelled due to a conflicting event, prior to Bannon's involvement being known.