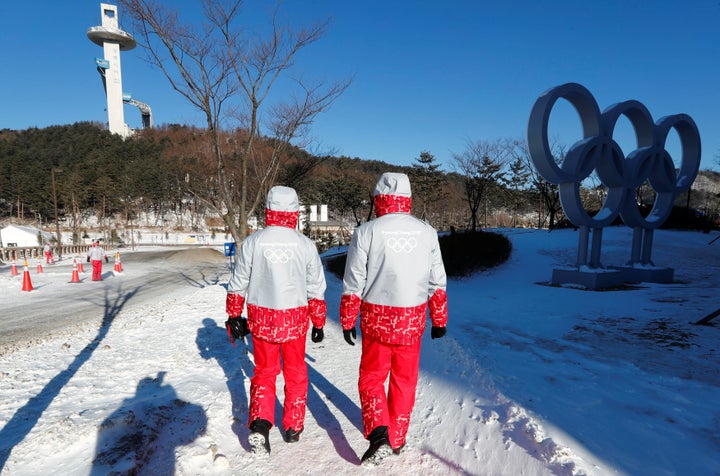 Sport can do incredible things. It can convince people who've always been told they'll never achieve, that anything is possible. It can inspire people who've never left the sofa that running 5k might just change their lives. Perhaps most importantly, it can bring us together, and show the world the true meaning of equality. Sex, race, sexuality, religious beliefs: between the lines of a court, a pitch or a course, we are truly equal.
Working in sport I've seen examples of all these things, so I know just how impactful sport can be. Yet somehow, last week sport managed to surprise me again. That's because it managed to find common ground in one of the world's most challenging diplomatic stand-offs, as North and South Korea announced that at the upcoming Winter Olympics their athletes will march under one flag at the opening ceremony, and enter a joint women's Ice Hockey team. It's a truly astonishing breakthrough given that diplomatic relations have only just resumed between the two sides, and that we spent much of 2017 fearing all-out war. Between President Trump's 'America first' agenda, the vote for Brexit and the rise of far-right groups in the US and Europe, in the last few years the world has given the distinct impression of drifting further apart. With more polarised opinions than I can remember in my lifetime, it's been hard to think of how this could be overcome. But for the first time, the story of North and South Korea did fill me with genuine hope. Hope that perhaps sport could hold the answer to uniting a fractured world.
On the face of it it's a strange idea. The way we talk about sport is saturated with the language of war. We talk about 'battles', 'weapons' and 'annihilation' in sport as much as we do in war. Sport has notoriously become intertwined with war during a number of conflicts. The 'Miracle on Ice' ice hockey game between the USA and USSR during the 1980 Winter Olympic Games was considered a key moment in the Cold War, only increasing tensions between the sides. Germany's Nazi government used the 1936 Berlin Olympics to promote their regime. In the 1972 Munich Olympics, 11 Israeli athletes and coaches were killed by a Palestinian terrorist group. War and sport have often been inextricably, and tragically, linked. But in all these cases, it was war that crept into the realm of sport; it had nothing to do with sport causing any additional conflict. Sport, in fact, has been proven to bring people together during conflict. Perhaps the most famous example is the Christmas Truce of 1914, where German and British soldiers are said to have come together for a game of football played in no-man's-land at the height of WW1. It happened over 100 years before the Korean Winter Olympic announcement, in a completely different part of the world, but the implication is the same, sport can bring people together, even at times when they are most apart.
In our society, sports stars have become some of the most influential figures. The sheer size of their platform, amplified by thriving social media channels, means that they have the ability to influence huge numbers of people. It the past, many athletes have, quite fairly, been accused of not using their platform for the good that it can achieve. But one of the positives about the reaction to the Trump Presidency, is how willing athletes have been to stand up to their President's racist tendencies. It started with the high-profile feud between Trump and the NFL. The players who protested by kneeling during the National Anthem, led by Colin Kaepernick, a quarterback who never regained his job, stood up against an intensely traditional sport and suffered the consequences. The players and coaches of the NBA too have been bravely outspoken in their criticism of intolerance. In just the last week they reacted strongly against reports of the President's racist language. It would have been all too easy for these athletes, whose marketability relies on their broad popularity, to play it safe and not take a position that would cause upset. But they haven't, and it's a trend that hopefully makes athletes in all sports and in all countries more likely to stand up for what's right, a powerful force for good in our society.
Later this year comes an opportunity for sport once again to prove the impact it could have. In September, Europe will come together for the Ryder Cup. It will be especially unique as for the first time it will take place in continental Europe. As the UK continues to go through the process of extracting itself from the European Union, undoubtedly Brexit will be a storyline. It presents an opportunity for the whole continent to come together, to demonstrate how much we are more similar than different. As golf fans and golf players unite, why wouldn't European and British politicians capitalise on the moment to come together in a show of unity about our shared values? Such a display could be hugely significant. Certainly, this political background could be a positive, or it could be a negative. You could argue tensions could soar, that somehow the support for Europe in the UK wouldn't be as strong as it has been in the past. But I don't think so. Everything I know about sport tells me that it would be a success, that once again sport could be the catalyst for bringing us closer together.
Without doubt, sport brings people together, and has the power to heal the wounds that continue to open-up in our world. For everyone involved in sport, it is this that should be our motivation. To ensure that sport reaches its potential to entertain and excite, but more than that, to create real change for the better in our world.