Thousands of people are gathering outside Downing Street and other locations across Britain to protest Donald Trump's refugee ban.
Watch HuffPost UK's Facebook live broadcast from the event here...
Other cities include:
Aberdeen - 6pm Castlegate
Aberystwyth - 6pm Aberystwyth Bandstand, Marine Terrace
Bangor - 7pm at the clock
Birmingham - 6pm Victoria Square
Brighton - 6pm Town Hall
Bristol - 6pm College Green
Broadstairs - 6:30pm outside Broadstairs Tory Office
Cardiff - 6:30pm by the Anuerin Bevan statue
Cambridge - 5pm Great St Mary's, the University Church
Cheltenham - 7pm Promenade
Colchester - 6pm Town Hall
Dundee - 6pm Dundee City Square
Derby - 5pm Council House
Edinburgh - 6pm The Mound by the National gallery
Exeter - 6pm Bedford Square
Falmouth - 5pm The Moor
Glasgow - 6pm George Square
Hastings - 6pm Robertson Street
Hull - 5pm Queen Victoria Square
Isle of Wight - 6pm Newport
Leeds - 5:30 Dortmund Square
Leicester - 5:30pm Haymarket memorial Clock Tower
Liverpool - 6pm St George's Hall
Newcastle - 5:30pm Grey's Monument
Manchester - 6pm Albert Square
Maidstone - 6pm Jubilee Square
Nottingham - 5:30pm Market Square
Oxford - 5:30pm Carfax Tower
Plymouth - 5:30 pm Charles Cross police station
Portsmouth - 7pm Portsmouth Guildhall
Preston - 6pm Harris Library
Sheffield - 6pm Town Hall
St Andrews - 7pm St Andrews Student Union
Swansea - 6pm Castle Square
Totnes - 6pm Mini roundabout bottom of Fore Street
Whitney - 6pm Market Square
York - 5pm St Helen's Square
Nearly 50,000 people have expressed an interest in going to the Downing Street demonstration at 6pm and it has received the backing of a number of MPs and high-profile supporters.
Speakers to attend the Downing St march include:
Baroness Shami Chakrabarti
Mohammed Ateek (Syrian refugee)
Caroline Lucas MP
Baroness Sayeeda Warsi
Wail Qasim (Black Lives Matter)
Ed Miliband MP
Mhairi Black MP
Asad Rehman (Friends of the Earth)
Lily Allen
Clive Lewis MP
Zrinka Bralo (Migrants Organise)
Shappi Khorsandi (comedian)
Bianca Jagger
Talha Ahma (Muslim Council of Britain)
Kate Hudson (CND)
Tasmina Ahmed-Sheikh MP
Malia Bouattia (NUS President)
Natasha Walter (Women for Refugee Women, Women's March
The protests come after Theresa May announced last Friday that Trump had accepted an invitation for a state visit to the UK.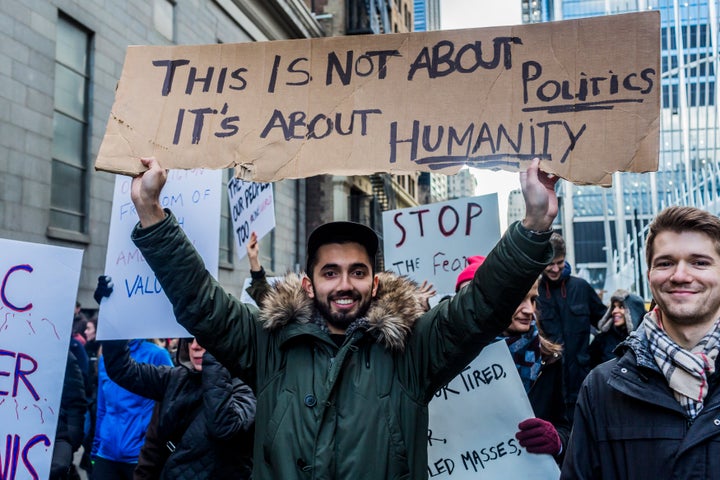 Almost immediately a petition was launched calling for it to be cancelled until Trump drops his controversial travel restrictions. On Monday the petition surpassed one million signatures.
Speaking on Radio 5 Live at midday, Jones said: "Our Prime Minister is presenting herself as a stooge of this man, this bigot, this misogynist, this racist.
"This isn't about disagreeing with someone, our Theresa May should be taking a stand.
"It's something we should be ashamed of.
A statement on the government petition reads: "Donald Trump should be allowed to enter the UK in his capacity as head of the US Government, but he should not be invited to make an official state visit because it would cause embarrassment to Her Majesty the Queen."
It continues: "Donald Trump's well documented misogyny and vulgarity disqualifies him from being received by Her Majesty the Queen or the Prince of Wales.
"Therefore during the term of his presidency Donald Trump should not be invited to the United Kingdom for an official State Visit."
The event pages for the demonstrations read:
Donald Trump has imposed a ban on people from seven Muslim-majority countries from entering the US.

That includes people who helped the US army. That includes people on holiday trying to get home via the United States. That includes people trying to be reunited with their dying parents.

It also includes Britons with dual nationality. Like our national hero Mo Farah. Even the Iraq-born Conservative MP Nadhim Zahawi.

Theresa May has decided to ally herself with Donald Trump's bigoted, misogynistic government. She has refused to speak out against Donald Trump's #MuslimBan - even when her own Members of Parliament are targeted. It is not only weak, it is a matter of national shame - disgracing our country across the world.

There are moments of terrible injustice throughout history where we look back and rightly ask - what did people do? Future generations will look back at the targeting of Muslims - as we look back at the targeting of Jews - with disgust, horror and shame. If we do not speak out, we are complicit.

Theresa May has betrayed her own people. That doesn't mean we have to. Let's stand in solidarity with those targeted by Donald Trump's hateful government, including the people of this country, outside Downing Street and all over Britain.

Other governments - like Canada, like France, like Germany - have spoken out. Our weak, cowardly government has refused to. Let's not have the same cowardice and betrayal as our own government.

More details soon - about this Monday, and also a possible march on Saturday - but please share this everywhere.